Medals flow as China shows pool prowess
Share - WeChat Just last month, Titmus clocked 1:53.31-more than a second- and-a-half quicker than Yang's winning time-while Ledecky also posted a faster time earlier this year.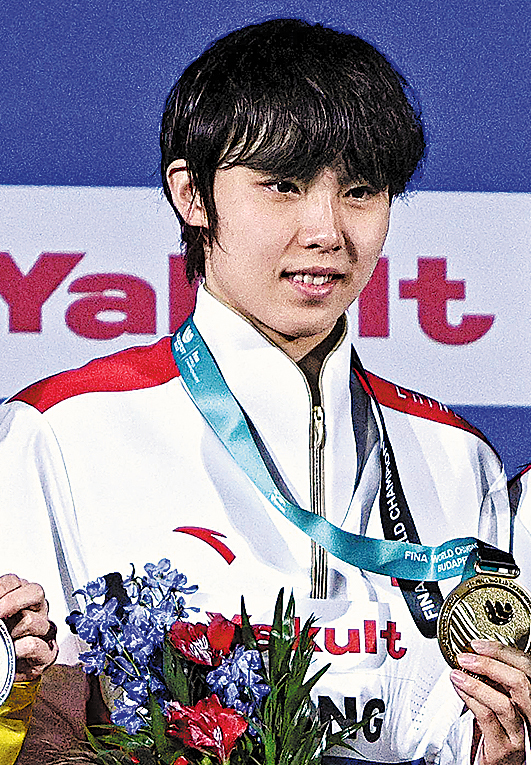 "The overall level of competition this time wasn't quite as high as it should have been due to the lack of the event's big names," said Wu Peng, a former men's short-course world champion in butterfly and guest commentator with China Central Television.
"Neither Yang nor Tang were at their best. Yet, to go out there and emerge victorious under a major spotlight is still a great learning curve for these youngsters," he said.
The Budapest meet is just the second time Yang has competed at the long-course worlds, so the gold is a significant boost to her promising career, which has already seen her claim titles at the short-course worlds, Asian Games, several World Cup meets and the Youth Olympic Games, all in 2018.
"Overall, it's been the best outcome I could possibly have, given that I am not in peak form, and the whole experience is invaluable," said the native of Shandong province.
Right after Yang's victory, 17-year-old Chinese prodigy Pan Zhanle delivered another surprise in the men's 100m free semifinals, touching in 47.65 to book a final berth and match China's long-standing national record in the event.
Pan's emergence in the sprint discipline, where former world champion Ning Zetao created the previous national record at the 2014 Asian Games, in his worlds debut has rekindled hope for more men's success in the pool after the retirement of Ning and the ban of Sun Yang for a doping-rule violation.
Earlier on Tuesday, China won its second gold medal in artistic swimming in Budapest after an eight-woman team scored 94.7202 points to win the women's team technical at Alfred Hajos Swimming Complex.
Led by twin sisters Wang Liuyi and Wang Qianyi, who won gold in the technical duet on Sunday, the Chinese squad performed a high-difficulty routine that featured high-flying lifts and impressive synchronization to earn the nod from the judges, delivering the first gold in the Olympic discipline which has been long dominated by Russia.
"This is definitely a big breakthrough since China's artistic swimming team was founded in 1983," head coach Zhang Xiaohuan told Xinhua.
"The enemy is ourselves. I asked them to deliver their best. We had really hard training over the past seven months and it's all deserved," Zhang added.
Japan (92.2261) won silver, with Italy (91.0191) taking bronze.
With a total of six medals, China sat third in the standings by Tuesday night, behind second-placed Italy and the table-topping US.
China's successes have been offset by a number of big-name disappointments in the Hungarian capital. Wang Shun, the Olympic men's 200m individual medley champion, finished bottom in his semifinal group on Tuesday to miss Wednesday's final after swimming a subpar time of 2:01.35. That came two days after two-time backstroke world champion Xu Jiayu failed to qualify for the 100m final, usually considered his strongest event.