Long road ahead for rebuilding Team China
Share - WeChat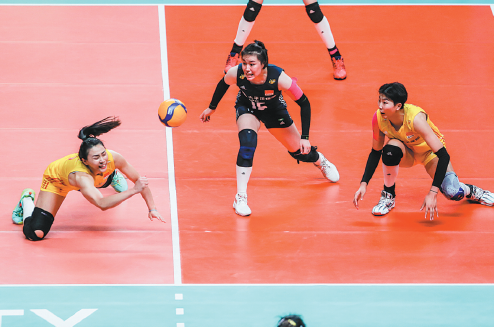 But young squad vows to learn from challenging Nations League campaign as Zhu Ting's absence hits hard
Without sidelined superstar Zhu Ting and shorn of the veterans who retired after Tokyo 2020, the Chinese women's team's struggles in this year's FIVB Volleyball Nations League (VNL) have underlined the size of the squad's rebuilding task.
A dominant force in the game not so long ago, China has won five of its last eight matches in the first two stops of the league to rank sixth among the 16 teams so far.
Japan currently sits at the top with eight wins, followed by the United States (seven) and Brazil (six).
Team China opened its campaign in Ankara, Turkey, with victories over the Netherlands, Turkey and Italy before dropping a 3-2 loss to Thailand.
At the league's second stop in Quezon City, the Philippines, China initially regained some momentum, beating Belgium 3-0 and Canada 3-1. However, a 3-0 defeat to reigning Olympic champion the US, and a 3-1 setback against Japan on Sunday, illustrated just how far Team China has fallen behind the world's elite.
"The US team played very smooth and with a clear focus. Our defense should be quicker to adjust to their attacks. We hope to learn from these matches, and we will challenge them the next time," said middle blocker Yuan Xinyue, Team China's new captain.
"The Japanese team is even quicker than the US squad. The match against them was even more challenging for us. We hope to play to our full potential in future matches."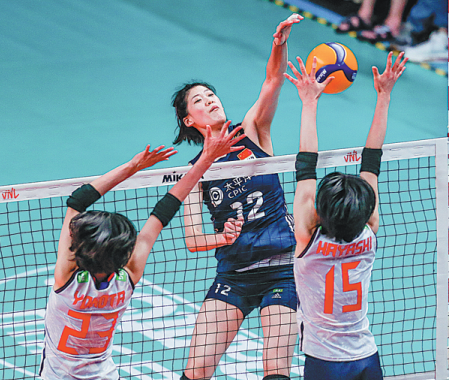 Team China's wavering fortunes have garnered huge attention from fans eager to see if the new breed could bounce back from last year's disappointing campaign at the Tokyo Olympics.
As the champion of the 2016 Rio Games, Team China failed to make it beyond the group stage in Japan. The shock exit was China's worst performance in the Olympic women's volleyball tournament since its debut at the 1984 Games.
The early exit led to the resignation of legendary coach Lang Ping and marked the lowest point of the squad in recent years.
New head coach Cai Bin's attempts to rebuild the squad have been hamstrung by star spiker Zhu Ting's ongoing recovery from wrist surgery. A return date for Zhu remains unclear, however it is anticipated she will miss the entirety of this year's VNL.
Outside hitter Li Yingying is one of the promising young stars trying to fill the sizable void left by Zhu's absence. The 22-year-old Li has so far tallied 160 points in the VNL this year to rank third on the competition's scoring chart. She clearly feels the burden on her young shoulders.
"This is the first time I've been Team China's core player at a major international competition, so it's a huge challenge and also a precious learning process," said Li.
"I want to display my skills on the court, learn and gauge myself against the world's top players. We are all very dedicated and prepare for matches as best we can."
Li's undoubted quality, however, has not been enough to mask the squad's shortcomings, with most pundits and fans believing Team China is overreliant on Li and opposite spiker Gong Xiangyu, who has amassed 128 points so far.
"The way Team China lost to Japan was very similar to the defeat to the US. The Chinese team relies too much on Li Yingying and Gong Xiangyu to score. The rest of the players need to contribute more," said China Central Television volleyball commentator Yang Ling.
"We have some young players who are playing in a major international competition for the first time. So it's inevitable that they would be nervous and unable to deliver 100 percent of their skills on the court.
"Also there is room for improvement in terms of how the team can gel. Team China looked off the pace during the second stop of the VNL compared with the first four matches. This could be attributable to a number of factors, including the absence of the head coach due to his personal health issues.
"There are still many challenges ahead. But after all, for any new team with a new head coach, its journey to success will never be smooth and easy."
Team China resumes its VNL campaign with four matches in Sofia, Bulgaria, beginning with a tough test against Brazil next Tuesday.
With plenty to prove, fans are hopeful Team China can get back to winning ways.
"In this year's VNL, there is a 10-day gap between every two stops. Team China's goal is to improve through international competitions and to pinpoint its weaknesses in these matches," commentator Li Ying wrote in an online post.
"It's a challenge for each team to adapt to the constant change of match location. It will test the Chinese players both physically and mentally, so they should focus on this in their daily training.
"On the one hand, Team China should not lose confidence from the defeats, but on the other hand, the players need to realize that they did not lose these games by accident. We believe such challenges will only push the Chinese women's team to grow faster."