Comedy duo woos audiences with quick-fire routine based on local customs
Share - WeChat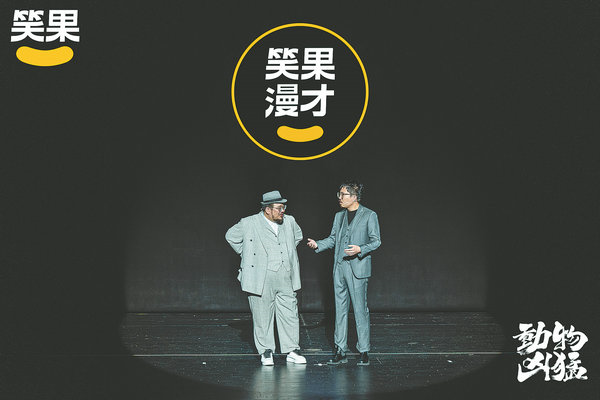 On a gray, wet Sunday afternoon early this month, audience members stood in a long line to watch a show at the Yunhe Theater in the Gongshu district of Hangzhou, capital of Zhejiang province.
The rain failed to dent their enthusiasm to see a 90-minute performance by Roushidongwu, a comic duo making their first tour, which also included stops in Wuhan, Hubei province, Guangzhou, capital of Guangdong province, and Xiamen, Fujian province.
Jia Yuhao, a member of the duo who is better known by his stage name Huanghuang, said, "We felt so excited to play to a capacity audience of 1,300 people in Hangzhou," adding that it was the first time they had performed to such a large crowd on the tour.
The performance in Hangzhou on June 5, the last day of the three-day Dragon Boat Festival holiday, epitomizes the recovery seen in the city's culture and tourism sector from the impact of the latest outbreak of COVID-19.
Hangzhou received more than 1.95 million visitors during the holiday, nearly the same number as the same period last year.
It was a big surprise for Jia and his partner Da Mu when tickets for their first tour sold out.
"It was a refreshing experience for us-so different to the times when we had to perform with other standup comedians during a show," Jia said.
"We felt so relaxed and comfortable on the stage, as we knew that the audiences were coming to see us, and only us."
As performers of manzai, a comic style in Japan that traditionally features two comedians quickly trading imaginative jokes, Jia and Da were initially not sure whether their gags would be well accepted by Chinese audiences.
The comic art form, which includes strange, fantastic ideas and jokes centering on mutual misunderstandings and puns, is likely to better appeal to younger audiences familiar with animated series, comic books and video games.
Jia, 38, a former video game producer and part-time standup comedian in Xiamen, teamed up with Da, a graphic designer, to perform manzai in 2019.
Last year, they became the only manzai duo to reach the finals in the fourth season of the comedy talent show Rock & Roast, produced by the comedy company Xiaoguo, after which the duo gained a larger following as manzai performers.
Jia and Da decided to become full-time comedians before being given the chance by Xiaoguo to stage their first tour.
"Throughout the tour, we aim to promote this comic style, which is relatively new to Chinese audiences," Jia said.
Before they arrive in a city, to better interact with audiences, the pair prepare jokes based on local customs and culture.
Attendances for shows on the tour, along with good audience feedback, have strengthened Jia's confidence in the prospects for manzai and the recovery in the cultural and recreational industry.
"The market is improving, and we're looking forward to performing to larger audiences in theaters," Jia said.
During the Dragon Boat Festival holiday, Xiaoguo staged a total of 14 offline shows in Xi'an, Shaanxi province, Shenzhen and Guangzhou, Guandong province, Nanjing, Jiangsu province, and Hangzhou. Together, the shows attracted 10,000 audience members.
Lu Yiyun, operations director for Xiaoguo's comedy shows, said that in addition to Xiamen, the company's performers will tour Guiyang, Guizhou province, Suzhou, Jiangsu, and other cities in the near future.
"The popularity of our recent offline performances shows us audiences' desire for happiness and their affection for standup comedy. This gives us confidence in the prospects for this comedic genre," Lu said.
"We will continue to spread joy to other cities, allowing more audiences to experience the attractions of offline shows."
Most Popular