Auto sector revs on COVID recovery
Share - WeChat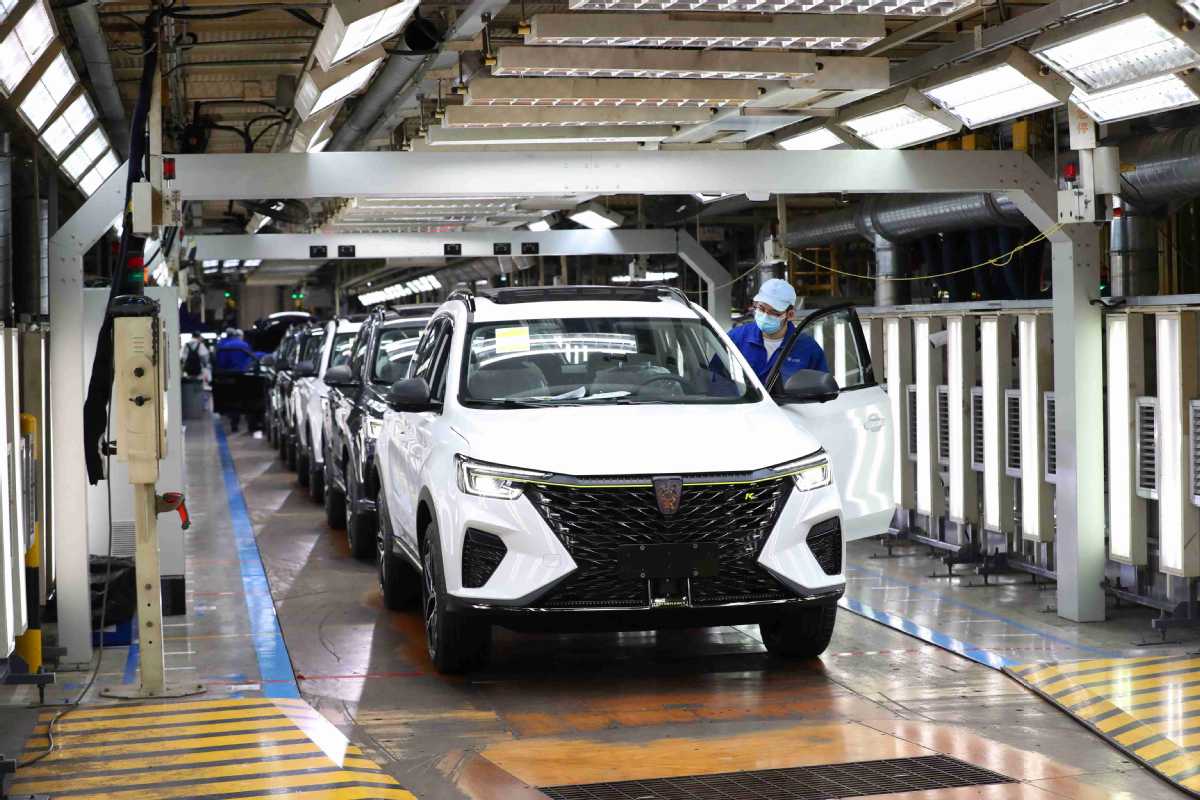 China's automotive industry is speeding up its recovery from the COVID-19 impact as vehicle production in the country has returned to levels seen prior to outbreaks earlier this year.
Guo Shougang, a deputy director at the Ministry of Industry and Information Technology, said production has fully returned to normal, with plant activity in May soaring over 50 percent from April.
The ministry has helped solve over 6,000 problems in terms of logistics, transport and production resumption since April and automakers have tried their best to minimize COVID effects as well, Guo said.
He made the remarks as the MIIT-together with several other ministries-kicked off an annual event on Saturday to promote new energy vehicles in the country's vast countryside.
SAIC Motor, China's largest automaker by sales, has seen production returning to pre-COVID levels at its three plants in Shanghai, which was hard hit in the latest wave of the pandemic.
One of the three plants in the city belongs to SAIC itself, while the others were built with partners Volkswagen and General Motors.
Now the three have a combined daily output of around 13,000 units, SAIC told Xinhua News Agency on Saturday.
From June 1 to Saturday, more than 200,000 vehicles rolled off the assembly line, an increase of more than 30 percent year-on-year.
Production at Tesla's Shanghai plant resumed even earlier. The United States-based electric vehicle maker told China Daily that the plant reached "100 percent" of its capacity in the second week of June.
In May, the plant produced 33,544 vehicles, up 212 percent from April. Sales reached 32,165 units, of which 22,340 were exported. In April, Tesla sold only 1,512 units, and none were exported.
Tesla said the plant resumed production in late April with help from local authorities, who held meetings to help facilitate the automaker's work.
The rapid recovery shows the "resilience of Chinese manufacturing", said Tesla. Over 90 percent of components in its Shanghai-made vehicles are made in China, it said.
Passenger car sales in the first two weeks of June totaled 512,000 units, up 44 percent month-on-month and 14 percent year-on-year, said the China Passenger Car Association.
Lu Jiamin, an automotive analyst at Cinda Securities, said auto sales are expected to gain momentum in the coming months because of the trio of resumed vehicle production, pent-up demand earlier this year and financial stimuli from the government.
The central government has halved purchase taxes for vehicles priced no more than 300,000 yuan ($44,850) and with engines no larger than 2.0 liters. The lower tax will be in effect until the end of the year.
Local authorities have rolled out their plans as well, offering vouchers worth up to thousands of yuan and additional license plates.
Cui Dongshu, secretary-general of the CPCA, expects the favorable policies to increase vehicle sales by an additional 2 million units.
They are likely to help raise total passenger vehicle sales in China this year to 21 million units, up 4 percent from 2021.