Triumphant twins in sync for gold
Share - WeChat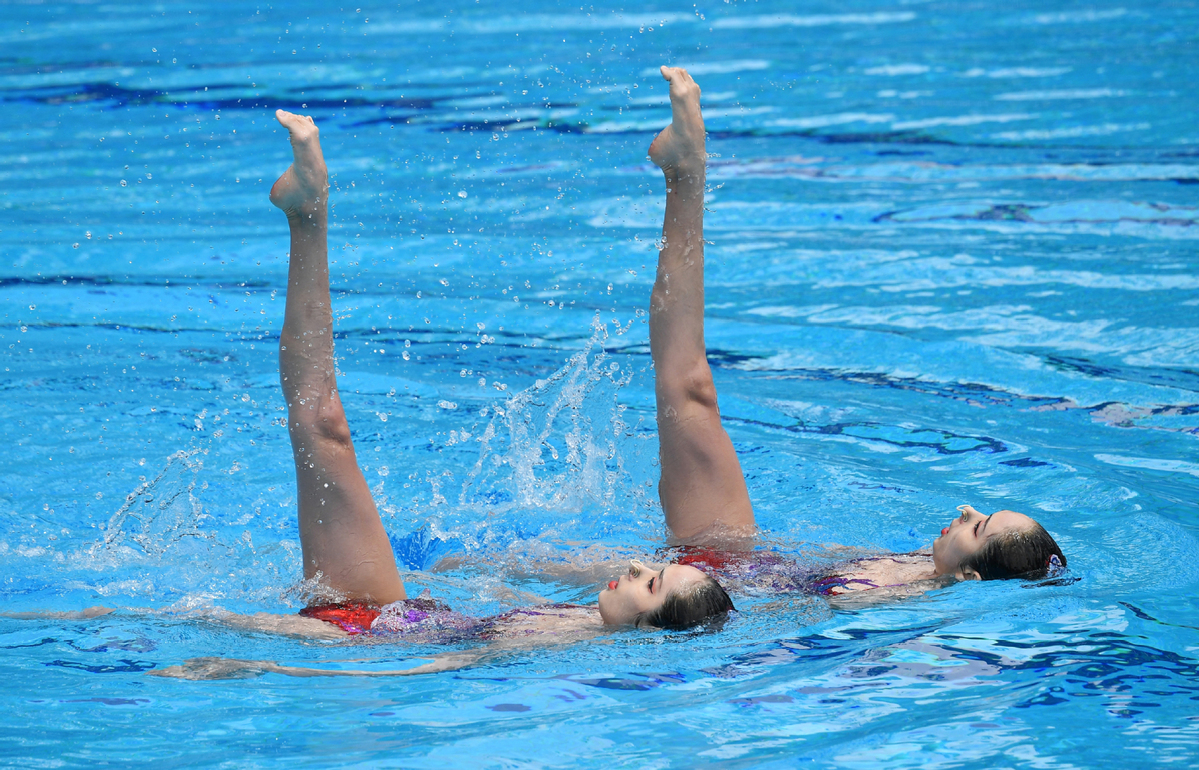 Wang sisters wow judges with sublime routine in sibling showdown at worlds
If it does exist as speculated, the twin telepathy between Chinese artistic swimmers Wang Liuyi and Wang Qianyi conjured its magic to perfection on Sunday.
Featuring exceptional skills, strong artistic appeal and stunning synchronization, the Wang sisters prevailed in the women's technical duet final-dubbed the "Battle of the Twins"-at the FINA World Championships in Budapest.
They outscored another two sets of identical siblings-Ukrainian sisters Maryna and Vladyslava Aleksiiva and Austria's Anna-Maria and Eirini Alexandria-to deliver China's first gold medal in the event at the worlds.
During their "Gamers" routine, swum to Elliott Leung's Naval Commandos song, the 25-year-old Wang sisters performed difficult upside-down kicks high above the water and a series of rapid leg movements right on the beats throughout their routine, scoring 93.7536 points to top the podium, which for the first time in world championships history was occupied entirely by twins, at the Alfred Hajos Swimming Complex in the Hungarian capital.
It was China's first gold in the event, where it had finished second behind the all-conquering Russians at the last five worlds since the 2011 edition of the championships in Shanghai.
Russian athletes have been barred from the worlds by international governing body FINA due to the Ukraine conflict.
The Wang sisters, who won gold in the team free combination event at the 2017 worlds, also in Budapest, attributed their historic feat to their close bond.
"We had a better performance in the final after two days of preparation since the preliminaries, and I am very satisfied," older sister Wang Liuyi said.
"It's a great honor to stand on top of the podium representing our country. We also feel like we've become closer to each other as sisters and are synchronized even better to demonstrate our level on the world stage."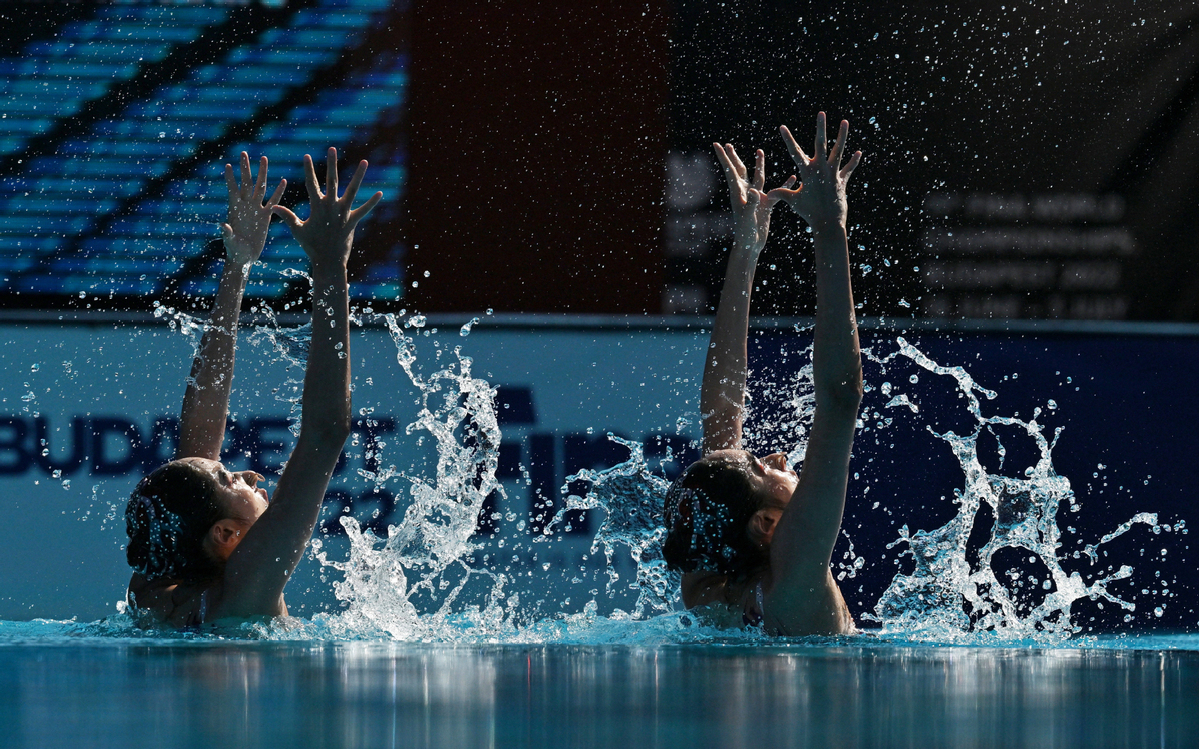 "We consider Budapest our lucky place. We really love to be here and we are really happy right now," Wang Qianyi added. "We were satisfied with our performance and luckily the judges also appreciated our unique routine."
Being twins seems an obvious advantage when it comes to competing in a sport that favors similarity, synchronization and harmony, yet never have the Wang sisters, nor their coach Wang Jiuli, taken success for granted, especially after Wang Liuyi had to overcome a career-threatening injury just over a year ago.
A shoulder problem sustained at the 2020 national championships forced Wang Liuyi to withdraw from the Olympic trials for the Tokyo Games. She was even forced to consider retiring from the sport, which has been an integral part of her life since she began training with her sister in 2005 at a club in their home city of Shenzhen, Guangdong province.
It was the first time the sisters had to split their pool partnership, with Wang Qianyi selected on China's Tokyo Olympic roster and Wang Liuyi watching poolside.
"It was quite tough for both of them to process and get used to, but they decided to carry on and started over again, teaming up again at the National Games last year and now aiming for the Paris 2024 Olympics," coach Wang Jiuli told the Shenzhen Evening News.
But while their synchronization is always exquisite and on point, the Wang sisters have to overcome their weakness in executing high-quality lifts. Because of their evenly built body shapes, both had been lacking in the power required to hold the other high and long enough underwater.
Their hard work in physical training and technical drills over the past six months has paid off, though, with their strength, speed, artistic expression and routine difficulty significantly improved, according to coach Wang Jiuli.
"They always encourage each other and never get sluggish in training," said Wang Jiuli. "They performed to perfection when it mattered in the final at the worlds, proving that they've joined the world's best."
As the undisputed world leader in artistic swimming, Russian athletes have won a whopping 60 gold medals out of the total 93 up for grabs at the worlds since 1973, and every single gold for two Olympic disciplines-team and duet-since the sport's Games debut at Sydney 2000.
China's best results at the Olympics were back-to-back silver medals by now-retired pair Huang Xuechen and Sun Wenyan in the women's duet at the Rio de Janeiro and Tokyo Games, beaten twice by swimmers of the Russian Olympic Committee.
"There is still room for improvement in the connection of their moves," coach Wang Jiuli said of the Chinese sisters' future. "They've shown us hope that to go up against the dominating Russian swimmers and eventually beat them is not impossible."