Cleaner by day, artist by night
Share - WeChat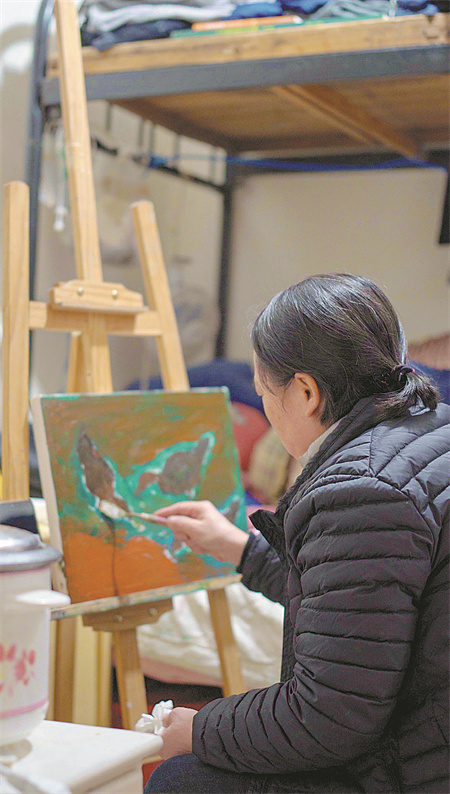 The difference is night and day. By day a cleaner, by night an artist. With rags hanging on the wall and mops in the corner, as the evening draws in, 56-year-old Wang Liuyun focuses on her canvas in a small utility room at an office building in Beijing where, during daylight hours, she works as a cleaner.
From 7 am to 7 pm, Wang sweeps and mops the floors, empties trash bins, sanitizes restrooms and cleans windows in the building. After work, the 3-square-meter utility room in which she keeps her work equipment becomes her studio, where her oil paintings portray the outdoors. Scenes of trees, rolling mountains, lush fields and glistening lakes are conjured up in the cramped surroundings which smell not of pine needles or the forest, but of disinfectant and cleaning supplies. A piece of cardboard on the floor is her mattress.
"Painting feeds my soul, while the cleaning job helps make ends meet," Wang says.
Before her painting journey began, Wang has no hesitance in using the word "miserable" to describe her life before the age of 50-dropping out of school at 17 due to economic pressure, trapped in an unhappy seven-year marriage, and losing her first husband in a car accident. She never dared to think that something fortunate would happen to her or that life could, perish the thought, be enjoyable.
When her daughter graduated from college and her rural home was finally decorated in 2017, the then 51-year-old Wang decided to live for herself and painting became her way to escape what seemed like a predestined fate.
"Ever since I was a little girl, I have enjoyed observing nature, such as how clouds form, how grass grows and why water has no color. Maybe these have inspired my painting," says the artist, whose given name Liuyun itself provides a natural image of willow trees and clouds.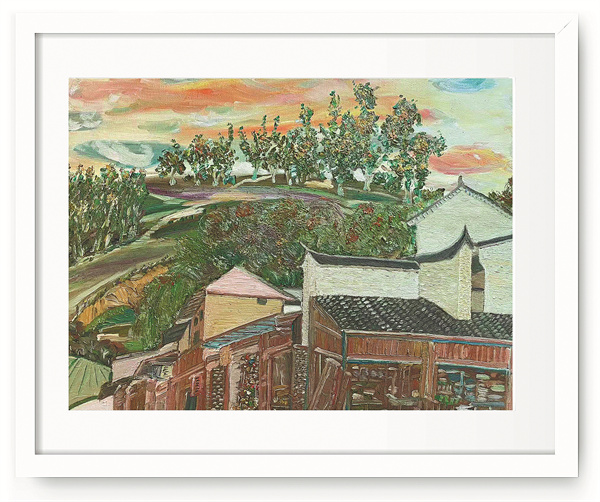 Wang catapulted to fame overnight and made national headlines after her story was recorded in an episode of the documentary series Waiting for You, which was released online in January, and records the stories of 100 women across the country over the course of a year.
On social media platform Sina Weibo, it has been viewed more than 7.5 million times. A user named Qijiu comments: "I am touched by her passion for life and art. Even in her 50s, she has the guts to start over and pursue her passions."
Many people contacted her to buy her works. Their prices range from hundreds to thousands of yuan.
"It is beyond my expectation that I, a 'nobody', can get so much attention from the media and on the internet," Wang says, smiling.
In her own words, she spent 50 years in the countryside as a farmer, and at 51, she decided to make a difference.
Most Popular