China volleyball coach hails mentality during win over Brazil
Share - WeChat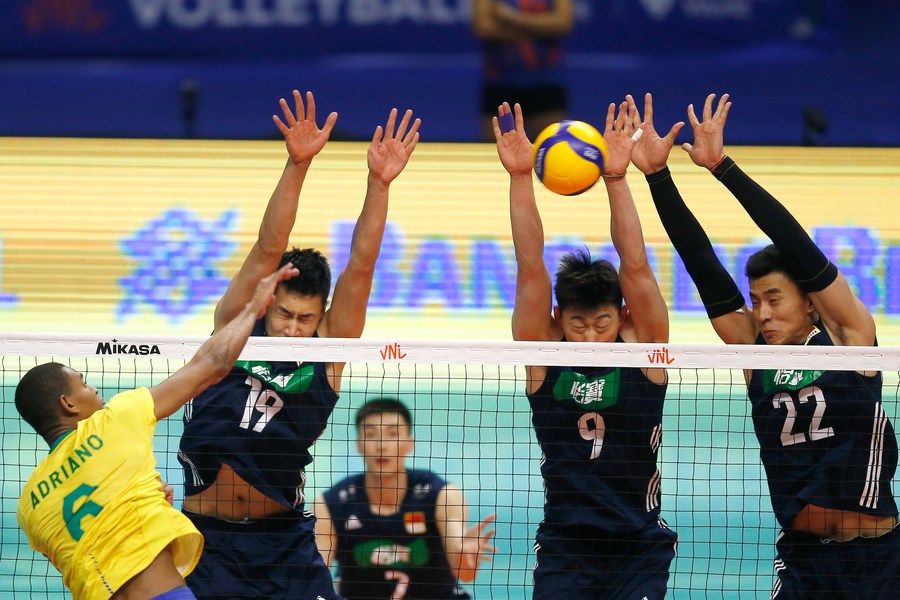 BEIJING - After leading China's men's volleyball team to upset defending champions Brazil in the Volleyball National League (VNL), head coach Wu Sheng said a strong mentality was behind the win.
This is China's first victory in this year's VNL. Before overcoming Brazil 3-0, China has suffered three straight losses to Iran, Japan and Slovenia.
"We didn't think about winning before the Brazil game, we just hoped to execute our tactics well," the head coach said. "We are fully aware of the gap between us, and I believe we did a good job in challenging a strong rival, trying everything to put them under pressure."
"Even after winning the first set, we still kept this mentality, trying to challenge Brazil with serves, attacks and everything else," he added.
Despite the victory over the world's No.1 side, the coach warned his team and fans to stay cool-headed.
"You can't define the team by this victory; that's not our objective. We are still behind the top teams in the world both tactically and physically," he said.
China came into the VNL without captain Jiang Chuan, who has picked up an injury in training. According to Wu, the absence of the veteran setter added to the difficulties the team had in acclimatizing to matches after the interruption of the COVID-19 pandemic, and the players gave themselves too much pressure to perform at their best in losses to Iran and Japan.
However, Wu added that he believed the players have now got used to Jiang's absence, and are gradually gaining in confidence.
"I could see Zhang Guanhua [who replaced Jiang] play more confidently in the game against Brazil. He had a clear mind and made good choices in distributing the ball for various attacks," Wu noted.
The last time China's national men's volleyball team made an Olympic appearance was on home soil in 2008, having failed to qualify for the London, Rio or Tokyo Games.
The world ranking points from each victory in the VNL are crucial for China to strive for a Paris 2024 ticket, but the coach placed greater emphasis on learning than on winning.
"When we see good plays from our opponents, we learn and try to apply them in the matches, which speeds up the digesting process," said the head coach.
China will next face France, Germany, Argentina and Italy, as the VNL moves to the Phillipines for the second week of competitions.