Cultural treasure
Share - WeChat As a child, Lei Lingli loved to attend weddings because she enjoyed the convivial and joyful atmosphere with delicious food, music and dance. What impressed her the most was the custom of the bride crying, which is a tradition of the She ethnic group that Lei belongs to.
A bride usually cries for three days and nights even before the wedding ceremony starts. It's a way to express her reluctance to leave her family. A bride also sings songs to express her gratitude to the parents, thanking them for bringing her to the world and for their love and care.
"When I was a child, I was very confused about the crying brides. The wedding days are supposed to be happy. Why all the tears? Then I learned about the custom, which made me realize the uniqueness of our She people," says Lei, who was born and raised in a small village of Xiabaishi town, located at the coastal city of Ningde, Fujian province.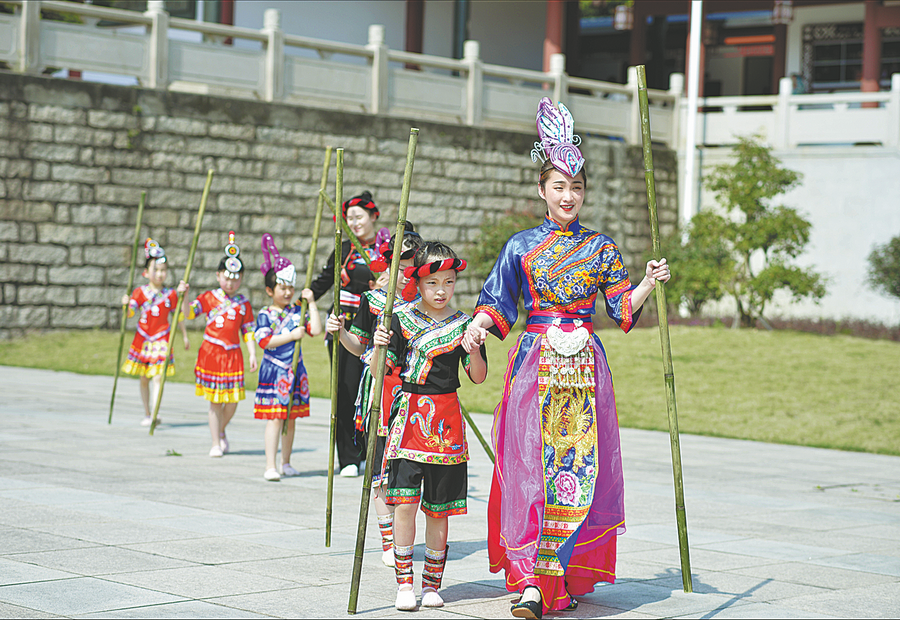 The She community settled in Fujian, Zhejiang, Jiangxi, Anhui, and Guangdong provinces.
According to the website of the bureau of culture and tourism of Ningde, the She population has reached 200,000 there. The number of She people living in Ningde accounts for one-fourth of the total population of the ethnic group in the country.
Most residents in Lei's village are She people. Raised by a single mother and her grandmother, Lei grew up practicing She songs and dances. Lei also learned to speak the ethnic language with her mother and grandmother before she was taught to speak Mandarin in school.
Now, the 27-year-old is dedicated to promoting and preserving the culture and tradition of her ethnic group by managing her own dance studio. Launched a year ago, the dance studio, named Hanier Dance Art, teaches children, from 6 to 16 years old, songs, dances and language.
"Both my mother and grandmother are great singers and dancers. They sing at home anytime they feel like singing, such as when they cook, wash clothes or do embroidery," says Lei. "Singing and dancing are part of their lives."
Most Popular