Norway-based Elkem to invest 100m yuan in Shanghai research center
Share - WeChat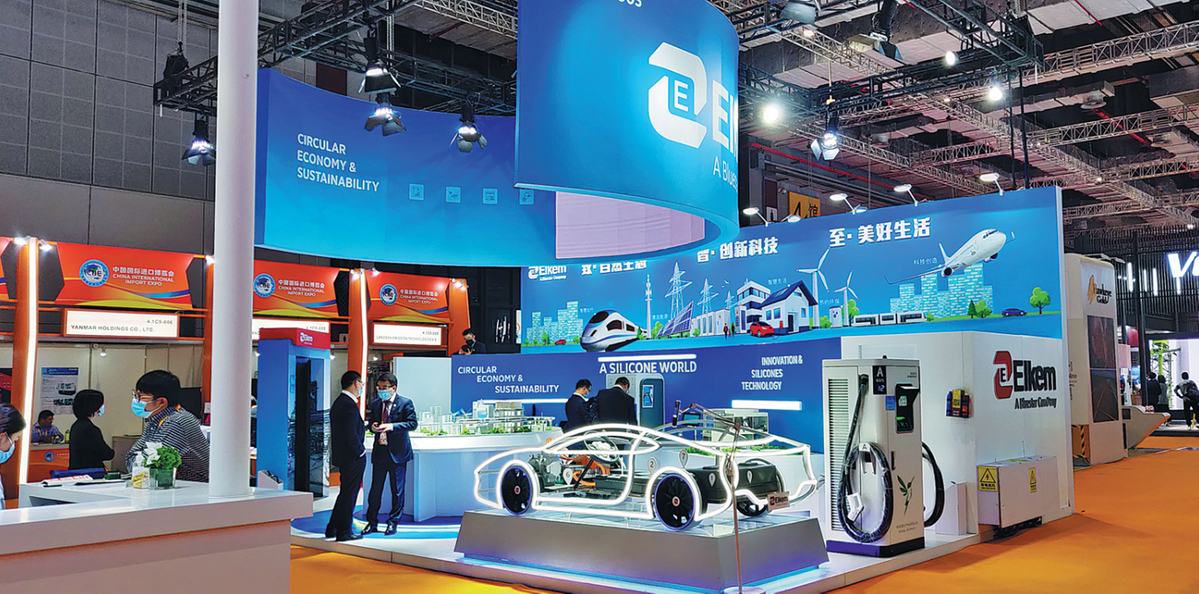 Elkem Silicones, a Norway-based integrated silicone manufacturer and a unit of China's State-owned Sinochem Holdings Corp Ltd, will invest more than 100 million yuan ($15 million) to enlarge its flagship Asia-Pacific research and innovation (R&I) center in Shanghai this year, said its senior executives.
The newly upgraded R&I center is located in Xinzhuang Industrial Zone of Shanghai's Minhang district. The first phase of the project covers an area of about 6,600 square meters. Its construction work will be started in the third quarter and will be completed in the first quarter of 2023.
The company's existing Asia-Pacific R&I Center was established in 2009. Under its plan, the number of its researchers is expected to double in the facility over the next three years.
"The move will enable the group to upgrade its research system and hardware in China while attracting outstanding research and development talent around the world," said Richard Li, director for research and innovation at Elkem Silicones Asia-Pacific.
Announced in late April, the company said the investment will help enhance the company's ability to provide more efficient, flexible and convenient product development and application support for China and other Asia-Pacific markets.
With the new facility, Li said Elkem Silicones will be in a better position to meet growing demand for advanced silicone products, technologies and solutions in e-mobility, healthcare, personal care, textiles, 3D printing and other industries.
The center will be created to help Elkem Silicones' customers in the Asia-Pacific region improve their innovation capabilities, accelerate the development of new products and applications and seize emerging opportunities, he said.
Eager to enhance its earnings strength, Elkem Silicones looks to consistently bring tailored products and services to customers in China and the Asia-Pacific region. The flagship R&I center will house several application centers tasked with addressing development trends in key industries. The planned centers are an e-mobility application center, bioscience application center, coating application center and 3D printing application center.
"We will also jointly carry out cooperative projects with universities and external research institutes, create synergies with Elkem Xinghuo Silicones, the research and innovation centers in Beijing and Zhongshan, Guangdong province, and enhance exchanges, complementarity and integration with other R&I centers in Europe, North America, South America and Asia to help customers in the Asia-Pacific region unleash their innovation potential," Li added.
Over the past decade, the company's existing Asia-Pacific R&I center has obtained a number of silicone research and application achievements, including providing technical support for a super factory established by a world-leading electric vehicle company in Shanghai and providing long-term protection for the batteries of more than one million EVs.
Its automated in-line dispensing solution revolutionizes the way battery packs are traditionally sealed. It is also the first multinational company to produce dental impression materials in China.
"We are convinced that investing in research and development is the best way to secure our future growth. As part of our global specialization strategy, the establishment of our flagship R&I center in the Asia-Pacific region is also a journey supporting the long-term growth of specialties in China and the entire Asia-Pacific market," said Frederic Jacquin, senior vice-president of Elkem Silicones.
As many countries worldwide are encountering uncertainties amid the Russia-Ukraine conflict, high inflation rates and slowing economic recovery, China's charm of attracting global capital will continue to grow, said Zheng Lei, chief economist at Shenzhen-based Samoyed Cloud Technology Group Holding Ltd.
Business areas including new energy, consumption, high-end manufacturing and services will remain hot spots for global businesses, Zheng said.
Acquired by China National Bluestar (Group) Co Ltd, a subsidiary of Sinochem Holdings Corp Ltd, in 2011, the Norwegian company, supported by more than 6,800 employees, runs 27 manufacturing bases and a number of research facilities around the world. The operating income of the Oslo Stock Exchange-listed company amounted to 33.7 billion Norwegian kroner ($3.6 billion) in 2021.