CRCC unit ups infrastructure efforts in southwestern China
Share - WeChat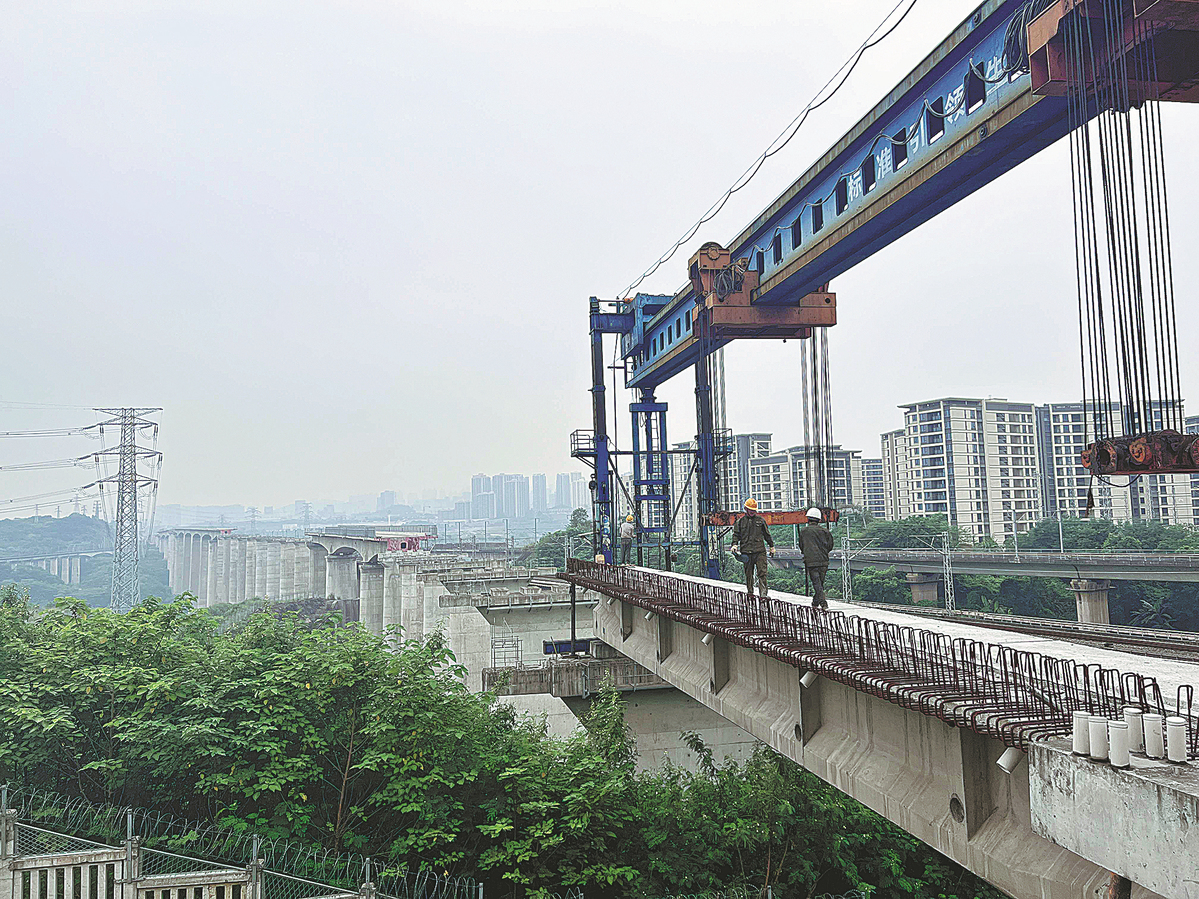 A key transportation project in Southwest China, the Cuntan Railway Bridge, had its first beam recently erected, marking a milestone as it represents success amid numerous challenges faced by the construction team, and lays a solid foundation for the next phase of track-laying work, the project's builder said.
Located in Jiangbei district, Chongqing, the bridge, which has a total length of 1.81 kilometers, is being built in rugged terrain with many transportation lines operating "shoulder to shoulder"-three railway lines, five highway lanes and a power line underneath-presenting many difficulties for the builder, China Railway 24th Bureau Group Corp Ltd, a unit of State-owned China Railway Construction Corp Ltd.
"In addition to the construction work of the bridge itself, we have to consider resettling work of adjacent projects. The construction work is among the toughest for us, but we figured it out and made it here to the first beam installation," said Wang Bing, project manager with the CRCC unit.
According to the State-owned enterprise, once completed, the Cuntan project will function as a crucial link smoothing trips between transportation hubs including the Chongqing North Railway Station and Jiangbei International Airport, which will ultimately make Chongqing a more significant hub in the region.
Apart from the Cuntan project, CRCC, the nation's largest contractor listed on the Fortune 500, has been ramping up efforts in infrastructure nationwide, regardless of headwinds from recent COVID-19 resurgences.
In March, Shanyang tunnel of the Dali-Baoshan Railway in Yunnan province-a major portion of the Dali-Ruili Railway also undertaken by CRCC-was completed. Upon the very completion, the Dali-Baoshan rail service is expected to open later this year, putting an end to Baoshan's status as a city devoid of rail links.
The SOE's enhanced efforts in infrastructure are in line with China's recent nationwide push to strengthen infrastructure construction, which has been reiterated at many key meetings.
According to a statement of the 11th meeting of the Central Committee for Financial and Economic Affairs held late last month, China will make all-out efforts to strengthen infrastructure construction as the country builds a modern infrastructure system.
Infrastructure serves as a pillar for economic and social development, the statement said. It was also highlighted during the meeting to coordinate development and security, and optimize the layout, structure, functions and development models of infrastructure.
Experts also said they expect that boosting infrastructure construction will be a critical way to ensure the country is on a healthy growth track, especially at a time when the lingering COVID-19 situation still weighs on infrastructure investment this year.
"Traditional and modern infrastructure systems will jointly energize China's economic restructuring," Xu Hongcai, an economist with the China Association of Policy Science, was quoted by Xinhua News Agency as saying.
And in addition to traditional infrastructure projects such as transportation facilities, the construction of modern infrastructures such as 5G and big data centers, has become new highlights of the current infrastructure layout, Xu said.
The meeting signaled that economic growth is still of paramount importance, and infrastructure investment is one of the likely measures to boost growth in the second half, as the sector, as well as other high-level sustainable projects, still have room for more investment, said Zhu Ning, deputy dean of the Shanghai Advanced Institute of Finance.