Meeting lifts A-share market sentiment
Share - WeChat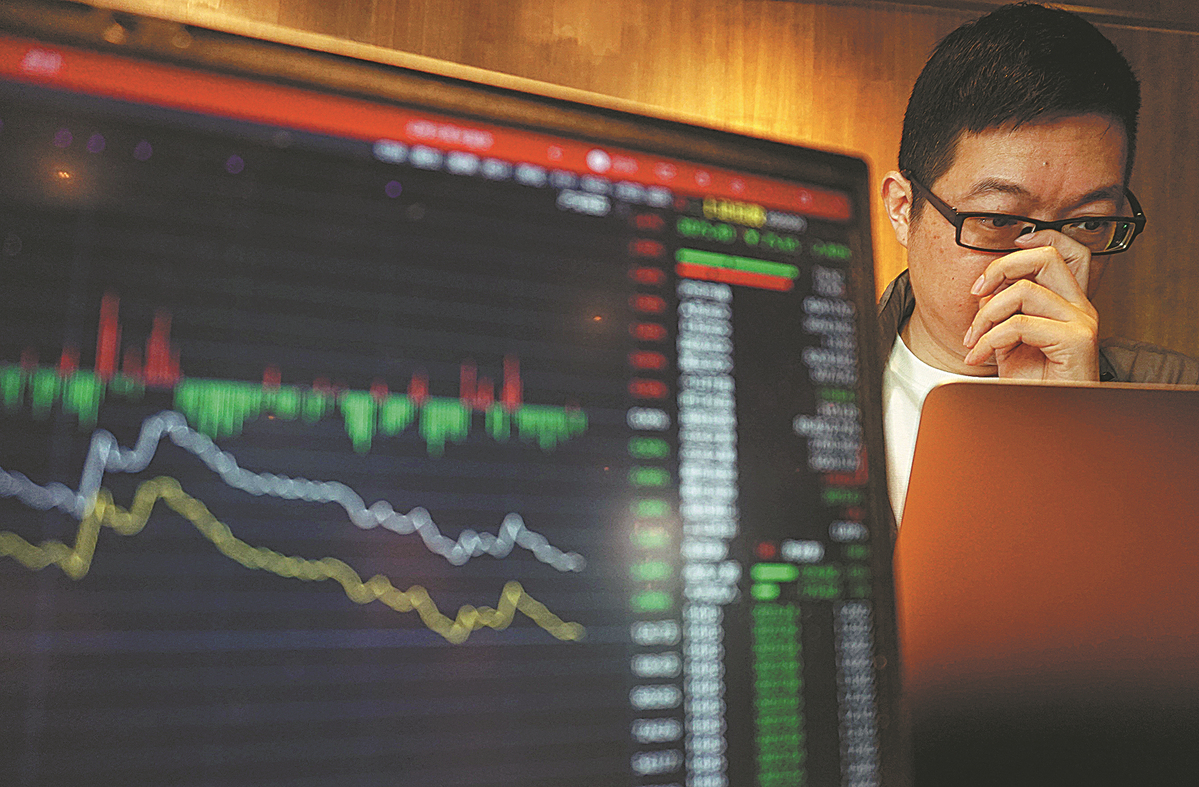 Despite the doldrums in early trading, the A-share market built on gains toward the end of the day-and all three major indexes closed higher on Wednesday.
The rises somewhat pared Tuesday's falls and came shortly after the State Council, China's Cabinet, announced it would hold a national video call at 3 pm to discuss measures to further stabilize economic growth.
Government officials at the provincial, municipal and county levels all attended the meeting subsequently, with the number of participants estimated to have exceeded 100,000.
The market, insiders said, appeared to have welcomed the video conference, going by the movement of the benchmark Shanghai Composite Index, which, after climbing 0.58 percent in the morning, jumped 1.19 percent in all to close at 3107.46 points.
The Shenzhen Component Index and the technology-heavy ChiNext in Shenzhen, both of which reported losses in morning trading, closed 0.7 percent and 0.32 percent higher, respectively. On Tuesday, the SCI fell 2.41 percent, the Shenzhen Component Index lost 3.34 percent and the ChiNext shed 3.82 percent, ostensibly due to profit-taking.
The State Council also released on Wednesday a guideline aiming to increase effective investment and put existing assets to better use, especially infrastructure projects like transportation, clean energy, industrial parks and affordable rental housing. Financial tools like asset-backed securities and real estate investment trusts are suggested as possible ways to use the existing assets more efficiently.
A-share shipping and port management companies reported the strongest daily increase of 5.31 percent on Wednesday.
But a different story unfolded in the US stock market a day earlier. The technology sector plunged on Tuesday, with social media company Snap Inc plummeting a staggering 43 percent. Facebook lost 7 percent, Google's parent company Alphabet was down by 5 percent and Twitter slid more than 5.5 percent. Nasdaq was thus pulled down by 2.35 percent.
China and the United States are now at different phases in terms of the economic cycle. The average valuation of the A-share market is quite low at present. These are the major reasons for the disparate performances of the Chinese and US stock markets at present, explained experts from Haitong Securities.
Analysts from Guosheng Securities said the A-share market's decline on Tuesday was mainly due to the profit-taking activities of some investors. As such transactions have been settled, it is logical for indexes to tick up on Wednesday.
While slight fluctuations cannot be avoided, Guosheng Securities analysts said they still hold a positive outlook on the A-share market, given the relatively buoyant market confidence, which is supported by the better-contained COVID-19 epidemic and resumption of factory production. Investors should look for opportunities in lithium battery and photovoltaic companies that are undervalued at present, they said.
It is unlikely the US Federal Reserve will carry out another major interest rate hike in the near term. The renminbi exchange rate will stabilize, which will serve as another positive that can help form an optimistic outlook for the A-share market, said analysts from Huatai Securities.
Steven Sun, head of research from HSBC Qianhai Securities Ltd, further explained that a lower renminbi is strongly correlated to annual growth in Chinese companies' overseas revenue, which is relevant this time as many firms have accelerated their overseas business.
The renminbi depreciation against the dollar since early March, at over 6 percent, may increase A-share earning growth by 0.94 percentage point in 2022, he said.