Nation warms to atomic-based heating
Share - WeChat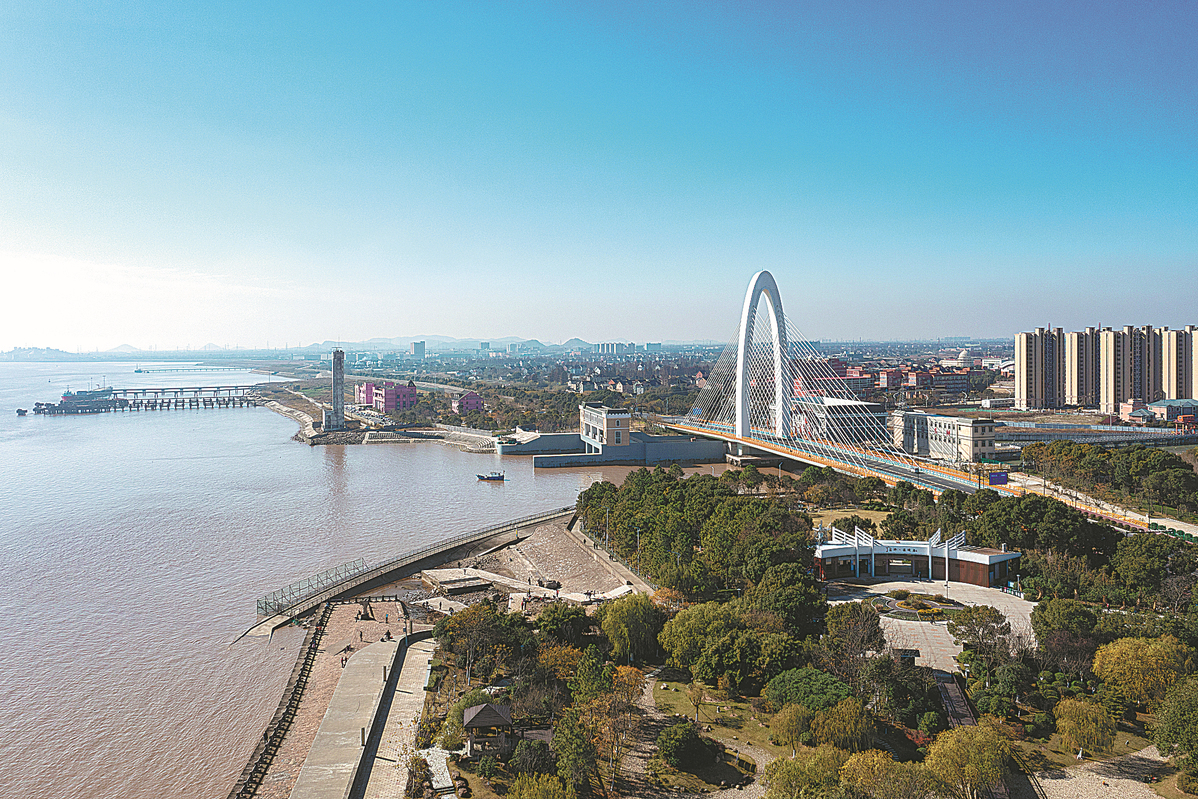 Chinese energy companies are gearing up to expand nuclear power-based heating projects in more areas in the country, given the likelihood that the option will be more widely embraced as nuclear energy development accelerates.
Two nuclear heating projects-one in Haiyang, Shandong province, and one in Zhejiang province's Haiyan county-were deployed this past winter, demonstrating the technology's advantages.
Such projects are created by connecting a nuclear plant's heating system to traditional nuclear units. It extracts nonradioactive steam from the circuit of nuclear units, which is then fed through a multistage heat exchanger in an on-site station. The heat is then fed to an off-site heat exchange station belonging to a local thermal power company, where heated water flows through municipal heating pipes to consumers.
Nuclear heating was used by more than 200,000 residents in Haiyang for 143 days during the winter, according to its operator, State Power Investment Corp. The company plans to expand the heating area to the entire Jiaodong peninsula.
The first phase of the company's nuclear heating project in 2019 provided carbon-free heating to 700,000 square meters of space, followed by the second phase, which increased the area to 5 million sq m in 2021.
The third phase of the company's 900-megawatt nuclear power-based heating project-the country's largest single-unit steam extraction heating project-is under construction and is expected to start providing clean heating by next winter.
The project will also involve new energy and energy storage technologies to better manage the consumption of clean energy and cross-region heating, it said.
China National Nuclear Corp, operator of the first nuclear heating demonstration project in the eastern part of China, in Zhejiang's Haiyan county, said it also will expand its nuclear power-based heating projects to more areas in China. It plans to cover 4 million sq m by 2025, after serving more than 4,000 Haiyan households this past winter.
The two projects are only the beginning. China has also approved a nuclear power-based heating plant in Heilongjiang province, which will be the first inland reactor, though not for power production.
State Power Investment Corp said it is also planning for a nuclear heating project in Hongyanhe county in Dalian, Liaoning province, to provide clean heating starting with the 2022-23 heating season.
The project, designed to heat 242,400 sq m, would help reduce carbon consumption by 12,100 metric tons, soot by 2.09 million tons, sulfur dioxide by 14,000 tons and nitrogen dioxide by 850,000 tons.
According to the 14th Five-Year Plan (2021-25) for the country's energy system, the government calls for wider promotion of nuclear energy to heat residential and industrial areas and desalinate seawater. The plan was released by the National Development and Reform Commission and the National Energy Administration in late March.
Nuclear heating projects, which can substantially improve the efficiency of nuclear power plants and stimulate new industries as well, have provided valuable experience to help further promote the technology nationwide, said Wei Hanyang, a power market analyst at BloombergNEF.
China's plans to expand nuclear heating illustrate its intention to decarbonize its energy-intensive heating sector, he said.
The nation is ambitiously developing its nuclear power sector during the current five-year plan period to help reach its twin goals of peaking carbon emissions by 2030 and achieving carbon neutrality by 2060, analysts said.
According to its modern energy system plan, the country's share of non-fossil energy consumption will increase to around 20 percent by 2025 and the proportion of non-fossil power generation would be around 39 percent by then.
Lara Dong, senior director of China power and renewables at S&P Global Commodity Insights, said while nuclear heating has gone from a vision to reality and China has made progress, it still remains to be seen whether the pilot nuclear heating project will be expanded further.
"One key concern from the public is that the nuclear facilities will have to be relatively close to residential areas," she said.