China looks to clean hydrogen fuel to power future
Share - WeChat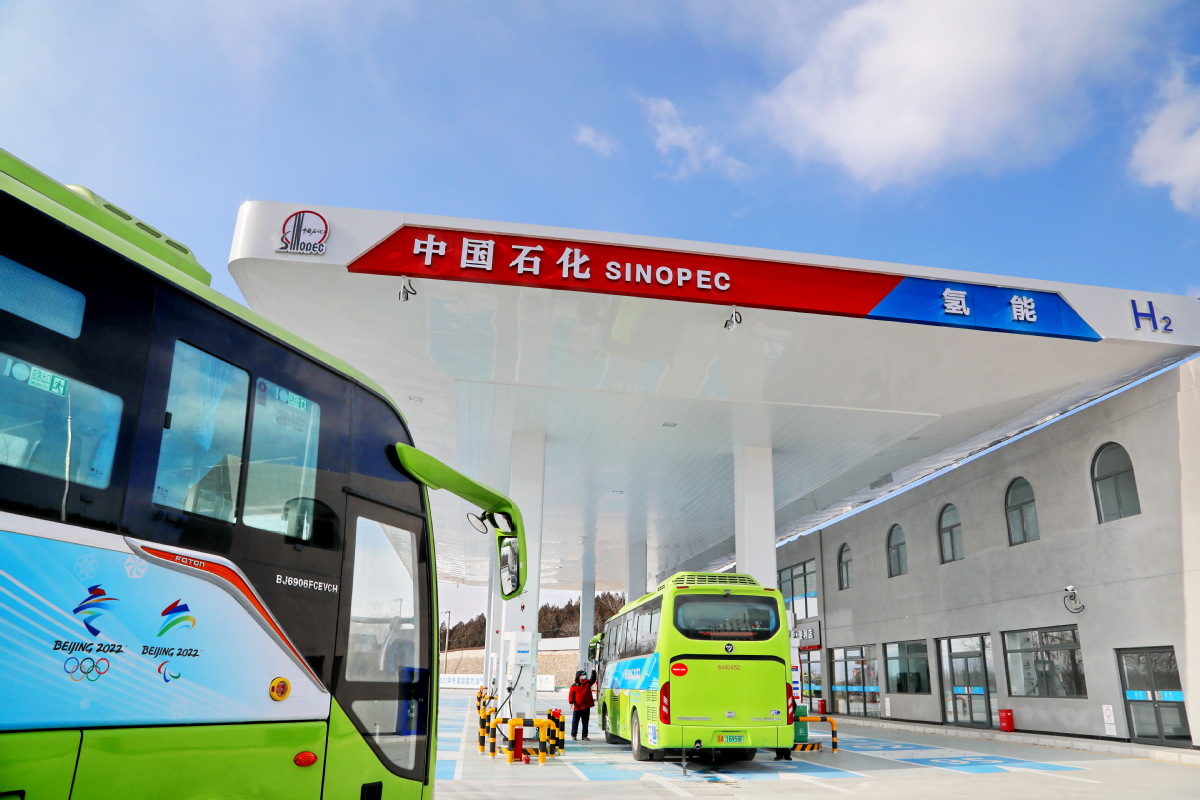 Editor's note: China aims to nurture 10,000 "little giants" from 2021 to 2025 amid an ambitious plan to trigger the vitality of small and medium-sized enterprises in its sprawling industrial economy. "Little giants" typically specialize in niche sectors, command high market shares and boast strong innovative capacity. To be termed a "little giant", a Chinese firm must see a minimum 5 percent year-on-year average growth rate of its main business income or net profit in the past two years. More importantly, it must have two valid invention patents or other similar proof of its innovation capabilities, and at least 3 percent of its top line must be dedicated to R&D, among other financial and operational criteria. China Daily explores how they help the world's second largest economy stabilize its industrial and supply chains, navigate headwinds from the COVID-19 pandemic and achieve breakthroughs in technology bottlenecks.
Zero-emissions vehicles only start of push to develop revolutionary technologies
The high-quality development of hydrogen industry is expected to play a significant role in promoting energy savings, reducing carbon emissions and shifting to alternative energy sources, industry experts said.
The use of hydrogen fuel cell vehicles is expected to help achieve the nation's goal of peaking carbon dioxide emissions by 2030 and achieving carbon neutrality by 2060, they added.
Beijing SinoHytec Co Ltd, a leading Chinese manufacturer of fuel cell systems, plans to continue to focus on technological innovation in hydrogen fuel cell engines, which combine hydrogen and oxygen to produce electricity, with zero carbon emissions and heat and water as byproducts, the company said.
The company said it will also strengthen its work with mainstream car manufacturers amid efforts to bolster the high-quality development of the nation's hydrogen industry and the commercialization of hydrogen-powered vehicles.
For the automobile industry, fuel cell systems are believed to be a key solution in achieving zero-emission vehicles, said Zhang Guoqiang, chairman of SinoHytec.
SinoHytec, founded in 2012, has been focusing on research and development and industrialization of hydrogen fuel cell engine technology, the company said. Officials also said they are developing other hydrogen energy applications.
The company said it has worked with major Chinese vehicle manufacturers such as Foton Motor Group, Yutong Group, Zhongtong Bus, Higer Bus, Dongfeng Motor Corp, BAIC Group and GAC Group to jointly launch a full range of products including buses, delivery trucks, passenger cars, forklifts, trams and stationary power systems.
Zhang said about 1,200 hydrogen-fueled vehicles and 20 hydrogen refueling stations were used during the Beijing 2022 Winter Olympics, with vehicles logging mileage of 3.75 million kilometers and reducing carbon dioxide emission equivalents by about 2,700 metric tons.
"The hydrogen fuel cell vehicles have gone through tests under various conditions, including high altitudes, low temperatures and complex road conditions, and are capable of meeting the public's demand for transportation," Zhang said.
Thanks to breakthroughs in core fuel-cell technologies, prices of fuel cell engines and raw materials have seen a decline. "It is expected that the number of fuel cell vehicles in China will reach 50,000 to 100,000 by 2025, and the cost of engines could be reduced to 1,000 yuan ($157) per kilowatt. By 2030, the number of fuel cell vehicles is projected to reach 1 million," he said.
China has bountiful energy resources that can be converted to hydrogen, but the distribution of resources is uneven among different regions, Zhang said. For instance, the Ningxia Hui and Inner Mongolia autonomous regions and Hebei province have abundant renewable energy sources like photovoltaic power and wind power, and hydrogen can be generated using those resources.
"In the past five years, SinoHytec has leveraged wind and photovoltaic power to produce electricity and build hydrogen production plants in Zhangjiakou, Hebei province, to solve the problem of hydrogen supply. Meanwhile, we have set up hydrogen refueling stations in collaboration with enterprises in the upstream and downstream segments of the local industrial chain," Zhang said.