Smartphone giant helps boost worker skill levels
Share - WeChat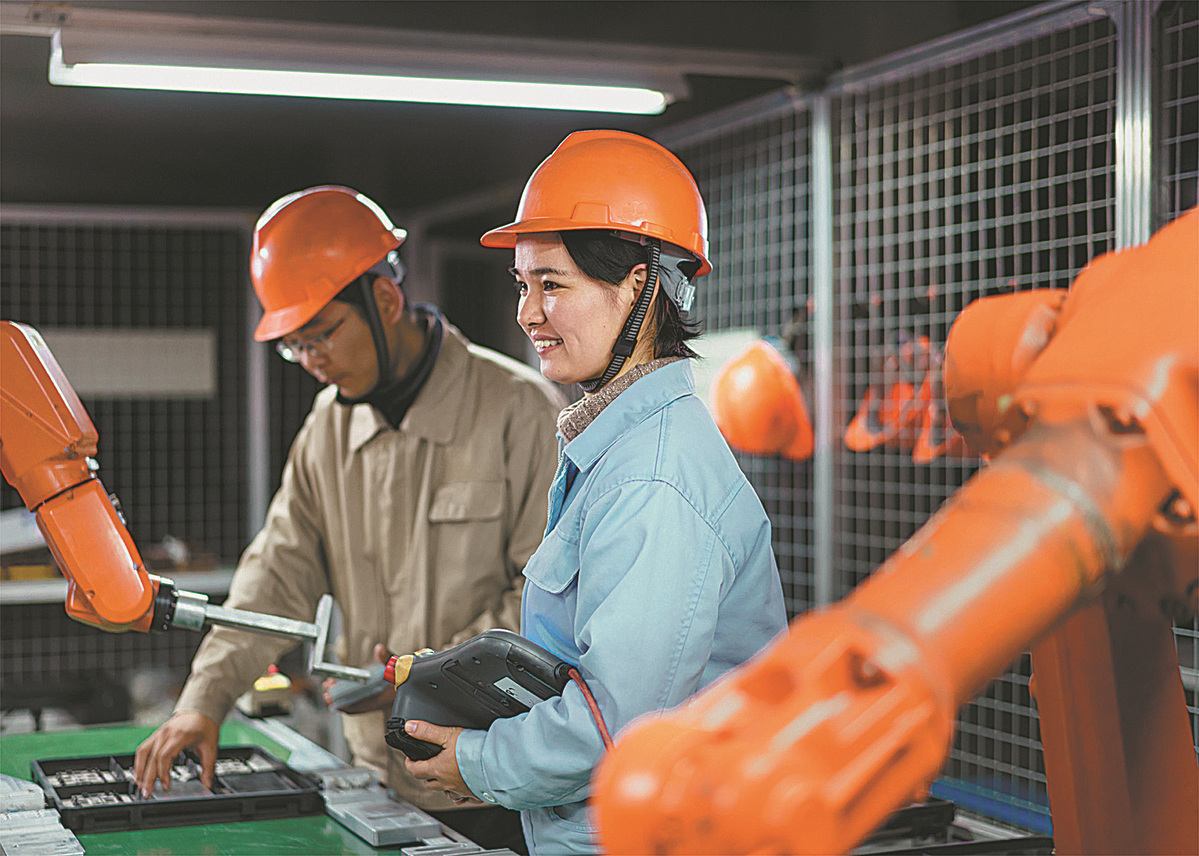 Zhou Xue, an employee at smartphone manufacturer Foxconn's factory in Chengdu, Sichuan province, did not expect that one day she would help develop a mobile app.
Born in the 2000s, Zhou joined the plant as a technician in 2021, and one of her job was to change and record the tools used at various assembly lines-a monotonous task prone to error.
"Tools such as knives and punches are consumed a lot in the factory and they need to be replaced frequently. It takes time and effort to manually record how many of them have been changed," Zhou said.
After participating in programming training courses, she developed an app with others that monitors and records equipment and machine usage in real time, thus saving a lot of manpower. The app not only helped Zhou boost work efficiency, but also allowed her to win a transfer to the automation internet engineering department of the factory.
Zhou is among a growing number of front-line manufacturing workers in China that have benefited from Apple Inc's supplier employee development initiative, which is designed to better empower people across its supply chains with more access to learning opportunities. Foxconn manufactures smartphones for Apple.
Isabel Ge Mahe, vice-president and managing director of Apple Greater China, said that Apple is very happy to witness, participate in and promote China's shift toward high-end manufacturing.
As China's manufacturing industry becomes increasingly intelligent, and the education levels of employees continue to improve, Apple is providing employees of its suppliers more training in automation and advanced manufacturing techniques, such as programming and robotics, Ge said.
According to the senior executive, the company has established a robotics science training center in Chengdu, with plans to add more training points in the coming years.
Talent is the source of development. Apple's training courses are in line with the needs of China's manufacturing industry, and the purpose is to cultivate the skilled workforce required by advanced manufacturing, she added.
Apple said it also provides ongoing support to suppliers and vocational schools in China, including work-study integrated courses and life skills courses, which can help young people transform from students to employees of advanced manufacturing, and also contributes to the development of China's manufacturing industry.