Joint industry-oriented education key to intelligent manufacturing
Share - WeChat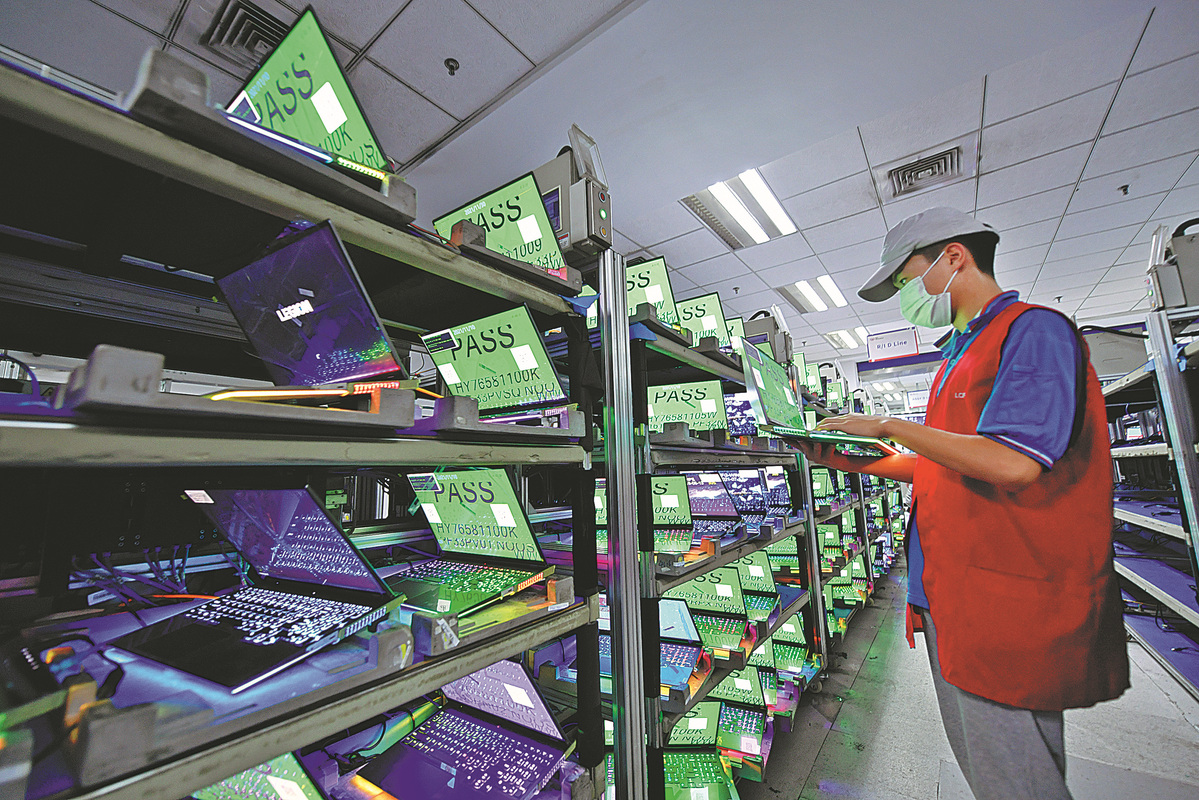 Top tech firms taking lead in providing more opportunities for women in particular
As China pursues industrial upgrades and intelligent manufacturing, Chinese and foreign companies alike are ramping up their push to cultivate multiskilled manufacturing and digital talent to better empower people amid the challenges of the COVID-19 pandemic.
The efforts come as China's manufacturing industry is placing greater emphasis on the shift to high value-added fields, which generates new demand for digitalization and intelligence in the manufacturing industry, and thus puts forward more requirements for manufacturing talent.
Jonathan Woetzel, director of the McKinsey Global Institute, said that by 2030, about 220 million Chinese workers may need to change their professions, and it is advisable to expand the coverage of educational and skill development systems to include not just student populations but also the overall workforce of 775 million.
Government, industry and society as a whole need to work together to promote skills transformation in China, Woetzel said.
China's 14th Five-Year Plan (2021-25) highlights efforts to cultivate advanced manufacturing clusters and to promote the development of key industries including integrated circuits, aerospace, marine engineering equipment, robots, advanced rail transit equipment, high-end power equipment, engineering machinery and medical equipment.
At the same time, China faces a structural employment challenge in supply and demand, with companies having difficulties recruiting qualified staff and workers finding it hard to secure satisfactory jobs. There is a shortage of high-level skilled manufacturing workers, experts said.
To help solve this problem, Chinese tech giant Lenovo Group has launched a "purple-collar talent initiative" to help cultivate talent for the new intelligence transformation era.
According to Lenovo, "purple-collar" talent refers to employees who meet the requirements of intelligent manufacturing, are familiar with the actual manufacturing process, understand the corresponding technical theories, and have both hands-on operational and managerial capabilities.
Qiao Jian, senior vice-president of Lenovo-the world's largest personal computer maker-said the company hopes the "purple-collar talent initiative" can help drive an industrial upgrade in China and foster high-quality manufacturing development.
Under the initiative, Lenovo said it will leverage internal sources such as supply chains and its charity foundation to partner with universities and vocational colleges to cultivate people for a wide range of manufacturing industries. Currently, over 10,000 people benefit from Lenovo's vocational education initiative every year, and it aims to expand the scale so that more people can participate in the project.
"What we want to do at Lenovo is to empower the real economy through new IT, or intelligent transformation, and to promote the transformation, upgrading and high-quality development of the manufacturing industry. By 2025, China's demand for 'purple collar' talent will reach 9 million, and the talent gap between the demand and the supply will hit 4.5 million," Qiao said.
She said that in order to meet this need, Lenovo is building an ecosystem of industrial talent through student training and on-the-job learning, offering vocational and practical courses, and providing teaching and training programs.
For instance, the "New IT Industry College" developed by Lenovo Education creates courses based on Lenovo's smart manufacturing industry technology and high-level skills of employees. Vocational colleges use teaching content to promote industrial upgrading and echelon training for students, closing the loop between academic education and on-the-job requirements. The Lenovo Foundation provides opportunities for teenagers from rural and underdeveloped areas to enter vocational colleges to support future internships and employment, Qiao added.
Lenovo is also ramping up its push to reward frontline manufacturing workers at its factories to encourage more people to become advanced manufacturing talent. Yang Yuanqing, chairman and CEO of Lenovo, for instance, said in March that he set aside 80 million yuan ($12.56 million) to reward its frontline workers for their efforts to overcome challenges caused by the COVID-19 pandemic and ensure production.