Rougher weather tipped in rainy season
Share - WeChat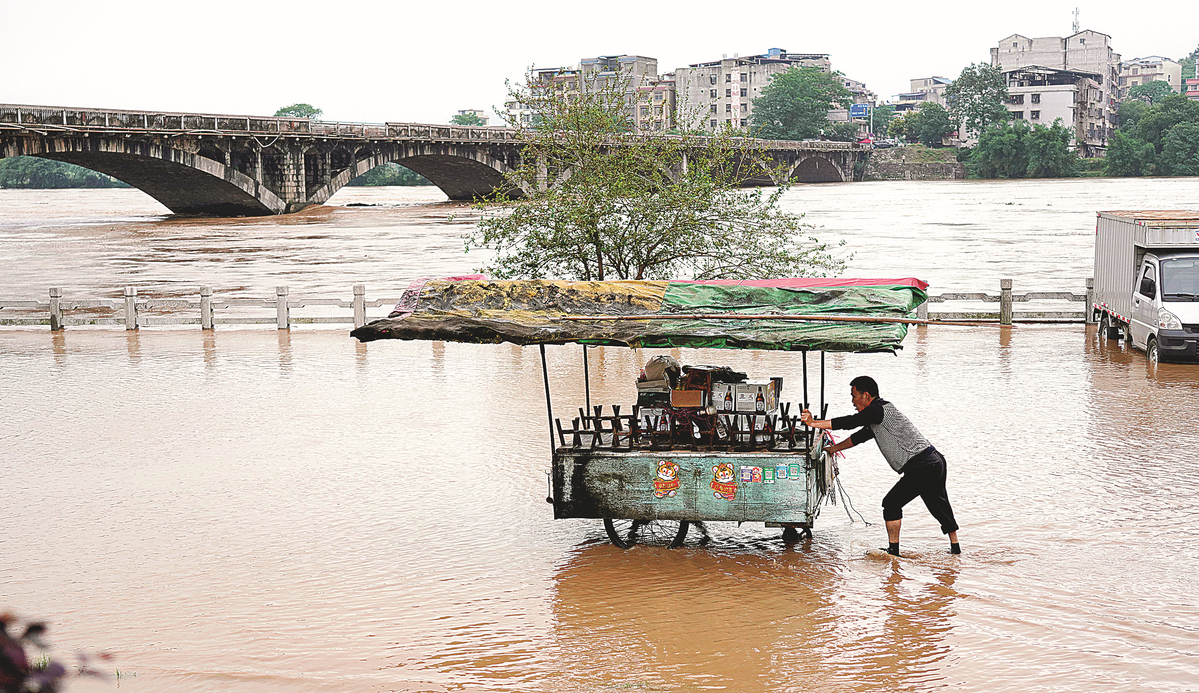 China is forecast to confront a grim and complicated situation in natural disaster control this rainy season with more extreme weather events expected, officials with the Ministry of Emergency Management said.
From May to September, the meteorological conditions in the country may not differ much from normal years, however there is also a possibility that it will be comparatively unfavorable, Yuan Yi, deputy head of the ministry's monitoring and disaster mitigation, said at a news conference on Monday.
"The high frequency of severe convective weather in northern China means that there may be higher risks of flooding, hail and gales," she said.
Severe convective weather refers to sudden and very destructive weather phenomena that often include thunderstorms, hail, gales and localized heavy rain.
She said more typhoons may make landfall this year, though they are expected to be generally weaker in strength.
Yuan warned of the high risk of forest fires in Northeast, Central and Southwest China. East and Central China, as well as the Xinjiang Uygur autonomous region, may be hit by drought in summer.
Chen Min, director of the ministry's department of flood and drought control, said the country will be simultaneously troubled by flooding and drought this rainy season.
With more extreme weather events, the country will see more regional and short-term flooding and drought in some areas, he said.
He said that in northern China, major floods may occur along the Haihe, Liaohe and Nenjiang rivers, as well as the middle and lower reaches of the Yellow River.
In the south, areas along the Xijiang River and in the upper reaches of the Yangtze River may experience regional floods, he added.
Chen said the ministry has taken a series of measures to address the weak links in urban flood control exposed last year during the devastating flooding in Henan province, which led to 380 deaths between July 17 and 23.
The State Flood Control and Drought Relief Headquarters has issued a notification to local governments across the country, asking them to draw a lesson from the incident and address loopholes in flood control work with solid preparatory measures for the coming rainy season, he said.
He said the ministry has also coordinated relevant government bodies to thoroughly comb through drainage and flood control facilities in urban areas, especially those in low-lying locations, for safety hazards.
Local governments have been urged to rectify any problems in a timely manner, he said. If they cannot rectify the problems before the local flood season, control measures should be put in place to ensure safety and responsible people should be specified to roll out the measures.
In April, 13 people were left dead or missing in natural disasters across the country, which caused a total economic loss of 2.8 billion yuan ($412 million), said Shen Zhanli, the ministry's spokeswoman.
China has entered a period that has a high frequency of severe convective weather, she said. Compared with last year's average, the country received 2 percent more precipitation in April. Torrential rains in southern China have already caused floods and geological disasters in some areas this year.