LNG plant dramatically expands China's capacity
Share - WeChat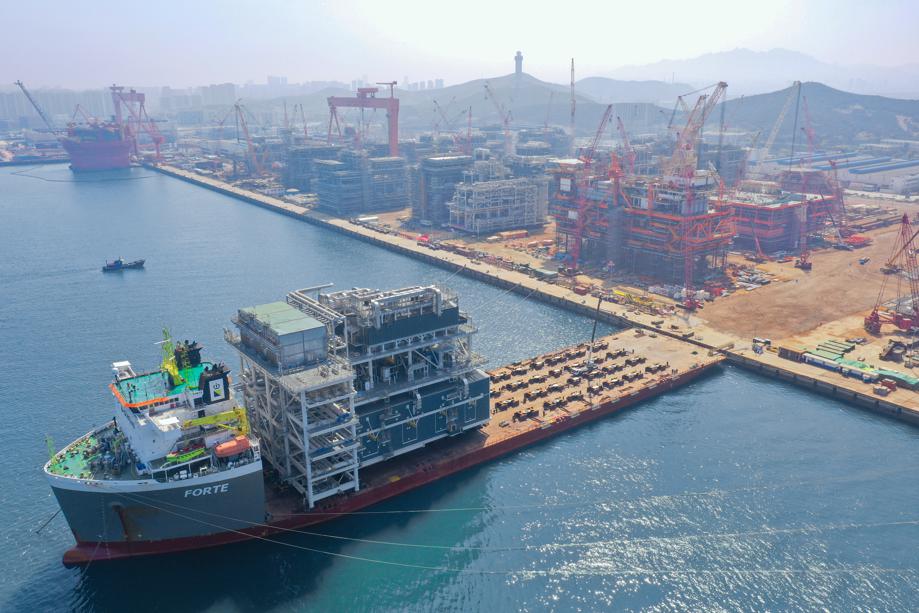 Two core process modules were delivered to a Canadian liquefied natural gas project site on Saturday in Qingdao, Shandong province.
The builder — China Offshore Oil Engineering Co, or COOEC — said the equipment will place China among countries with the highest output capacity of LNG in the world.
COOEC is a unit of China National Offshore Oil Corp, the country's top offshore oil and gas producer.
The two new modules are tall — equivalent to a 16-story residential building — with each weighing as much as the Eiffel Tower in Paris. They will be used for removing acidic gases, an important safety role.
The LNG Canada project was the first in the world to realize the integrated construction of core process modules and pipe rack modules, COOEC said, with many technical innovations made during the construction process.
Zhuang Hongchang, the project manager from COOEC, said the tonnage and size of processing modules were 1.5 times the capacity of common ones, with single decks weighing around 700 metric tons.
The modules are part of the first phase of the LNG Canada project, which includes two liquefaction trains with a capacity of 13 million tons. The project is expected to supply high-quality natural gas to Asia and diversify the import of natural gas for China.