Sky's the limit for carriers, livestreaming amid COVID doldrums
Share - WeChat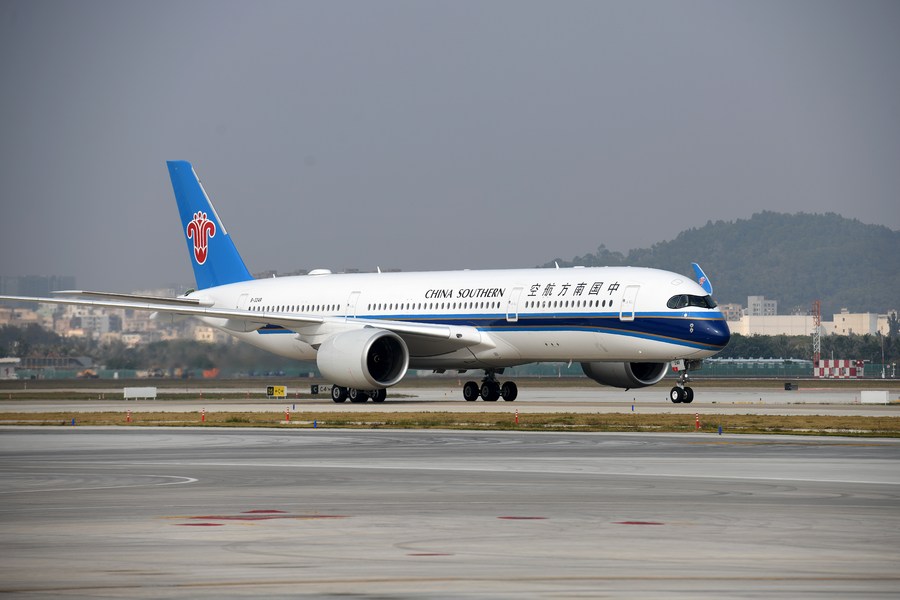 More Chinese commercial airlines are increasingly holding livestreaming sessions to sell cosmetics and skincare products to make additional income and hedge against declining passenger numbers due to the COVID-19 pandemic.
Since the latter half of 2020, domestic carriers began selling traditional products such as actual flight bookings, coupons that can be redeemed for cabin upgrades and some culturally creative goods, hoping to stay afloat after the pandemic struck by leveraging the multibillion dollar livestreaming market in China.
Due to recent reemergence of local cases of COVID-19, during the week of April 18-24, the daily average number of domestic passenger flights operated was 2,955, less than 25 percent of the level seen in the same period of 2021, according to VariFlight, a domestic aviation data service provider.
For the just-concluded May Day holiday, the daily number of domestic flights operated in China is expected to decline about 70-80 percent year-on-year due to strict pandemic prevention and control measures in different regions, VariFlight predicted.
Guangzhou-based China Southern Airlines has launched two official accounts on short-video platform Douyin. Since February, the two accounts have together held more than 100 livestreaming sessions and sold more than 150,000 units of products.
From mid-March to mid-April, the two accounts of China Southern gained sales revenue of nearly 6 million yuan ($916,000), according to data from the e-commerce data analysis platform of Douyin.
More carriers have trained their flight attendants to be anchors, and they have sold more diversified products in front of webcams. Among the more popular wares are makeup and skincare products and brand-name products that carry lower prices than the ones sold in duty-free stores. Sunscreen sprays, shampoos and other products topped the sales list.
"It is a change of mindset for airlines to sell cosmetics through livestreaming sessions. Previously, airlines mainly sold flight tickets and coupons, and flight ticket prices were not standardized since different people seek flights at different times and along different routes. Cosmetics are standardized products, and they are more suitable for sales during livestreaming sessions," said Lin Zhijie, an aviation industry analyst and a columnist at Carnoc, a major civil aviation website in China.
"Airlines have advantages in sales with their brand reputation and good appearance of flight attendants, and consumers can be easily convinced to buy cosmetics recommended by the hosts. Carriers also have advantages in purchasing products with their commercial channels," Lin said.
"Yet, the organization, culture and management models of airlines may not be quite suitable for livestreaming, and carriers may need independent teams to operate the businesses. It's also unrealistic for airlines to make up for the huge losses caused by the pandemic through livestreaming sales, but it's quite meaningful for them to explore this new business," he added.
China Southern said in its 2021 annual earnings report that it will actively develop more products and services for the Guangdong-Hong Kong-Macao Greater Bay Area market.
In addition, it will speed up promoting cross-border e-commerce in Hainan Island. The company will also make more efforts to develop businesses in general aviation and aircraft leasing, it said.
Hainan Airlines, China's fourth-largest commercial carrier, began selling makeup and skincare products through livestreaming sessions last year.
Between mid-March and mid-April, the carrier netted sales revenues of more than 14 million yuan through holding the sessions.