Rural homestays become more popular as a travel lifestyle
Share - WeChat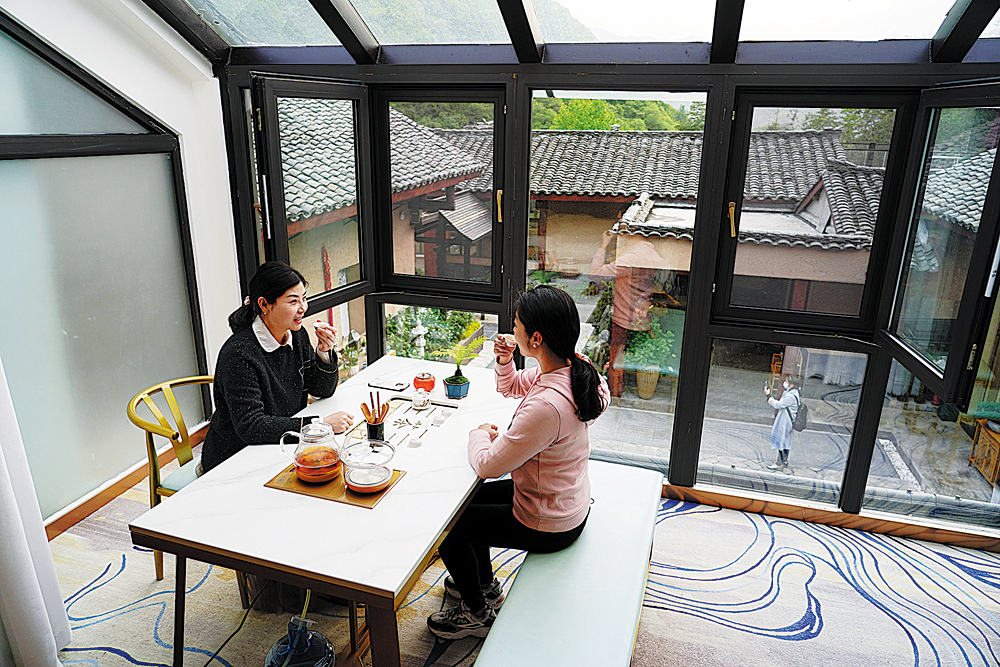 Rural homestays have become the fastest-growing segment in the bed-and-breakfast market since the COVID-19 pandemic, fueled by travelers who seek a more relaxed, pleasant and experiential lifestyle that is close to nature, a recent report found.
Tujia, a domestic online homestay service provider, said there are nearly 800,000 domestic rural homestays available online nationwide. Most people who took rural trips are urbanites, and most of them come from Beijing, Shanghai, Guangzhou of Guangdong province, Chengdu of Sichuan province and Chongqing. These urbanites have driven the rapid growth of rural homestays.
Among those who booked rural homestays, more than 60 percent of the total were born in the 1980s and 1990s. Fruit and vegetable picking, agricultural research and learning, making handicrafts and tasting delicious foods are among the most popular activities for rural homestay tourists, according to Tujia, a Chinese short-term lodging rental platform.
In 2021, the booking volume of rural homestays in Beijing increased by 10 percent year-on-year, and revenue jumped 38 percent year-on-year. Now, the booking volume of rural homestays accounts for about 40 percent of the total short-term rentals compared with 30 percent before the pandemic, according to Tujia.
"Cross-provincial tours are often limited for pandemic prevention and control reasons, and consumers' frequent short trips to suburban areas have driven the growth of rural homestays," said Hu Yang, senior vice-president of Tujia.
Zhou Cheng, a 33-year-old rural homestay operator, has been involved in the business for more than a decade, and he witnessed the fast growth of the domestic bed-and-breakfast sector.
In 2010, he started operating a rural homestay in Lijiang, Yunnan province in Southwest China, and annual income was about 200,000 yuan ($30,500), which is less than one-tenth of his current annual income. Now, he has transferred his business to Urumqi in Xinjiang Uygur autonomous region.