Shanghai upping COVID fight with help from conglomerates
Share - WeChat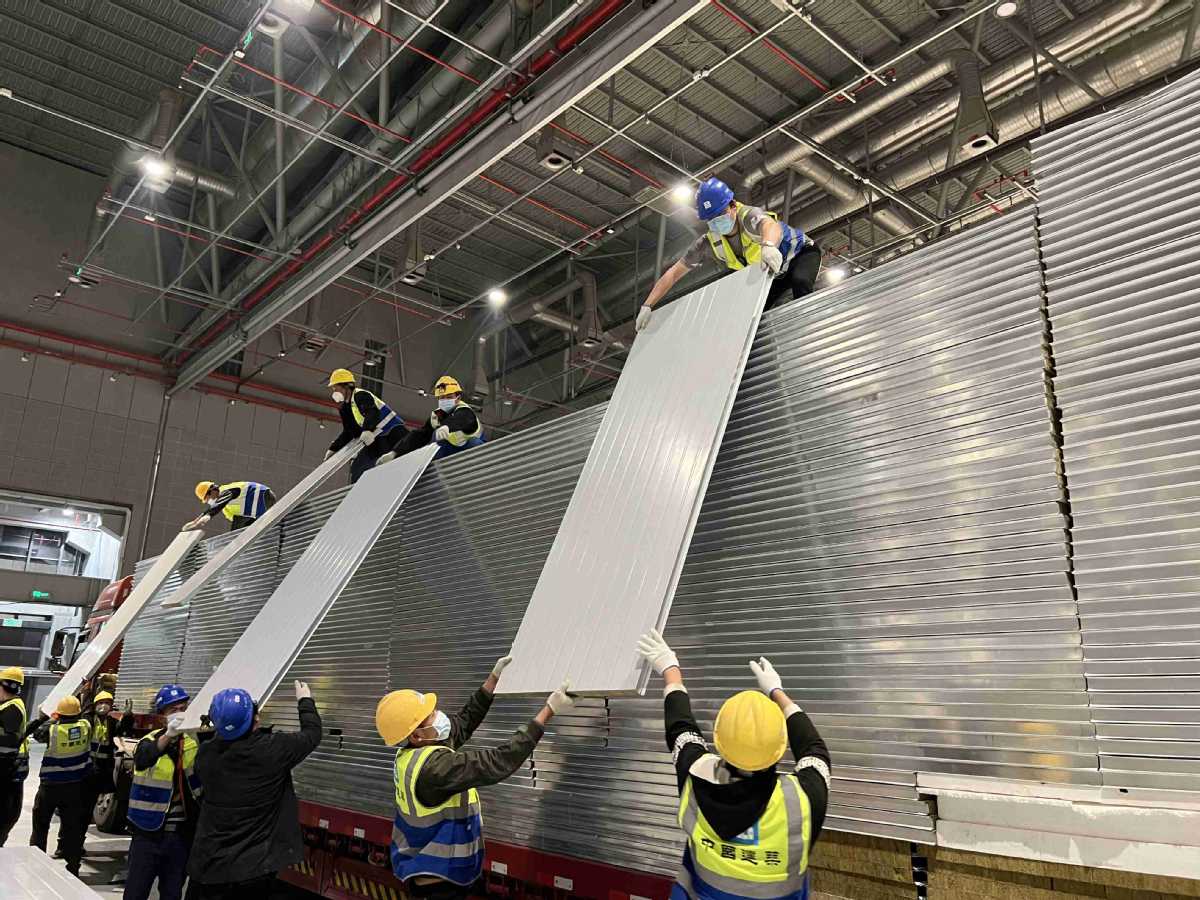 Centrally administered State firms rushing to safeguard city's supply chains
With China battling a COVID-19 resurgence attributable to the Omicron variant in Shanghai-the country's financial hub-its centrally administered State-owned enterprises are rushing to safeguard the city's supply chains and build makeshift hospitals.
To better optimize medical resources, Shanghai has transformed the National Exhibition and Convention Center into a temporary hospital that can accommodate 50,000 COVID-19 patients. A design plan was drawn up in just eight hours and 1,082 sets of container-style rooms were set up in the same amount of time.
Vegetables, fruits, and anti-epidemic resources are flooding in from all over the country, including from the Xinjiang Uygur autonomous region and the Tibet autonomous region thousands of miles away, according to information released by Shanghai's government in mid-April.
Shanghai-based China COSCO Shipping Corp, the country's largest shipping group, launched special service guides for its units such as container shipping and logistics businesses in Shanghai, to meet demand from both importers and exporters in the Yangtze River Delta region during the city's contagion containment period.
In addition to ensuring safe operations of its 58 docks and terminals as well as its more than 1,400 ships sailing the seven seas, the group launched its emergency response mechanism to prioritize deliveries of grain, oil, rice, water, daily necessities and other goods to Shanghai in late March. Its ports, including those at Shanghai Pudong and Shanghai Mingdong, are all reporting normal operations, the company said in a statement.
As Shanghai Haifeng Farm in Yancheng, Jiangsu province, supplies 12 percent of Shanghai's rice, China COSCO arranged transshipments via other ports in Jiangsu province to Shanghai, since many neighboring cities adopted strict anti-COVID measures for truck drivers going to and coming from Shanghai due to the city's lockdown.
After transforming four building blocks into quarantine facilities in Shanghai's Songjiang district on April 6, China Construction Second Engineering Bureau Ltd, a subsidiary of Beijing-headquartered China State Construction Engineering Corp, immediately mobilized 230 workers to the No 2 exhibition hall at a temporary hospital in the National Exhibition and Convention Center in Shanghai's Qingpu district to install 7,769 beds, and build nursing stations and storage rooms at the venue within 48 hours.
Covering 600,000 square meters, the project is the result of around-the-clock efforts from more than 25,000 engineers and builders, mainly from SOEs, across China.
Yang Ruizeng, the company's field manager at the makeshift hospital, said despite the speedy construction period, many convenient functions have been added to this facility, including beds and bedside lamps as well as showering facilities and emergency treatment stations.
"Providing a clean environment for doctors and nurses to don and remove protective clothing is vital for this project, as it can prevent medical staff from being infected before and after performing their duties," Yang said.
Meanwhile, the country's three major telecom carriers have all deployed resources and manpower to provide stable networks in Shanghai, including expanding cloud servers, increasing 5G network coverage and upgrading telecom communication speeds, as the city's need for online networks-ranging from education, medical care and epidemic prevention to office work-has significantly surged, said the State-owned Assets Supervision and Administration Commission, the country's top State asset regulator.
The Shanghai subsidiary of China Mobile Communications Group Co Ltd said that it had expanded its network capacity by 300 servers on a contingency basis, and set up a special 24-hour on-site team to guarantee the provision of cloud technology services for the first time.
China Telecom Corp Ltd, another major domestic telecom services provider, sent its emergency 5G base station vehicles out multiple times to set up telecom networks for nucleic acid test sites and centralized isolation sites.
According to the group's Shanghai branch, the temporary hospital at the National Exhibition and Convention Center enjoys coverage from fast and reliable 4G, 5G, fiberoptic broadband services and WiFi networks, enabling 5G disinfecting robots and delivery robots to lend a hand in the contagion fight.
Though seemingly less severe than the Delta variant, Omicron is still a dangerous viral strain and can cause serious symptoms, especially among the elderly and unvaccinated. Hospitalization and death are possible, according to World Health Organization experts.
The nation's dynamic zero-COVID approach does not seek to pursue zero infections. Rather it calls for measures to bring outbreaks under control in the shortest possible time, said Jiang Rui, director of the Shanghai Municipal Civil Affairs Bureau.
Jiang said this strategy necessitates a firm commitment, swift action and effective protection measures, and calls for ensuring essentials of life and medical services in the process. The city's core functions should operate normally while supply and industrial chains must not be impeded.