Expats lend a hand during lockdown
Share - WeChat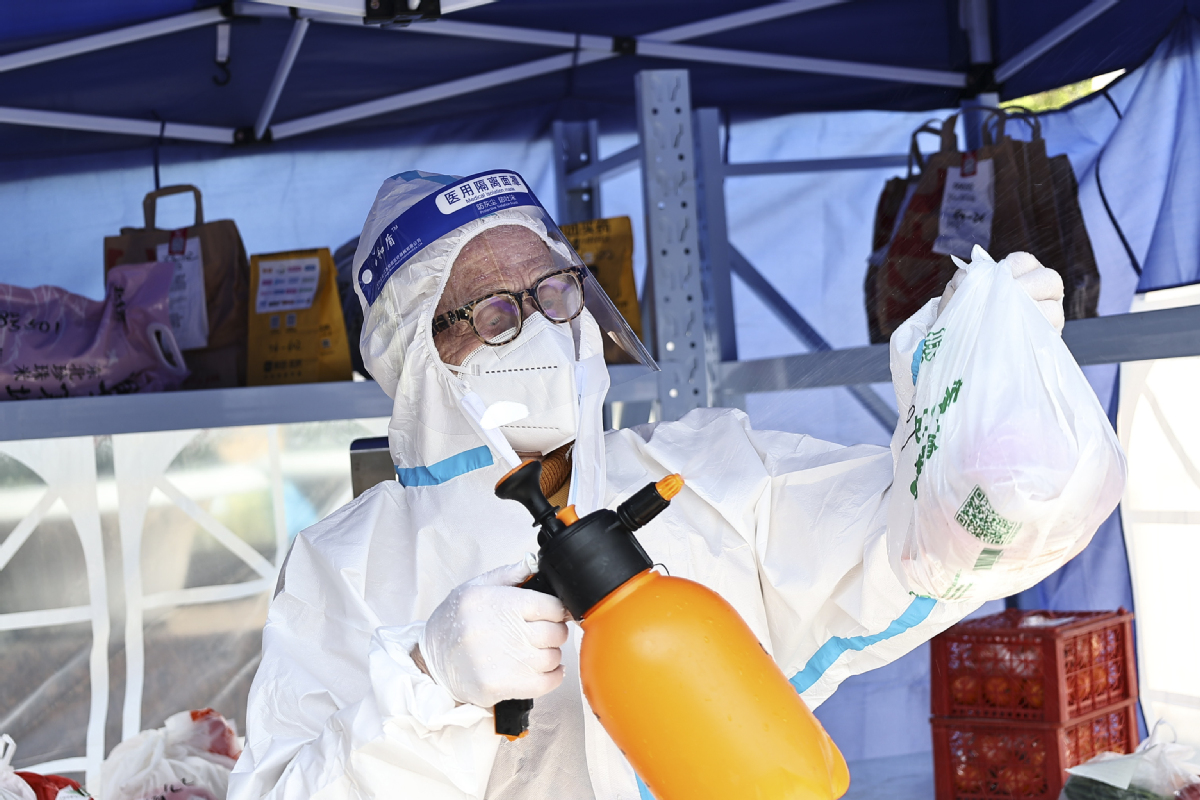 For the past three years, Shankar Koirala has been busy selling Nepalese artifacts in Shanghai.
But over the last two weeks, the Nepali's work scope has changed from selling goods to delivering groceries and daily necessities to elderly people in the Fenglin Xincun Community in Xuhui district where he lives.
"My Chinese friends in Shanghai have always provided me with aid, so it's only right that I help the senior residents fetch their packages and help my community sort out supplies," said the 29-year-old, who works about five hours per volunteer shift.
Among his tasks are disinfecting goods that arrive at the main entrance of the community before delivering them.
On Friday morning, for example, Koirala, who understands and speaks some Chinese, carried a large bag of food and daily necessities meant for an elderly woman residing on the fifth floor.
The expat and some 30 other community volunteers have been divided into several groups, with morning, afternoon and evening shifts. Each group works four or five hours a day.
They are required to wear protective clothes to disinfect goods at the gate of the community, and then they place the goods at unit doorways after informing residents of the delivery via building intercom.
According to China's seventh census, conducted in 2020, Shanghai is home to over 160,000 registered overseas residents. Like Koirala, many of these foreigners have been contributing to their communities and ensuring that residents in lockdown receive their food and daily necessities during the latest COVID-19 outbreak.
Malaysian Kek Seng Yem, who has been living in Shanghai for 12 years, is another foreigner who has been aiding locals since Puxi, the areas of the city west of the Huangpu River, was locked down early this month.
Kek said that he was inspired to become a volunteer by his wife, a Shanghainese who works for a supermarket that has been tasked with providing supplies to residents during the outbreak.
"I wanted to do something for my neighborhood where many residents, including volunteers, are old people," said the 49-year-old. "They are kindhearted people who are always ready to help others, even though they could just enjoy their retirement."
Over the past two weeks, Kek has mainly been helping the community management team unload daily supplies provided by the local government before packing and delivering them to residents. He also has helped with keeping nucleic acid testing sites in order and disposing of waste.
This volunteer experience has been most valuable, said Kek, who said that he has gotten to know his neighbors better and now feels more attached to the community and the city.
Meanwhile, in Shanghai's Songjiang district, Jacob von Bisterfeld has been volunteering at the Dongming Huayuan Community. Besides helping out at nucleic acid testing sites, delivering supplies and disposing of garbage, the expatriate has also been putting his Mandarin skills to good use by using a loudspeaker to remind residents to get tested.
"I use the Chinese language every day when I go shopping, make telephone calls and talk to my neighbors. My Putonghua (Mandarin) is not perfect but it's sufficient to get around," said von Bisterfeld, who was born in the Netherlands and moved to New Zealand at an early age. He has been living in China for about three decades.
"Volunteering for some people, including myself, is an inborn sense of responsibility. It's an excellent way of making friends and getting to know people around us better. It's good to be fully integrated into the local scene," he added.
Multilingual expats like von Bisterfeld have proved to be important human resources in the latest COVID-19 outbreak, as they can act as a bridge between the locals and foreigners who cannot understand or read Chinese.
In the Hongqiao subdistrict in Shanghai's Changning district, Habib Ur Rehman, who can speak Chinese and English, has been carrying out this role by educating his foreign peers about the local epidemic prevention and control regulations, and helping them navigate Chinese apps to retrieve the QR codes needed for nucleic acid testing.
Volunteers such as Habib are especially important, since foreigners account for roughly 25 percent of the 80,000 residents living in the Hongqiao subdistrict.
"Because of language barriers and cultural differences, foreigners may face problems when having to undergo testing in the neighborhoods," said the Pakistani, who has lived in Shanghai for 13 years.
"I hope my contributions can help them save time and allow the testing process to take place smoothly."