Dongguan goes the whole hog for rapid recovery across sectors
Share - WeChat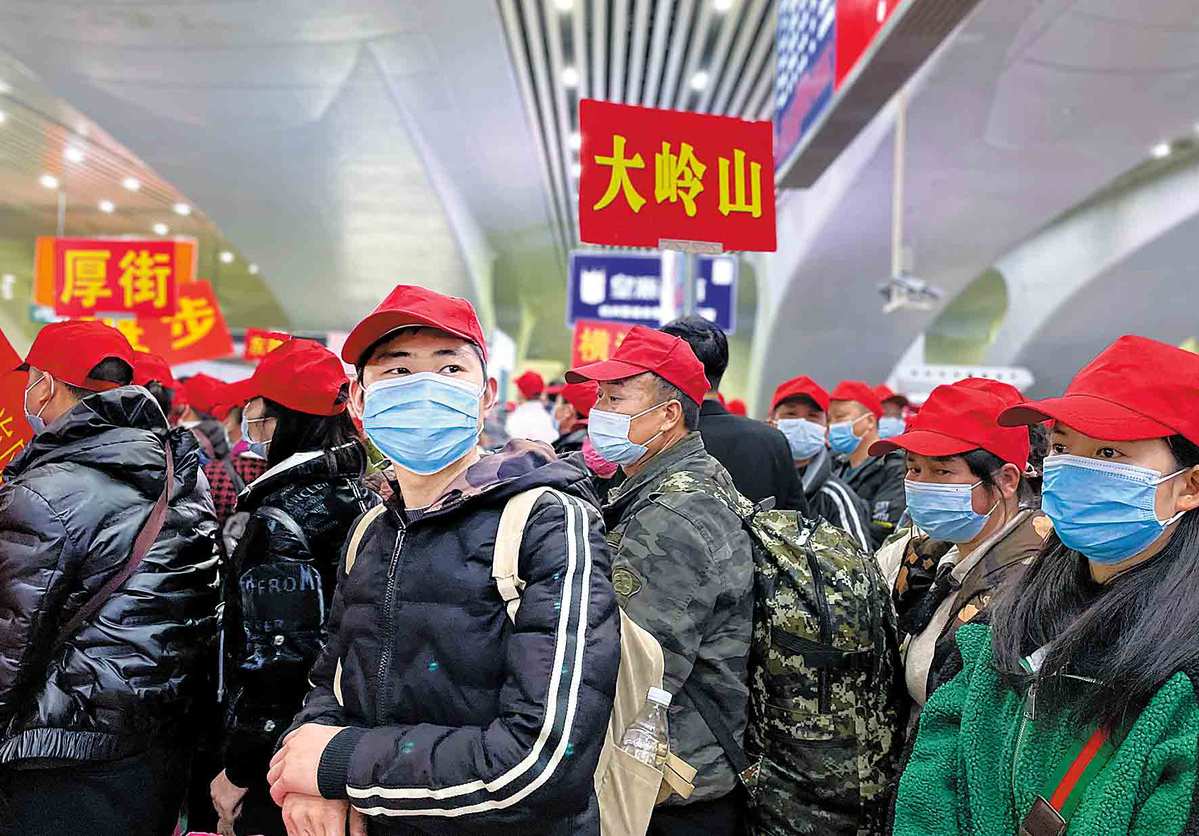 Though facing COVID-19 headwinds, FCI Connectors Dongguan Ltd, a Dongguan, Guangdong province-based manufacturer of connectors and other electronic components, has fully recovered operation in its production facilities since early this year, following an increase in its overseas orders.
"We have not stopped production for a day, as orders have surged," said Xiong Xiaomei, a human resources manager with the company.
Ensuring smooth production and efficient shipment has become major tasks for local global traders and the government since the beginning of the year, with the resurgence of the COVID-19 pandemic putting much pressure on the city.
"Efficient measures including closed-off management for workers were introduced into the company, which allowed us to stay in full production," said Xiong, adding over 80 percent of products manufactured by the company are shipped to overseas markets.
The company's orders increased by 53.6 percent year-on-year in the first two months of 2022, Xiong said.
FCI Connectors' business mirrored the performances of thousands of local companies, which have done their best to ensure the production and delivery of goods amid the new normal for foreign trade-the COVID-19 pandemic and the increasing costs in logistics as a result.
"With the pandemic still rampant, it is difficult to ensure logistics run smoothly-both in raw materials supply and goods shipment," said Huang Qian, director of the human resource department of Shengyi Technology Co Ltd, a global core supplier of electronic circuit base materials.
The company, based in Dongguan's Songshan Lake Hi-Tech Industrial Development Zone, had to build transit and shipping sites after adjusting logistics by building new factory warehouses and operation sites in nearby streets.
"We have now reached full production capacity, although difficulties in logistics had once directly affected the continuity of our business," Huang said.
As foreign trade has always played a significant role in driving the city's economic growth, Xiao Yafei, Party secretary of Dongguan, urged local foreign trade-oriented enterprises to accelerate production as soon as possible to ward off negative impacts brought about by the pandemic.
"We should spare no effort to recover the production capacity dragged down by the recent COVID-19 outbreak," Xiao said during a recent meeting with local foreign-invested and trade companies.
Dongguan's foreign trade volume exceeded 1.5 trillion yuan ($240 billion) for the first time in 2021, surging 14.6 percent from a year earlier, with exports value reaching 955.98 billion yuan, up 15.4 percent year-on-year, and imports hitting 568.72 billion yuan, up 13.2 percent from a year earlier, government data showed.
In the first two months of 2022, the city's foreign trade volume increased 4.9 percent year-on-year to 213.36 billion yuan, and exports reached 80.44 billion yuan, a year-on-year rise of 6.9 percent.
Due to the ravaging COVID-19 pandemic, local companies are confronted with challenges in logistics and supply chains, Xiao said.
"We have been working on measures and offering services for enterprises to help them ensure production and overseas orders."
The city's latest efforts came in as the Customs and port departments in Dongguan and neighboring Shenzhen jointly launched a combined Customs service in February, allowing cargo from Dongguan to be declared, inspected and released all at once.
Previously, businesses from Dongguan had to go through Customs clearance procedures at two ports in different cities. With the new service, traders can take advantage of priority inspection, which allows them to complete the appointment, inspection and release of cargo in just four hours, cutting their overall Customs clearance time by more than 24 hours.
Cross-border logistics companies have also been looking for new solutions, including establishing overseas warehouses in Southeast Asia and Europe to ensure faster product delivery.
Enterprises based in Dongguan have so far set up about 30 overseas warehouses in 10 countries and regions such as the United States, Britain, Germany, France, Thailand and Indonesia, according to local commerce authorities.
Bai Ming, deputy director of international market research at the Chinese Academy of International Trade and Economic Cooperation, called on foreign trade companies to better adjust their production structure and look for new markets to sustain business growth.
"New markets, along with the huge domestic market, will be key to traditional foreign trade companies in an adjustment of their production and sales," Bai was quoted as telling the Securities Times.
"Under the COVID-19 circumstances, China's vast central and western areas will be ideal destinations for foreign trade companies to establish their production and sales centers," he said.