Zhao's unlikely alliance can be Rocket to Crucible success
Share - WeChat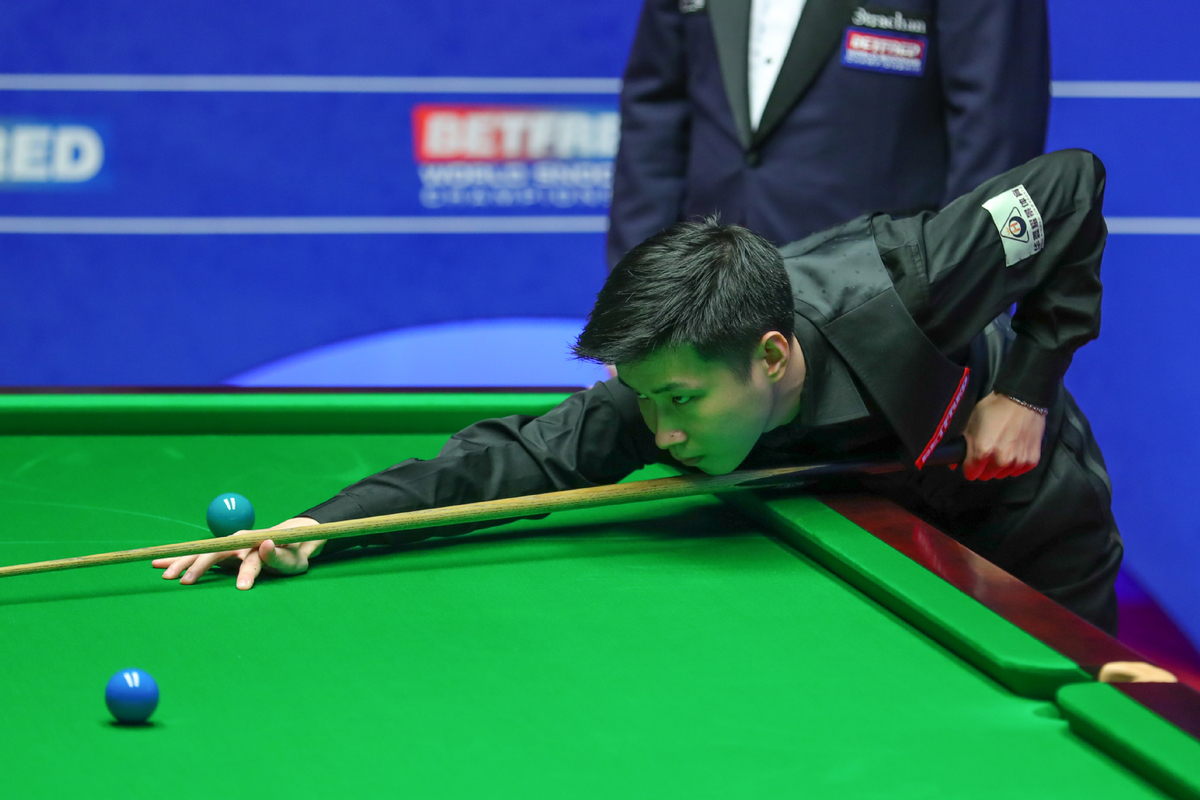 It's early days at this year's World Snooker Championship but already the buzz is building around Chinese hotshot Zhao Xintong.
The 25-year-old, nicknamed 'The Cyclone', blew away Welshman Jamie Clarke 10-2 on Sunday to advance to round two at Sheffield's Crucible Theatre for the first time and live up to the considerable hype that followed his breakthrough UK Championship victory in December.
Zhao was tipped for greatness after that triumph, and added a second ranking title, the German Masters, in January. The imperious manner of Sunday's win confirmed his recent rise is no flash in the pan.
Among a host of experts tipping Zhao for world-title glory is arguably the greatest player of all time, Ronnie O'Sullivan, aka The Rocket, who has recently been working with Zhao at the renowned Victoria's Snooker Academy in Sheffield.
"Ronnie is a very kind man and has really been helping me. Even two days ago we had a Chinese hotpot together. He helps me mentally and with my break building," Zhao told the BBC.
The linkup could be considered something of an unlikely alliance, given O'Sullivan's brash personality and fresh-faced Zhao's more gentle, soft-spoken manner.
On the baize, though, the pair share the same super-smooth cuing and natural potting ability, and the 46-year-old O'Sullivan hopes to help his young protege fulfill his massive potential.
Indeed, O'Sullivan says he is also learning from their sessions, when they dissect and discuss positional play and defensive tactics.
"So I'd tell him to do this or do that and he'd get it, and actually it taught me a lot. I didn't realize until I was watching him, because I know how to get there, but it's not until you watch someone do it that you think what you have to do," O'Sullivan told metro.co.uk.
"I think I've been able to help him navigate the table a bit better. I've realized my break building and the breaks I've made over the years are because the way I go about my shots.
"How I get from A to B, basically, and I'm trying to show him that he can get from A to B a lot more efficiently and easily and the mistakes that we picked out will no longer be mistakes because shots will be a lot easier. I just want to see him develop. I want all the snooker fans to get to see the best of Xintong. If I can help with his development and sit back and watch him come along, I get great joy out of that."
Now ranked No 7 in the world, Zhao claimed he felt extra pressure against Clarke as China's new No 1 of the sport. He didn't appear to be feeling the strain, however, looking at ease in snooker's most famous venue, and even playfully playing a deliberate foul stroke late in the match by potting a black instead of a pink as he cleared the colors.
"I had a good lead from the first session (7-2), but I didn't want it to happen again like at the Tour Championship where I was 8-4 up against John Higgins and lost," Zhao told the BBC after firing in two centuries and five further breaks of 70 or more against Clarke.
"I knew I had to win this match. There is some extra pressure from being the Chinese No 1 now, but there is a lot of support and that makes me feel better."
O'Sullivan is confident Zhao has all the tools, skills and temperament to cope in the spotlight.
"He could be the greatest of all time with his talent, his ability," said O'Sullivan. "I always say he's Roger Federer with a snooker cue in his hands. But he's got to develop and learn, and he will learn. He's like me, he's a quick learner and he's shown that he's on it.
"A bit like what (Ray) Reardon did with me, he showed me how to defend better. Xintong attacks but it's sometimes attacking because he's forced to attack.
"I said to him, if you do this better, you'll always have the upper hand. The more you've got the upper hand, the more you will feel comfortable. You don't want to play snooker from desperation.
"That's what I used to do, play from desperation. Attack because I don't know how to get out of trouble and pot my way out of it. Let's not do that, get the odds in our favor, but you need to go about it in a certain way for that to happen."
Intriguingly, Zhao and O'Sullivan could meet in the quarterfinals as the Rocket chases a seventh world title that would tie him with Stephen Hendry's record haul.
Both players, though, face tricky second-round tests. Next up for Zhao on Thursday is a meeting with Scotland's 2004 UK champion Stephen Maguire, with O'Sullivan taking on Northern Ireland's Mark Allen, the 2018 Masters winner.
Most Popular
Highlights
What's Hot