Shanghai to improve case handling efficiency
Share - WeChat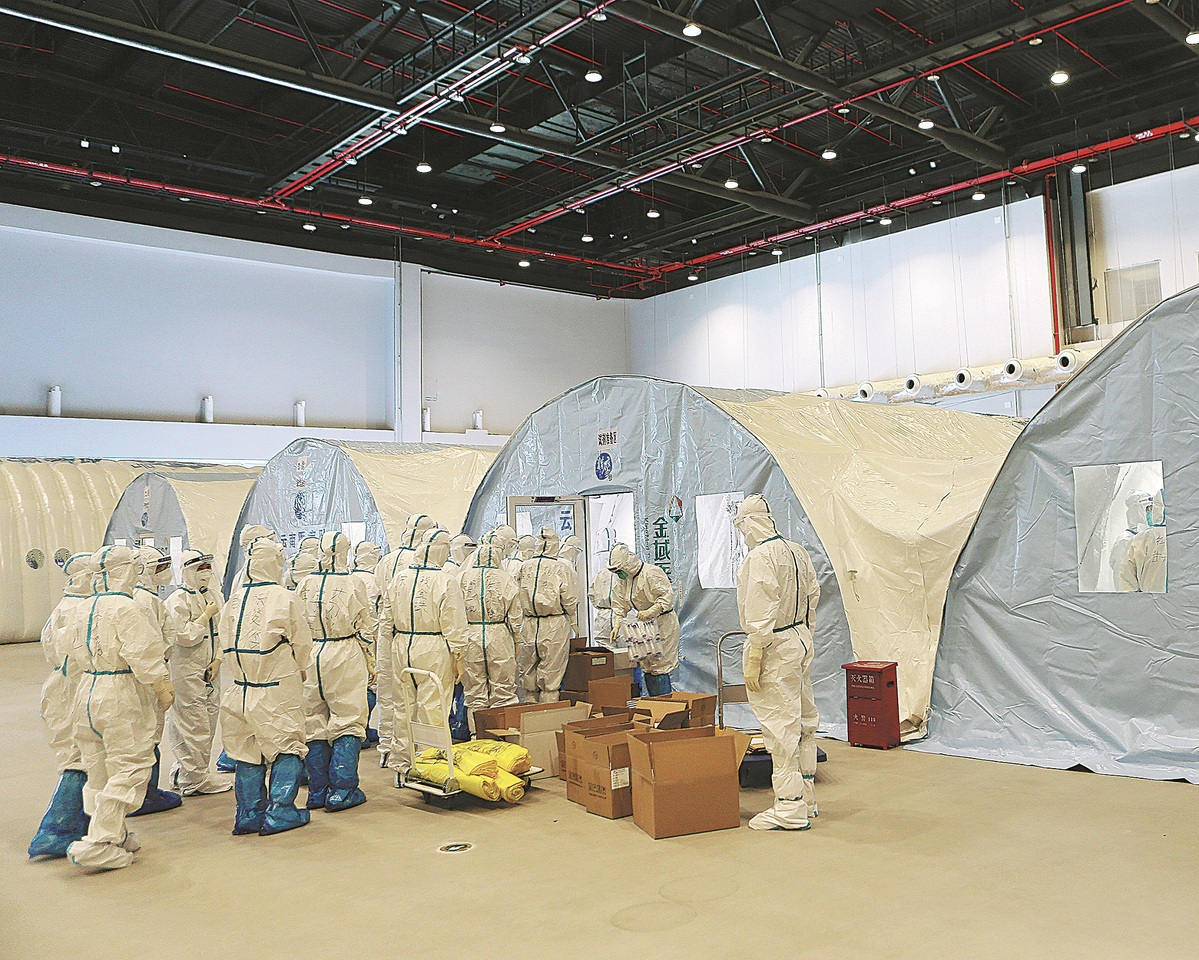 Smoother discharges from temporary hospitals make room for more patients
Shanghai authorities are working to improve the efficiency of discharging recovered patients from makeshift hospitals, or fangcang, to make room for new cases.
Efforts will be made to enhance coordination between various parties, including hospital, transportation and community management to accelerate the process of bringing recovered patients home, said Wu Qianyu, an official with the Shanghai Health Commission.
"The number of recovered patients from fangcang hospitals, especially the large-scale ones, are on the rise these days," Wu said. "We'll try to make their discharge smoother with joint efforts and improvements from different sectors."
The city government said that 334 COVID-19 cases and 6,044 asymptomatic infections were discharged and released from medical observation after recovery on Tuesday. Over 6,000 were discharged on Sunday and 3,000 on Monday.
At the same time, Shanghai maintains a high level of daily new infections, exceeding 20,000 for four consecutive days. The city currently has 7,776 people hospitalized and more than 220,000 under medical observation.
Shanghai has built more than 100 makeshift hospitals with a total capacity of more than 160,000 beds to receive COVID-19 patients with mild symptoms and asymptomatic individuals.
These two groups of people usually spend an average of a week in the hospital, Wu said.
They undergo nucleic acid tests once a day, starting a day after they are admitted, and are eligible for discharge should the results of two tests, taken at least 24 hours apart, return negative, according to Wu.
"Also, medical teams try to boost patients' recovery through a combination of positive health management, medical observation and treatment to deal with their symptoms if necessary," Wu said.
Ma Xin, vice-president of Huashan Hospital, told China National Radio on Wednesday that the high rotation of beds at fangcang will help boost Shanghai's race against the virus, and he hoped the public will offer more understanding and support.
A patient surnamed Zhu was one of 500 people discharged from the fangcang at Shanghai New International Expo Center on Wednesday. The 40-year-old said he is keen to see the city become vibrant again.
Zhu, who tested positive for COVID-19 on April 1 and was transferred to the fangcang hospital with an asymptomatic infection, had been working as a volunteer during his stay at the hospital.
"I was nervous when arriving at first, but the orderly environment and medical workers' professionalism calmed me down," Zhu said.
"There are over 1,300 patients in the W3 hall of the fangcang. I was impressed by medics' dedication when seeing them busily answering patients' needs. I felt obliged to step up to help them as a volunteer," he said.
At the hall, over 50 patient volunteers like Zhu served to maintain order and provide help for the elderly, children and others with difficulties.
"I'm not a Shanghai native, but have worked here for 16 years. I'm very attached to this metropolis. I'll miss the time working with medics and believe with the support from across the country, the city will become vibrant again soon," he added.
The sentiment was echoed by another recovered patient surnamed He, who was discharged from a makeshift hospital in Putuo district on Wednesday.
He, who was transferred to the hospital with an asymptomatic infection on April 2, expressed gratitude for the care provided by the medics.
"The living environment was like dorms at university," said He, who lived in a room of nine patients. "Food was nutrient-rich and other essential needs like laundry and baths were met as well."
After returning home, the recovered individuals will conduct seven days of self-health monitoring.
"The hospital offered patients guides with illustrated notes for during the monitoring, including improving indoor air quality at home. I'll stick to it. It's good to be home," He said.