Priority on transportation, logistics urged
Share - WeChat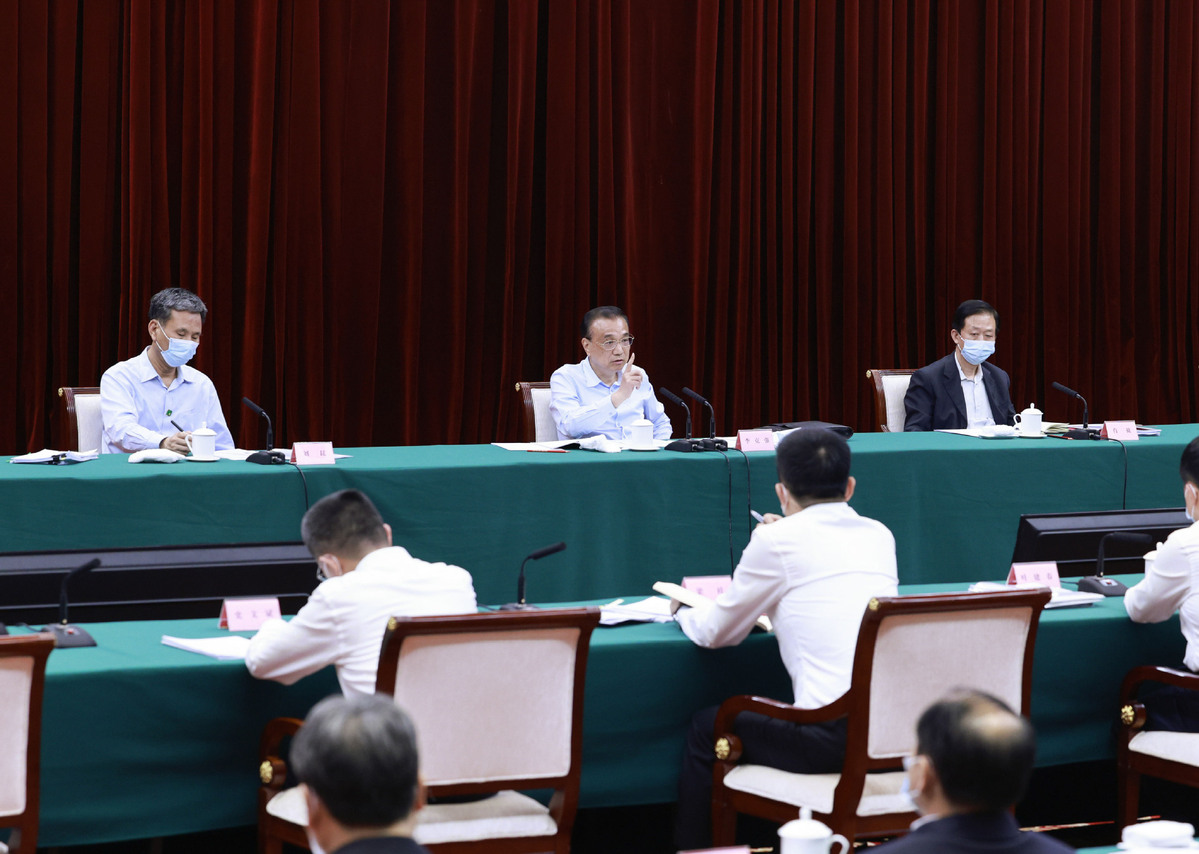 Premier says nation must stay highly alert to changes that have exceeded expectations
Authorities must give high priority to ensuring the orderly operation of key transportation networks and ports and ensure the unimpeded operation of domestic and international logistics, Premier Li Keqiang said on Monday, warning of mounting downward pressure facing the economy.
While chairing a symposium with officials in Jiangxi province, Li said the nation must stay highly alert to changes in international and domestic environments that have exceeded expectations.
Top officials from Jiangxi province spoke at the symposium, while the governors of Liaoning, Zhejiang, Guangdong and Sichuan provinces shared their insights via video link.
With the nation grappling with its worst COVID-19 outbreak since the early days of the pandemic, Li called for tailored aid packages for key sectors and businesses that have been hit hard by the pandemic.
It is important to face up to the new challenges and come up with a decisive response, scale up the implementation of macro policies, stabilize economic fundamentals and maintain major economic indicators within a proper range with measures to keep the job market and commodity prices stable, he said.
Li emphasized the need for a greater sense of urgency in front-loading policy measures, including tax cuts and refunds, financial support to the real economy, the issuance and use of special bonds, and the construction of key projects.
The premier also stressed the necessity to adopt forceful and effective measures to respond to the pressing problems in the economy.
It is important to ensure the supply and steady prices of materials for agricultural production, guarantee their delivery to farmers, and ensure a bumper harvest for the year-a key factor underpinning the stability of commodity prices, he said.
He called for greater coordination among departments to ensure the steady supply of energy, including electricity and coal, and to unleash the potential for up-to-date production capacity of coal.
Li called for enhancing the monitoring of the international landscape and domestic economic performance to come up with response plans and stabilize market expectations, saying that stronger policy measures must be adopted when necessary.
He encouraged local authorities to come up with targeted aid measures for struggling sectors and businesses, especially smaller companies and self-employed individuals.
The supply of daily necessities to people affected by the pandemic must be guaranteed, and their demand for healthcare must be met, he added.
The need to ensure unimpeded logistics nationwide was also highlighted in a circular issued on Monday by the Joint Prevention and Control Mechanism of the State Council.
Different areas and departments must make all-out efforts to ensure unimpeded logistics, especially involving medical supplies, daily necessities, government reserves and mailed packages, the circular said, adding that the transportation of key production materials for agriculture, energy and raw materials must be ensured.
The circular warned against actions that block or shut down highways, roads or waterways, saying that checkpoints are not allowed on highways or their service areas.
The mechanism said authorities must not close down service areas of highways, ports, railway stations or airport terminals, adding that the passage of trucks should not be arbitrarily restricted.