Holidaymakers choose short trips amid outbreak of virus
Share - WeChat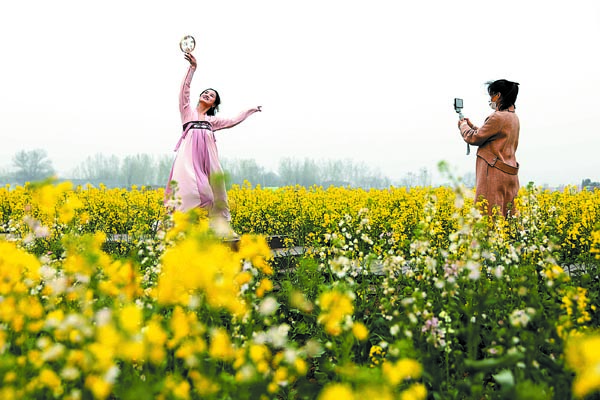 Enjoying the tourist boom, homestays in Beijing's suburbs have witnessed increasing reservations.
The number of guests will be doubled during the holiday, an owner of a homestay in the capital's Yanqing district was quoted as saying by Beijing Business Today.
With flowers in full bloom in the springtime and temperatures rising, people are eager to enjoy outdoor activities.
According to travel service and social networking platform Mafengwo, keywords such as "flower appreciation", "camping" and "cycling" are key search items.
Sales of tickets to some public parks and holiday resorts accounted for nearly 80 percent of the total tourist attractions, data from Qunar showed.
The surge in local tours presents opportunities for the homestay and hospitality industry, which can tackle the industry's lackluster performance due to the effects of the pandemic, business insiders said.
The report on tourism operations of 2021 and development forecast of 2022 released by China Tourism Academy pointed out that, for 2022, the pandemic will remain the biggest uncertain factor affecting tourism sector's recovery. But with innovation, the supply for high-quality cultural products and tourism services will be further enhanced.
Due to the pandemic, local tours are the main traveling mode currently, said Wang Xingbin, a tourism expert told Beijing Business Today.
Wang said it requires more observation for how the tourism industry enters recovery.
"Affected by the pandemic, the tourism industry becomes vulnerable and requires support," Wang said. He added that the tourism industry is expected to suffer from a relatively long period of difficulties under the pandemic.