Where there's a road, there's an RV
Share - WeChat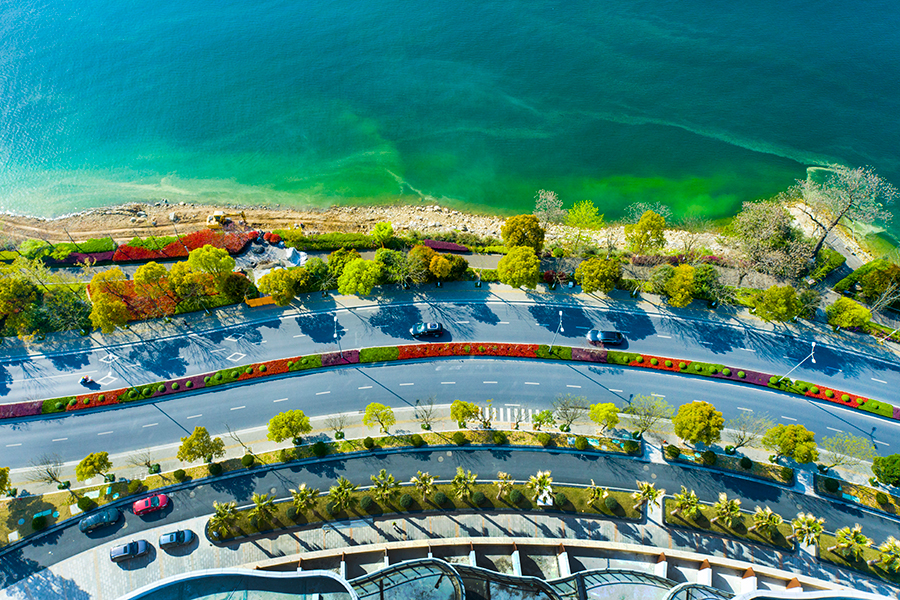 Holiday to see boom in self-drive trips in recreational vehicles, boosting travel, tourism
The Tomb Sweeping Day holiday, which is observed from Saturday to Monday, is set to prove this year's first major peak for cross-province road trips in China.
Up to 100 million road trips will likely be made over the three days, said Ctrip.com Group, China's largest travel service website. But Fang Qing and his wife Yu Sha will be absent.
The couple, in their 50s, is based in Chengdu, capital of Sichuan province. They have recently placed an order for a recreational vehicle, or RV, and are expecting its delivery well before the holiday kicks off. "It's like we are expecting our first baby," said Yu, laughing.
The couple loves being out and about. They have had rich experiences during group travels and self-driven trips. Usually, they spend the weekend in nearby rural destinations. Sometimes, they go on longer trips in the province and beyond.
They drove twice to Lhasa, capital of neighboring Xizang autonomous region, from Chengdu along the famed State Road No 318. For Chinese travel lovers, it is as classic as the No 66 Highway in the United States is in the hearts of American people.
The decision to buy the RV was Yu's. She controls the household budget. "It's not as expensive as many imagine. For the price of an entry-level BMW or Audi, you can have a decent RV that can take you around and meet your basic needs," said Yu.
She said the idea lingered with the couple for a while, and COVID-19-related social distancing and risks of contagion drove home the benefits of owning and driving around in their own RV.
"I am not sure when COVID-19 will be totally gone, and who knows whether there will be something similar again. We are in our 50s and I want to make the most of the days we can travel," she said.
Yet, Yu said they are too excited about the RV's arrival to plan for this year's Qingming Festival. "That's the very charm of owning an RV: you don't worry about crowded destinations as well as overbooked hotels and restaurants."
The growing number of experienced travelers such as Yu, the improved living standards, and the raging COVID-19 pandemic overseas are heating up the RV segment, which was considered a niche market until recently in China.
There were around 130,000 RVs in China by the end of 2020, data from the China Auto Dealers Association showed.
A total of 1,274 RV companies were registered in the first half of 2020, up 17 percent from a year earlier, according to Qichacha, a major enterprise credit record investigation agency in China.
Maxus, a major RV producer in China, said it sold almost 1,000 RVs in 2020, as the sales started to rise in the second half of last year. The vehicle-maker expects to sell 2,700 RVs this year.
In all, 11,359 new RVs were sold, and 1,217 pre-owned ones were traded last year, according to CADC data. Most of them were sold in cities in the Yangtze River Delta region as well as Sichuan and Guangdong provinces.
The association said the reasons for RVs' popularity lie in the fact that those cities are themselves popular travel destinations, and they have a solid local economy and local authorities are boosting tourism and the services sector.
Regions in the vast western China are gaining in popularity as well. Last year, Rv2go, a recreational vehicle rental company, added 500 RVs to its fleet for tours to Qinghai province, the Ningxia Hui autonomous region, and the Inner Mongolia autonomous region.
Lan Qingsong, vice-president of Maxus' parent company SAIC Motor Corp, said the RV market grew by around 40 percent before COVID-19 broke out, and, starting from the second half of 2020, the sales growth rate has been returning to the pre-pandemic levels. He said China is likely to overtake the United States as the largest RV market in five to 10 years. Last year, over 420,000 RVs were sold in the US.
"It is decided by our population, our economic growth and our need to upgrade our life including travel," said Lan.