Huawei in hot pursuit of collaboration, empowers world's telecom biz
Share - WeChat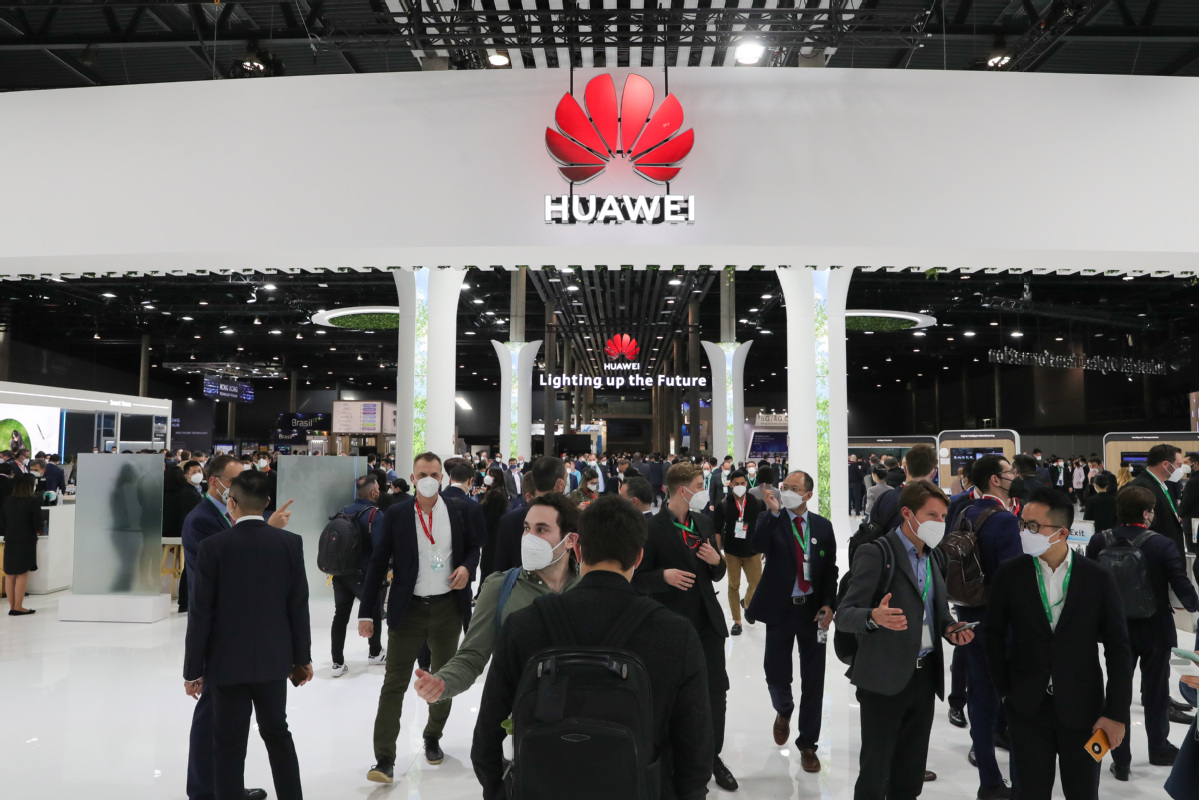 Huawei Technologies Co is pushing to expand its collaboration with international telecom operators, insisting it will never retreat from overseas markets despite challenges.
The company, for instance, recently signed a memorandum of understanding with Du, a major telecom operator in the United Arab Emirates, for joint innovation in multi-access edge computing.
MEC involves cloud services running at a network's edge, which moves computing power closer to the user and reduces delays. The agreement was signed at the Mobile World Congress 2022, a major telecom industry event in Barcelona, Spain.
As part of the partnership, the two parties will research, verify and replicate MEC-oriented applications in the Middle East, helping Du provide a wider range of communications services. They said they plan to join forces to accelerate digital transformation in the Middle East and set a benchmark for the development of the global digital economy.
5G, the faster, fifth-generation mobile network, is the cornerstone of global digital transformation, and MEC is a fundamental technology for 5G and essential in unlocking new business value, experts said.
With MEC, increased connections and high computing capabilities are available for many services, such as virtual reality and augmented reality. Fewer delays and high security can be provided to companies by restricting data to within their campuses, Huawei said.
"Mobilizing our joint forces together with Huawei is a big step for the mobile industry," Saleem AlBlooshi, chief technology officer of Du, said in a statement. "Our ambitious framework is set to deliver high-quality certifications to empower business ventures not only in tech but across industries, which further grounds Du as a leading intelligent service and product provider."
Richard Liu, president of Huawei's cloud core network product line, said Huawei has conducted extensive research in MEC and has deployed MEC-related 5G applications in different industries. Huawei will help Du unlock more MEC applications, Liu said. That means providing diversified high-quality VR/AR and multimedia services for individual consumers as well as connection and computing capabilities to enterprise customers for their many needs.
MEC, as one of the key enablers for 5G networks, will penetrate into many industries, becoming an integral part of those industries and accelerating their digital transformation, according to experts. Huawei said it will work with more industry partners to advance MEC innovation and deployment.
"We are committed to helping operators achieve cloud-edge synergy and accelerate customers' digital progress," Huawei said in a statement.
The agreement came as Guo Ping, rotating chairman of Huawei, said the company wouldn't give up on overseas markets even when faced with challenges. The company plans to beef up strategic investment in foundational technologies to underpin its mid-to-long-term competitiveness.
Over 50 percent of global GDP has been forecast to be digitalized in 2022. As the global digital economy develops rapidly, demand for digital products and services has exceeded expectations, Guo said, adding that the industry must explore new theories and architectures to reshape the technological paradigm to achieve digital sustainability.
At the Mobile World Congress, Huawei also worked in partnership with China Telecom to jointly release cloud network core capability innovation achievements.
Liu Guiqing, deputy general manager of China Telecom, said that in 2016, the company first proposed the concept of cloud-network synergy. Since then, it has been collaborating with Huawei to continuously advance innovation on this topic.
Liu said that last year, the company started to collaborate with Huawei on technology development and innovation. "We worked together to develop international and industry standards, design and develop system platforms, and formulate business industry solutions.
"Through close collaboration, we can give full play to our strength, to achieve shared success, promoting higher-quality development of ourselves and the industry," Liu said.
Xiang Ligang, director-general of the Information Consumption Alliance, a telecom industry association, said despite mounting challenges, Huawei is still working hard to improve its R&D strength and its close partnership with industrial pioneers.