Major progress made on world's biggest LNG tanks
Share - WeChat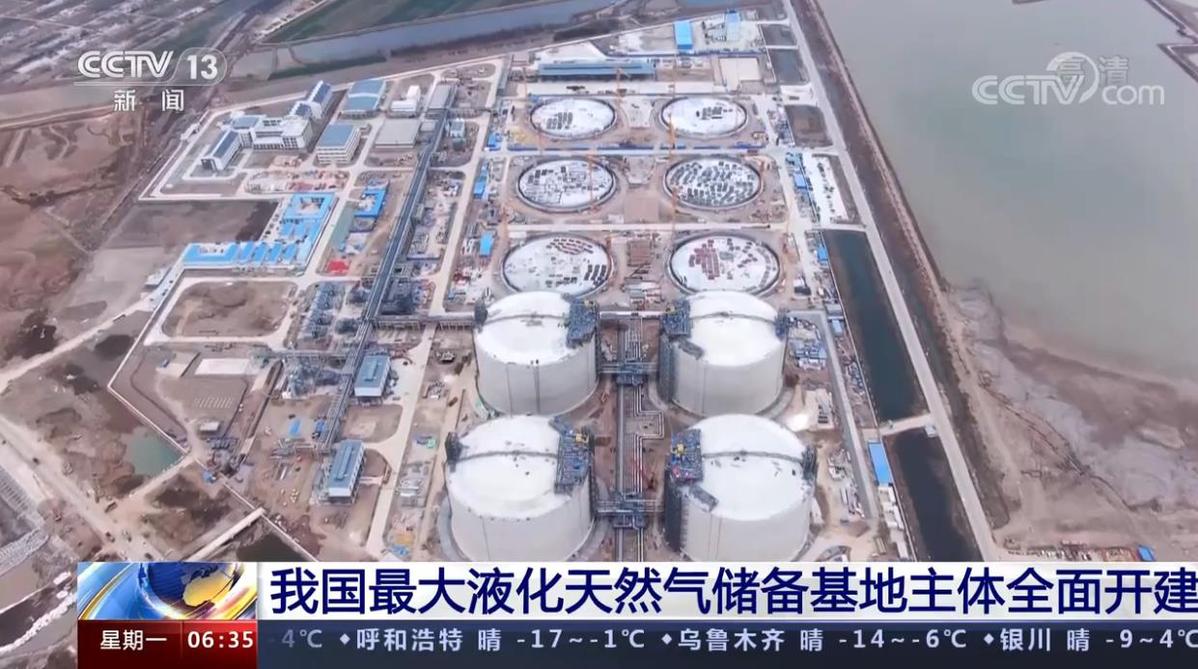 China National Offshore Oil Corp, the country's top offshore oil and gas producer, is one step closer to the construction of what will be the world's largest liquefied natural gas storage tanks, to be located in Yancheng Binhai Port Industrial Park in Jiangsu province, after it finished pouring concrete for the platforms of six LNG storage tanks on Sunday.
Upon completion in 2023, the full project will have 10 tanks.
Construction of the main body of the storage tanks also officially began on Sunday, said CNOOC. The project's 10 large LNG storage tanks will see the first four boast a total designed capacity of 220,000 cubic meters and the remaining six will have a total designed storage capacity of 270,000 cubic meters.
After being put into operation at the end of 2023, the annual processing capacity of the LNG receiving terminal can reach 6 million tons, it said.
According to Li Feng, manager of the project, in addition to receiving, storage and exporting of natural gas, the project is also equipped with facilities for gas power generation and hydrogen production with gas, which plays a key role in ensuring the country meets its targets of peaking carbon emissions by 2030 and achieving carbon neutrality by 2060.
The company is currently planning the second phase of the project to come up with another 10 LNG storage tanks, each with a designed capacity of 270,000 cubic meters, said Li.
This will create another 10 million tons of LNG-receiving capacity to inject more momentum into the green development of the Yangtze River Economic Belt, he said.
Li Ziyue, an analyst at BloombergNEF, said China has endeavored to enhance its gas storage capacity in recent years.
"Jiangsu's Binhai LNG terminal is building itself into the largest LNG storage base in China. Once completed, it will greatly strengthen gas supply security and demand rebalancing capacity not only in Jiangsu but also in Henan province," Li said.
More storage capacity needs to be in place to meet seasonal and regional rebalancing demand, considering that the country's gas storage capacity is still below the international average, she said.
"The LNG tanks in Jiangsu are expected to further enhance China's natural gas storage capacity, which is still far from the target, while the facility is key to meeting peak-shaving and seasonal rebalancing demand," Li added.
Under a government push to enhance gas supply security, China has also stepped up an underground storage build-out in recent years with the commissioning of a batch of expansion projects and new storage facilities.
According to CNOOC, 6 million tons of LNG are capable of meeting gas demand in Jiangsu province for 28 months, it said.
The Jiangsu LNG Binhai Receiving Station will have an annual LNG processing capacity of 6 million metric tons and will become the largest LNG storage base in China. The six tanks will mark a breakthrough in the design and construction technology of China's ultra-large LNG storage tanks, it said.