Snapping at their heels
Share - WeChat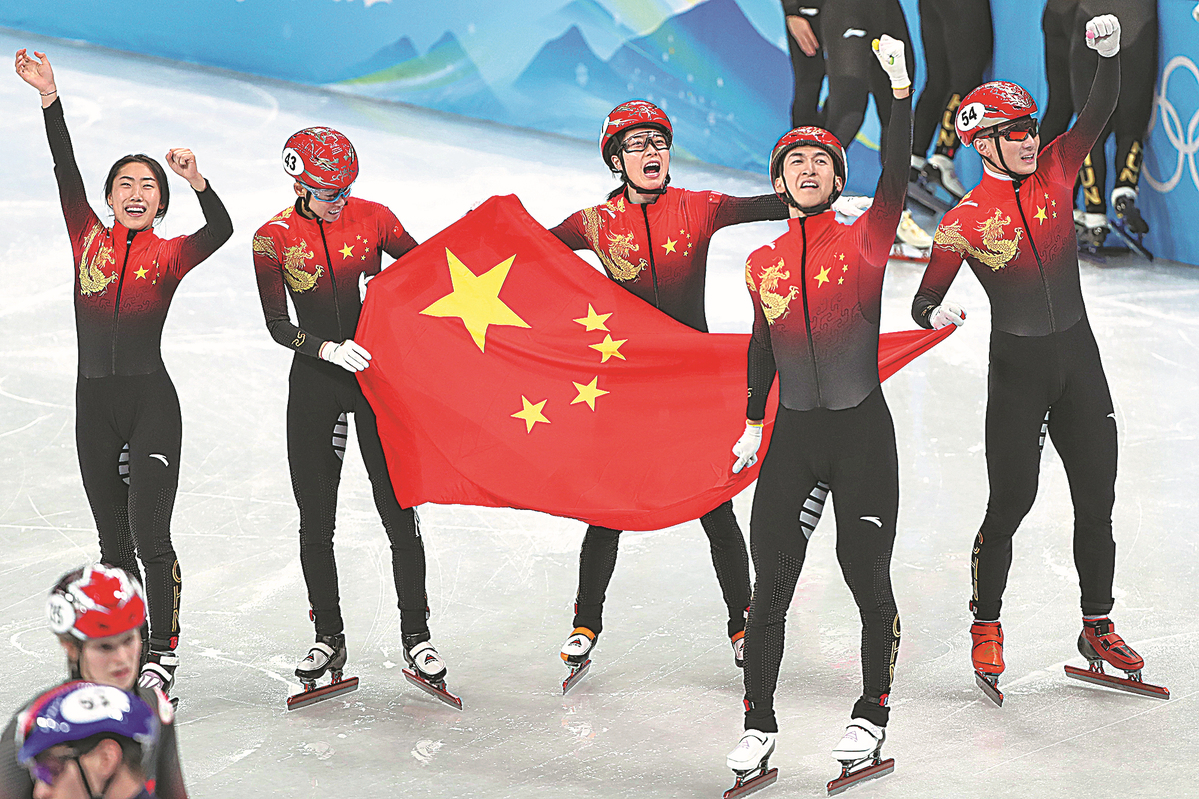 Europeans emerge as strong challengers to Asia's short-track powerhouses
The often chaotic sport of short-track speed skating again proved to be a Winter Olympic treat at Beijing 2022, with the fierce battles between traditional powers and emerging forces making the action extra thrilling for fans.
Canada's victory in Wednesday's men's 5,000m relay final brought the curtain down on short-track speed skating's six-day program at Beijing 2022. The Republic of Korea finished as the top nation, collecting two gold medals and three silver.
Also a traditional powerhouse of the sport, the host nation was hot on the heels of its East Asian archrival, finishing one medal short in the rankings with two gold, one silver and one bronze at the Capital Indoor Stadium.
The rise of European and Canadian skaters, however, has sounded a warning to the two Asian powers, who should expect an even stronger charge from Dutch, Italian and Hungarian speedsters at the next Games in Italy in 2026.
Led by double gold winner Suzanne Schulting, the Netherlands expanded the country's long-track prowess to the short-track events by bringing home four medals, including a silver and a bronze, from Beijing.
Schulting cemented her status as queen of the 1,000m after setting a new world-record time of 1 min, 26.514 sec to claim her first gold before helping the Dutch to glory in the women's 3,000m relay.
Italian veteran Arianna Fontana added three more medals (gold in 500m and silvers in mixed team relay and 1,500m) to become the most decorated Olympian, man or woman, in the sport's history, with 11 medals in total.
Because of her dispute with the Italian national skating federation - which opposes her choice of husband Anthony Lobello as coach - Fontana has said she could decide against a sixth Olympic appearance on home ice in 2026. However, after a satisfying campaign in Beijing, she struck a more conciliatory tone on the matter.
"I need a long vacation for sure and then we will see. The next Olympics are in Italy and my first Olympics were in Italy. Whatever is going to come, is going to come. We will see," said Fontana, who trained in Hungary before Beijing 2022.
"I was confident in the work I did with my coach. I didn't know what was going to happen because there were so many women here who were going to fight. But I knew I could fight in every distance."
On the men's side, Hungarian brothers Sandor Liu Shaolin and Liu Shaoang are expected to pose a bigger challenge to their Korean and Chinese opponents at the 2026 Games.
"Our country is very small and we don't have many people," Liu Shaoang said after winning Hungary's first individual gold, in the men's 500m. "I hope this medal will bring the Hungarian people together, bring some pride to my country."
New breed shines
Despite star skater Wu Dajing's disappointing campaign in Beijing, the Chinese team still had plenty to celebrate thanks to the maturity of a younger generation led by men's 1,000m champion Ren Ziwei.
"I think we proved that the Chinese short-track speed skating team, at least on the men's side, still belongs to the top echelon of the sport," Ren said after the men's 5,000m relay, where the host fell out of medal contention in the 11th lap when youngster Sun Long crashed out.
"There are some regrets for sure, but we should set our sights on the positives and the breakthroughs we made. We came through all the way together and realized our goals. We should feel proud of ourselves," added Ren, who skated China's anchor leg in the mixed team relay to help the host secure the first gold up for grabs on the short track in Beijing.
Having emerged as the team's new leader to follow in Wu's footsteps, Ren attributed his progress to the guidance of China's foreign coaching combo-head coach Kim Sun-tae and technical trainer Viktor Ahn, who were hired in the buildup to Beijing 2022.
The legendary Ahn, a six-time Olympic champion, has shot to celebrity status on social media in China since starting to work with Chinese skaters in 2019, while earning trust from his Chinese students for his own work ethic.
"Overall, I've become a more complete skater and improved in all distances I race from 500m to 1,500m under the guidance of our coaches," Ren, 24, said.
"His (Ahn's) arrival brought a lot of positive changes to our team, especially mentally, and now we've become more confident," Zhang Yuting, a member of China's bronze-winning women's 3,000m relay team, said.
"He always encourages us in training and skates in front of us to lead by example. He treats every training session so seriously that we feel like we cannot stay sluggish," said Zhang, a 22-year-old Olympic debutant.
Known as Hyun-soo in his native Korea, Ahn's contract with Team China will expire at the end of February, yet the 36-year-old legend is keeping his options open for a potential second term to lead China at Milan-Cortina 2026.
"Watching athletes compete on ice at the Olympics gives me the urge to visualize myself racing," Ahn said during an online chat on Weibo, where he has over 1.5 million followers.
"I really enjoyed my Olympic experience with Team China as a coach for the first time in my career. However, I will take a rest and spend some quality time with my family first before making any decision on the future."