China's biathletes steadying their aim
Share - WeChat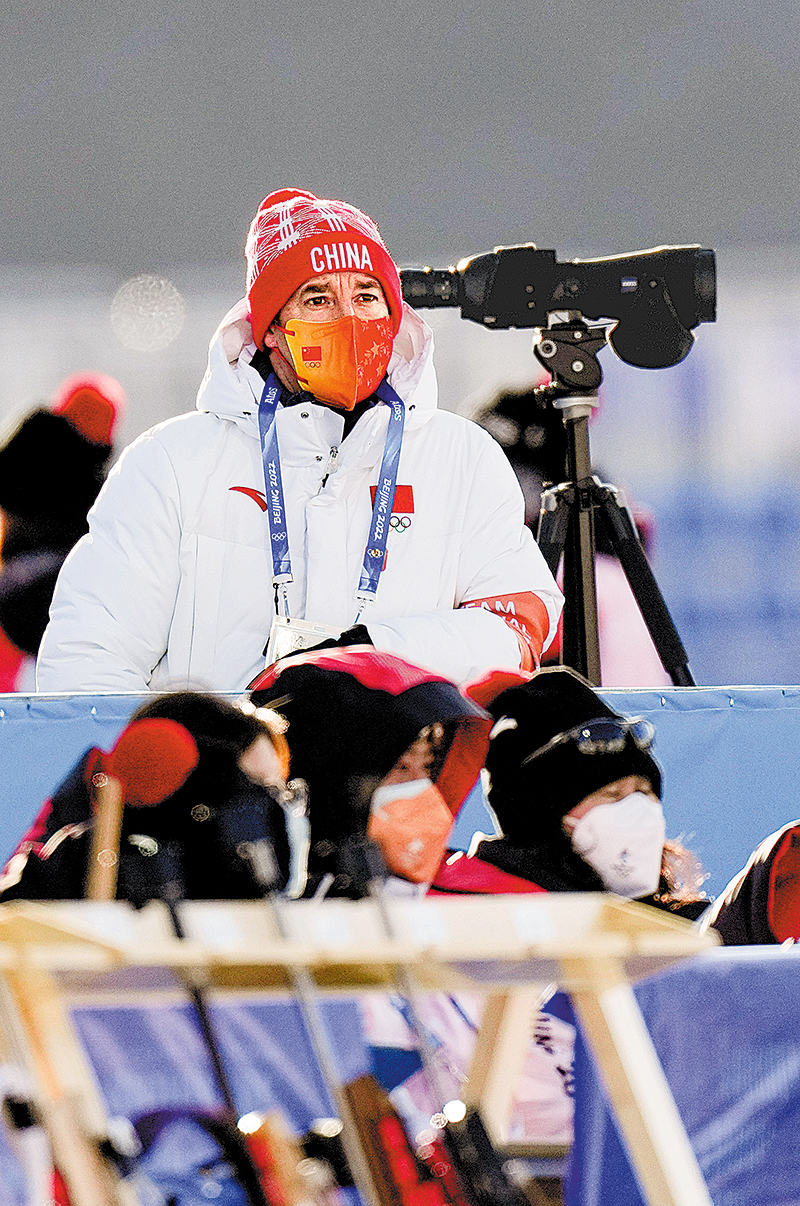 When Norwegian legend Ole Einar Bjoerndalen took the job as the head coach of the Chinese biathlon team, he knew he had a challenging task on his hands.
However, after enjoying his first Olympic Games experience with his charges, he has seen enough to believe the sport has a bright future in China.
Bjoerndalen, aka the "King of Biathlon," retired from competition in 2018 with 13 Olympic medals, including eight gold, to his name.
Taking the reins with China in 2019-his first coaching job-the 48-year-old's work was hamstrung by a lack of competitive tests in the build-up to the Games due to the COVID-19 pandemic.
"The team did a good job at the Beijing 2022 Winter Olympics as I believe there is no team in the whole world that has faced as many difficulties in preparations as Team China did," Bjoerndalen told China Daily in an exclusive interview.
"We would gladly have gone to Europe more to compete, but we did our best every day. Although it will take some years to build up the team, biathlon has a big future in China."
On Thursday, China finished 12th in the women's 4x6-kilometer relay at the National Biathlon Centre in Zhangjiakou.
"Our goal was to win a medal at the event, but I am still happy with the result," said Bjoerndalen.
"You can see that Ding Yuhuan, who skied the third leg, can ski as fast as athletes from the winning team (Sweden). She just needs to improve her shooting skills. The team just needs more time."
The Norwegian added that he often talks to fellow foreign coaches employed with other Chinese teams to pick their brains about how best to work with the athletes.
Bjoerndalen said that the biggest difference from coaching athletes in Europe is the time he needs to invest in his Chinese charges as they continue to learn the nuances of the sport.
"I think I only had two weeks in the year that I wasn't with the athletes. I stay with them every day. So this is quite unusual for a European coach, but it's necessary for Chinese athletes."
In Norway, biathletes first discover their passion for the sport at a very young age, and as a result are self-motivated and tend to know what needs to be done to improve.
"I have to innovate the training system in China because the Norwegian or European systems will never work here. You need to have the right combination of the European and Chinese systems," Bjoerndalen said.
After tailoring his coaching style, he reckons the Chinese athletes are making good progress, both physically and mentally.
Just like athletes, being a coach also requires total dedication.
"It's a 24/7 job. I need to constantly think about how to develop each athlete in the best direction," said Bjoerndalen.
Improved training facilities and competition venues have played key roles in the sport's development in China, according to Bjoerndalen, who adds that building strong secondary and junior cross-country skiing teams should now be prioritized in order to further strengthen the national program.
"China has built stadiums and shooting arenas that we need for training so fast-no other country in the whole world could do something like that," he said. "If China gives me another four years, I can take the team to another level and that's guaranteed."
Most Popular
Highlights
What's Hot