Pucksters exit with heads held high
Share - WeChat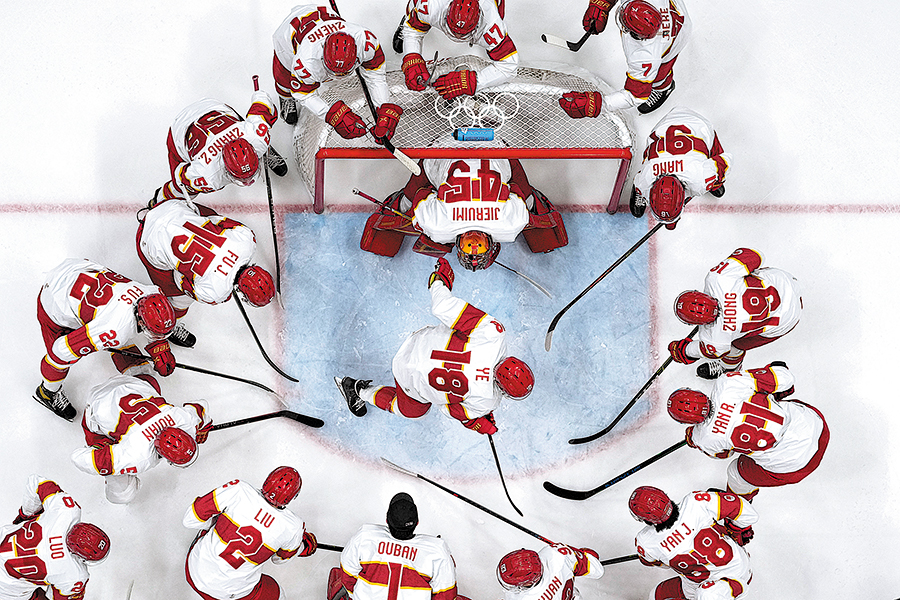 Team China's gutsy performances prove it belongs at Olympic level and offer hope for future of national program
Despite bowing out of the Olympics without a win, the Chinese men's ice hockey team made good on its promise to earn respect at Beijing 2022.
Entering the tournament as a massive underdog, Team China's spirited performances won it admiration and acclaim, especially inside the National Indoor Stadium, where spectators cheered and applauded the players off the ice following their final game, a 7-2 loss to world No 1 Canada on Tuesday.
China was awarded an automatic spot at the Games, with the International Ice Hockey Federation hoping the decision would help promote the sport in the world's most populous nation.
That objective surely has been achieved following China's four gutsy displays which disproved the theory that the tournament's quality would be diluted by the host's inclusion.
"It's really emotional. We've come a long way," Team China captain Ye Jinguang said following Tuesday's loss against Canada in the first knockout round for quarterfinal berths.
"This is five or six years in the making and now for it to come to fruition here at home in Beijing, it's been a wonderful experience and like I said just the beginning for hockey in China."
China lost a group game 5-0 to Canada on Sunday, and showed improvement in offense on Tuesday to suggest it is much better than its No 32 world ranking, especially late in the second period when forward Jian An scored his second goal of the game to drag Canada into a tighter fight than expected.
The intensity and physicality of Team China with a roster made up of native Chinese and North American-born players with Chinese heritage surprised the nine-time Olympic champion, said Canadian center Adam Tambellini.
"We've got to give them a lot of credit. They pushed really hard. They had us on our heels at times," said Tambellini, who notched two goals and three assists to help Canada secure its spot in the quarterfinals.
Should Canada go on to win another Olympic medal in Beijing, the team should send flowers and thank-you cards to Team China's players for giving it a serious test, read a CBC Sports column published after the game.
Citing China's 29 shots on goal, Canada goaltender Matt Tomkins acknowledged that the plucky host had given his team a much-needed wake-up call.
"Give them respect," Tomkins said. "It was another challenging game for us. They came out flying and had a lot of chances early and put us on our heels."
China's captain Ye, who is known as Brandon Yip in his native Canada, said that despite being drawn in a tough group against the United States, Germany and Canada, his team fully believed they would prove the doubters wrong and even fell short of their own expectations.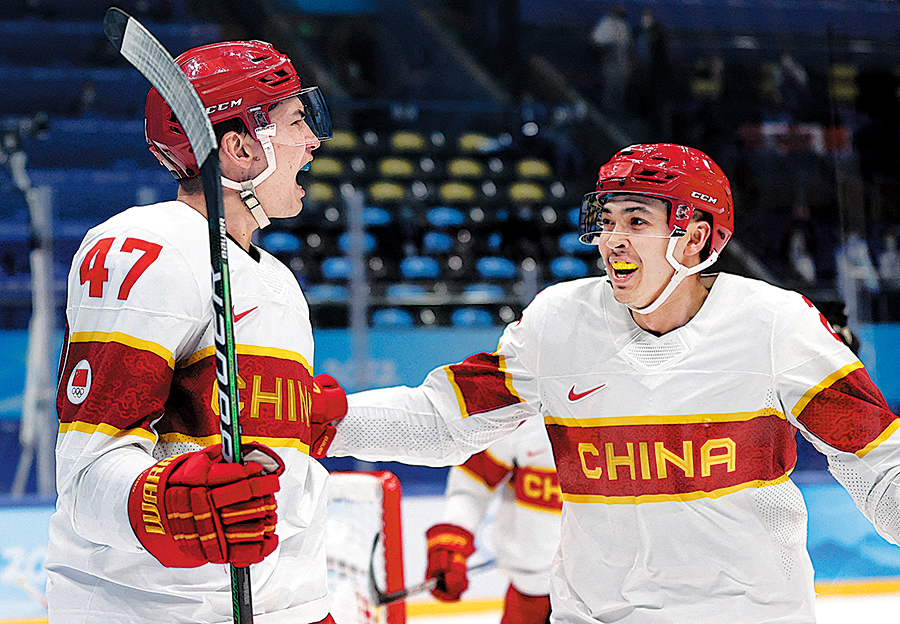 "We are not just here for fun. We didn't finish with the results we wanted," said the 36-year-old former NHL player.
"I think we improved a lot. We saw a lot more battle and a lot less mistakes than our first game (against Canada). I don't think the score represented the game.
"We had some chances that we got to learn how to bury them down... I am just proud of the guys...There's a lot of fight in us."
Similar to Ye's case, over a dozen of Team China players were born or developed their game in the US and Canada before being selected at tryout camps for the Chinese national program, which is jointly run by the Chinese Ice Hockey Association and its partner club Kunlun Red Star of the Kontinental Hockey League.
After playing in the KHL annually since 2017, the North American-born players, either from the collegiate ranks or minor pro leagues, have built a camaraderie with their native Chinese teammates while also embracing the mission to help grow the sport in their ancestors' home country.
The end of their Olympic journey won't stop them from keeping the momentum going beyond the Games, said Canadian-born forward Fu Jiang, aka Spencer Foo.
"This is only the beginning. China grows quickly with everything they do and they're already building," said Foo, who represented China along with his younger brother Parker, or Fu Shuai, at the Beijing Games.
"There are rinks going up, tons of them every year and a lot of kids are hopefully going to pick up a hockey stick pretty soon here," said the 27-year-old native of Edmonton, Alberta, who spent a short stint with the NHL's Calgary Flames in the 2017-18 season.
"I think that's the goal here. Everybody wants to keep playing and I think we showed that, even we had a couple of issues here and there, we can get into the top 10 in the world, if we keep grinding."