2022 Spring Festival Gala to present innovative audiovisual feast
Share - WeChat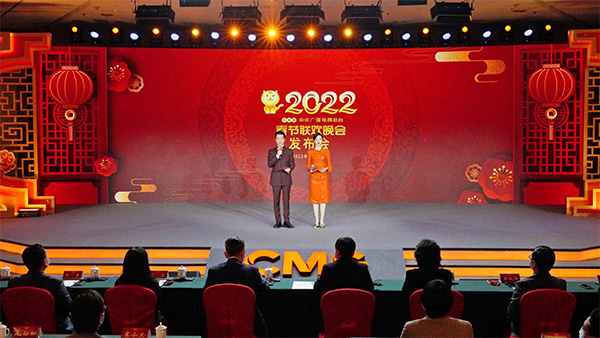 China Media Group (CMG) on Thursday unveiled some of the highlights of the forthcoming 2022 Spring Festival Gala at a press conference held in Beijing.
The Spring Festival Gala, known as "Chunwan" in Chinese, is an annual TV show broadcast on Lunar New Year's Eve when Chinese people enjoy their reunion dinner with their families.
High-tech brings all-round audio-visual pleasure
The 2022 Spring Festival Gala will feature a number of cutting-edge technologies as CMG has been striving to advance its innovative "5G+4K/8K+AI" media application.
The show will be broadcast live on CCTV-8K UHD channel that boasts the highest resolution currently available. Meanwhile, thousands of 8K screens are set up in the cities across the country that will simultaneously air the four-hour extravaganza.
Moreover, LED screens are being assembled to create a 720-degree dome space that connects the stage with the auditorium. The giant curved screen, covering 4,306 square meters, constitutes a highly extensible three-dimensional space. Also, the upgraded sound reinforcement system will provide the best sound effects by controlling the volume and audio delay in different spots.
Some 130 4K cameras have also been set up in the studio for processing the captured video content in real time. The gala will also make full use of extended reality (XR), augmented reality (AR), holographic scanning and 8K naked-eye 3D rendering technology to break through the limitations of time and space and create a virtual-real interactive experience.