Geiger: Games a launchpad for winter sports in China
Share - WeChat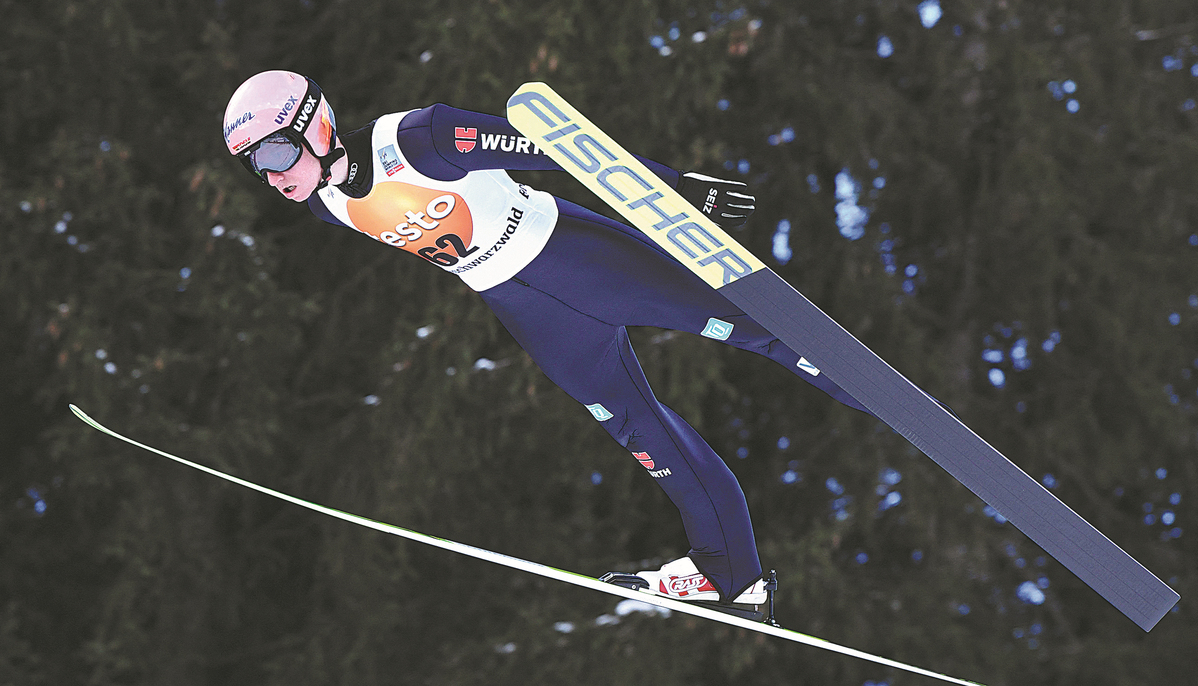 BERLIN-Germany's top ski jumper is confident the Beijing 2022 Olympic Games will have a positive effect on winter sports in China.
"Some might complain about running the Winter Games in a country that so far hasn't been known as a winter sports nation," said Karl Geiger. "But I see things positively. Winter sports popularity will hopefully increase in China."
Geiger is also an engineer in the field of energy and environmental technology, and the 28-year-old reckons China has done all it can to provide an eco-friendly range of competition venues.
Born in the Bavarian winter sports paradise of Oberstdorf, Geiger feels excited about the upcoming Olympics in Beijing. "I expect cool Games," he said.
The father of a 2-year-old daughter said the Games are only about sports and the athletes, and should not be about political views.
"Olympic Games are about sporting competition and a fair challenge for all participants," he added.
Geiger said he is excited about the competition in China as Olympic Games are the highlight of athletes' careers.
Last weekend, the 2020 world champion won the latest ski jumping World Cup meet, in Titisee-Neustadt in Bavaria's Black Forest.
His current form makes him one of the favorites for Olympic gold. After landing a 143-meter jump last weekend, he took the lead in the 2021-22 World Cup overall standings ahead of second-place Ryoyu Kobayashi of Japan.
"I feel great and ready for the Games. The victory this weekend is a motivation boost for me," he said.
Geiger started his jumping career at the age of 9 after watching countless training sessions at his local club and being a regular spectator at one of the sport's most important annual competitions, the Four Hills Tournament at Bischofshofen.
Geiger is Bavarian through and through. He and his wife Franziska turned up for their official wedding photo decked out in the region's traditional costume.
He counts paragliding, mountain biking, and playing the accordion among his hobbies.
Living on the upper floor of his parents' house, the five-time world champion set up his version of a flight simulator. Using a trampoline, he jumps on a swing to constantly improve his technique.
In China, German head coach Stefan Horngacher is confident Geiger and his close friend Markus Eisenbichler, who finished third last weekend, will be able to handle the pressure and excel on the biggest stage of all. "I am very proud of our Olympic squad," Horngacher said.
The growing expectations in Germany seem to barely affect Geiger and Eisenbichler.
"Markus and me, we face the Olympic competition with as much coolness as possible. We stick together as always. We are like Yin and Yang," Geiger said.
In love with Yanqing
Another German in gold-medal form is luger Julia Taubitz.
But winning the overall World Cup title last weekend is only a stepping stone for the 25-year-old en route to what she hopes is even greater glory in her first Winter Olympics.
Taubitz's fondness for Beijing 2022's luge venue bodes well for her chances.
"The track is like a dream," she said of the new Beijing 2022 course, which she competed on twice last year-at the track's official opening and at a World Cup meet when she finished second. "It's a perfect track for me; it's like made for me."
The National Sliding Center track in Yanqing winds like a dragon through the landscape, Taubitz told German media.
"It's pretty fast and due to its smooth curves, it allows a fluent and harmonic racing performance. For athletes who have developed a feeling for the track, it seems a perfect match," she enthused.
Germany head coach Norbert Loch reckons she'll be tough to beat next month.
"She has the feeling for a track like most others don't. She has developed into a solid and stable competitor and has gained ground when it comes to athletic fitness," said Loch.
When German No 1 Nathalie Geisenberger took maternity leave during the 2019-20 season, Taubitz rapidly progressed from underdog to top contender.
Loch is delighted to see the competition within the squad but says it doesn't affect team spirit.
"We get along very well," Taubitz said regarding two-time defending Olympic champion Geisenberger. "I learned so much from her. We support each other every second. This gives us all a comfortable feeling when facing international competitors; we are a team living the spirit of a group."
Taubitz's excitement for Beijing 2022 is clear. "It's the Olympic Games, there is no need to say more than just that. It's magic," she said.
Loch said Taubitz has slipped into a new position within the team as she continued her upswing when Geisenberger returned after giving birth to her son.
"All races and all titles are a thing of the past when we compete in China," said Taubitz. "It's a restart for everyone."
Xinhua