Olympic sites gearing up for smooth transport
Share - WeChat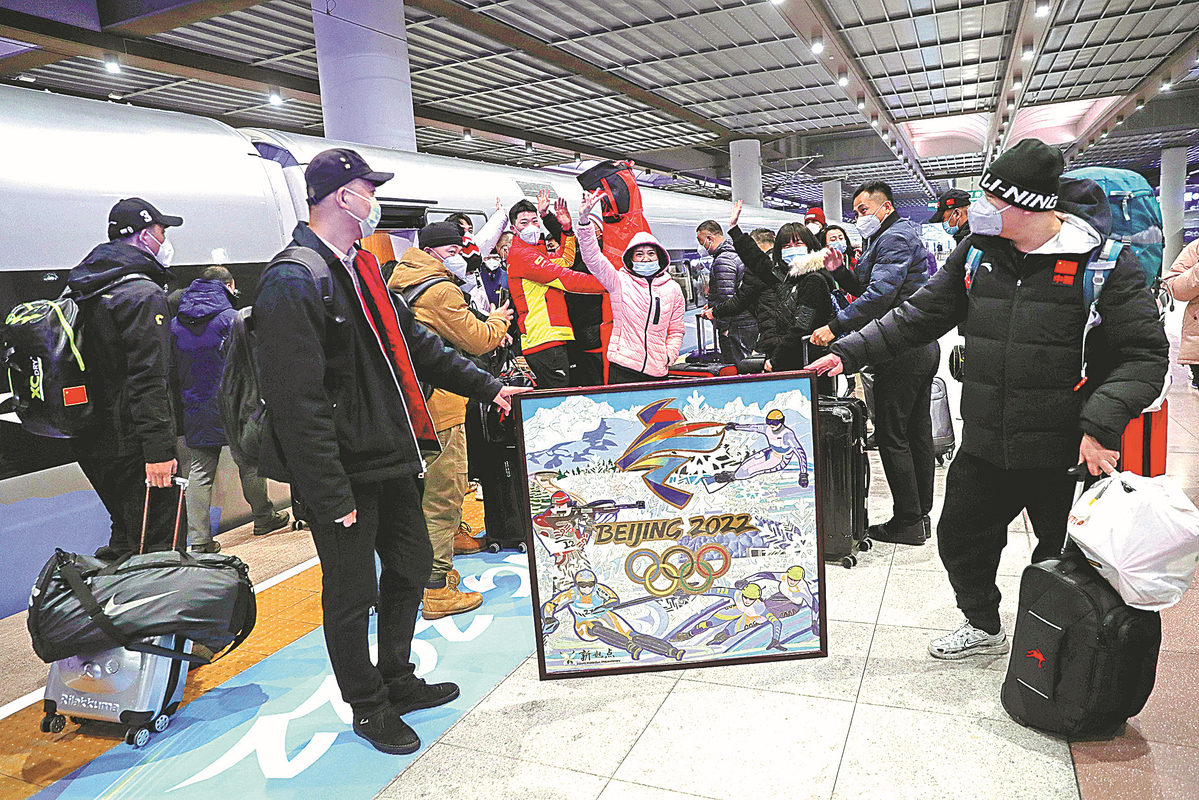 China's transport sector began providing tailored services for the Beijing 2022 Winter Olympics and Paralympics Games on Friday.
The services will be offered for 55 days until March 16. The Games are hosted in three areas-the capital's downtown, its northwest Yanqing district and co-host city Zhangjiakou, Hebei province. Plans will help ensure transportation is safe and speedy among the areas.
Due to COVID-19 control protocols, all participants are required to stay within a biosecurity bubble during the Games.
"Point-to-point" shuttle buses are the main transportation means during the Games, Wu Shijiang, deputy head of the Beijing transport commission, said at a news conference last week.
Special lanes marked with Beijing 2022 logos were put into use on Friday in host areas to facilitate the movement of authorized vehicles. Drivers who illegally occupy the Olympic lanes will face fines of 200 yuan ($30).
In Beijing, 42 roads-some as long as 240 kilometers, including highways and freeways-have been given over to the Olympic lanes. The lanes link areas including the airport, railway stations, venues and athlete villages. In Hebei, the length of the special lanes totals 238 km.
Other than travel by road, some participants can take China's smart high-speed railway as a fast commuting option.
Since Friday, railway authorities plan to arrange as many as 80 bullet train trips daily along the Beijing-Zhangjiakou high-speed line, with a designed speed of 350 km per hour.
Passengers can take bullet trains from downtown Beijing to Yanqing in half an hour and to Chongli in an hour, said China State Railway Group, the national railway operator.
Four railway stations, Qinghe and Yanqing in Beijing as well as Taizicheng and Chongli in Zhangjiakou, are offering separate services to participants in the bubble and regular passengers, to comply with COVID-19 control protocols, said Cui Wei from China Railway Beijing Group.
The stations are divided into bubble and non-bubble areas. Participants who stay within a biosecurity bubble during the Games will use the bubble areas at the stations, including designated bullet trains and platforms. Regular passengers can enter, wait and board trains in non-bubble areas.
Shuttle buses for transfers between stations and destinations are available in certain areas. A designated group of railway staff members, including drivers, attendants and conductors, will provide onboard services to passengers in the bubble.
The stations also offer customer services in English and Chinese as well as ski gear shipment services.
On Thursday, when Beijing saw the first snow of the year, a drill was carried out to respond in the event of extreme weather during the Games.