Advanced UHD video moves toward living rooms of households
Share - WeChat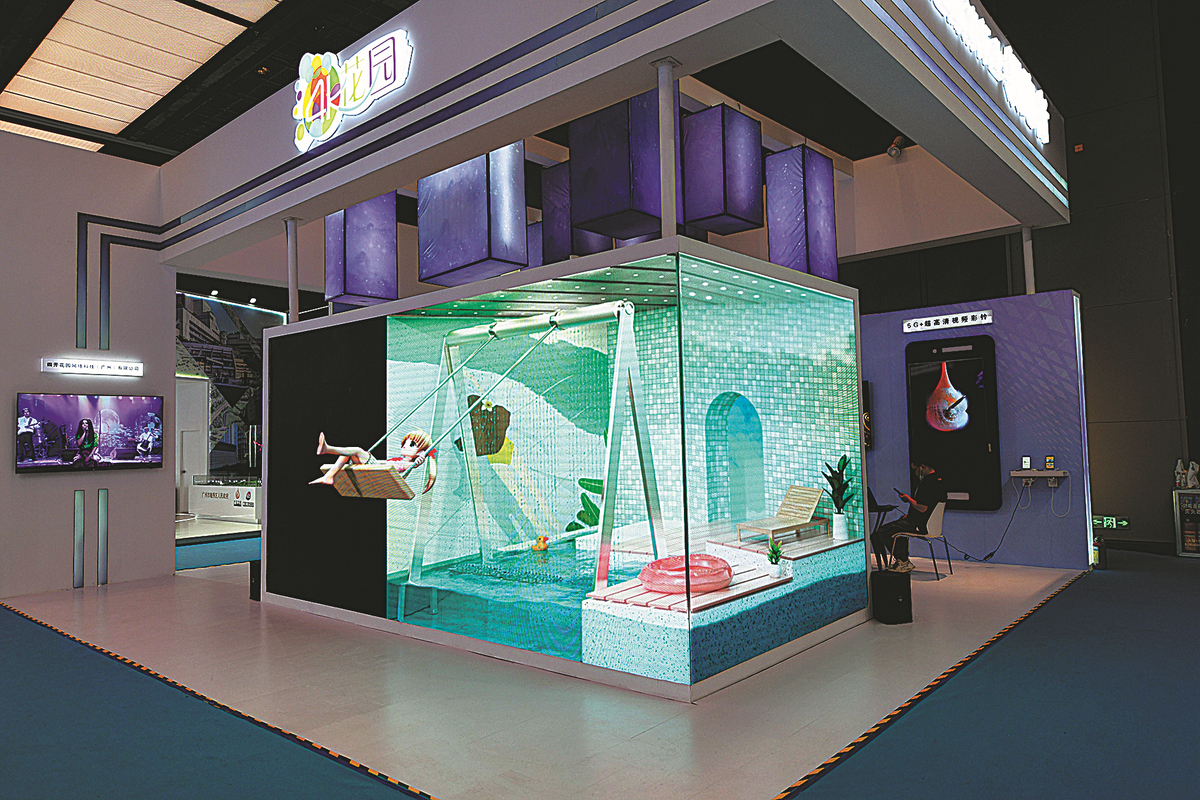 A string of Chinese video platforms are accelerating moves toward producing high-quality, 8K ultrahigh definition content by integrating 5G, artificial intelligence and virtual reality technologies.
It's an important step toward moving 8K video into people's living rooms, experts said.
Chinese UHD video production and distribution platform Sikai Garden Network Technology Co Ltd, also known as 4K Garden, plans to send UHD content to different terminal devices, including televisions, outdoor 8K light-emitting diode screens and VR headsets, and to explore diversified and innovative applications for the UHD industry, said Wu Yi, chairman of 4K Garden.
Dong Ming, operations director of 4K Garden, said its 8K video content has recently been launched on Xiyue TV, which is owned by Guangdong South New Media Co Ltd, and is mainly engaged in internet protocol television or IPTV and the internet TV business. The 8K content covers fitness, children, beauty and makeup, pets and concerts.
4K Garden plans to offer 200 to 300 hours of 8K content each year, including documentaries, concerts, food and fitness, and produce VR content simultaneously to meet consumer demand for an immersive viewing experience, Dong said.
Wang Zijian, general manager of 4K Garden's original content team, said more efforts should be made to enrich 8K content, and enterprises should work together in fields like content production, encoding and decoding, transmission and terminal devices.
The company started construction of its 5G-powered UHD innovation center in Guangzhou, capital of Guangdong province, in December. The center, with a total investment of about 723 million yuan ($113.44 million), will cover 46,300 square meters.
It will serve as a training center for the UHD industry, a UHD video content production center, a post-production and special effects center and technology laboratory, hardware innovation center, and copyright and incubation center.
"UHD video technology, along with 5G and AI, is an important direction in the new generation of information technology," said Xiao Yaqing, minister of industry and information technology, who spoke during 2021 World UHD Video Industrial Development Conference in May.
Xiao said that accelerating the development of the UHD video industry will directly promote the upgrading of broadcasting equipment, terminal products, displays and chips, and boost the digitization of the industry and content production.
The global 8K technology market reached a valuation of close to $9.2 billion in 2020, and is anticipated to surge at a compound annual growth rate of 45.5 percent over the next 10 years, according to Persistence Market Research, a third-party research organization.
The consultancy said 8K video developments are largely driven by filmmakers and TV broadcasters. Many filmmakers deliver 8K films, in which they shoot in higher resolution. Various products are available in the market for 8K content delivery, including TVs, monitors, projectors, cameras, laptops, and mobile devices.
China produced 8K UHD content transmission through 5G networks for the first time in June 2019. The 8K UHD signals were transmitted from the headquarters of China Media Group in Beijing to display terminals at the venue of the Mobile World Congress 2019 in Shanghai.
The test was carried out by CMG together with China Mobile, China Unicom, Huawei Technologies, the China Ultrahigh definition Industry Alliance and Sumavision Technology Group. In May, CMG announced the launch of an 8K UHD television platform for public service.
The resolution of 8K is four times higher than for 4K. Given the same screen size, 8K can present 10 times the number of pixels and better showcase details such as light, texture, people's complexions and other visual elements to offer a more realistic experience to viewers.
Bilibili, a popular online videosharing and entertainment platform, has recently announced it supports 8K UHD video, becoming the country's first platform that allows content creators to upload 8K short videos. Xinhua News Agency released the first 8K video on Bilibili, featuring China's space station in the evening sky.
Bilibili also has worked with an uploader named Silk Museum to present the texture of cultural relics made of silk with 8K image quality. Uploaders such as Chinese National Geography, Film and Television Hurricane and 8KRAW have uploaded their 8K videos, including subjects such as scenery and food.
But Kang Lu, a senior manager at Sichuan Changhong Electric Co Ltd's multimedia subsidiary, said the biggest obstacle in the process of promoting 8K TVs lies in the lack of 8K content.
Changhong has worked with multiple Chinese streaming platforms such as Tencent Video and iQiyi as well as 4K Garden in the field of 8K content. The company plans to further expand 8K content resources in areas such as fitness, games and education. However, the current production cost of 8K content is still high for ordinary users, Kang said.
Another factor is that the mainstream size of 8K TVs, which was 75 inches in 2021, is expected to advance to 86 inches and 98 inches in 2022, Kang added.