Experts prefer artificial snow for winter sports
Share - WeChat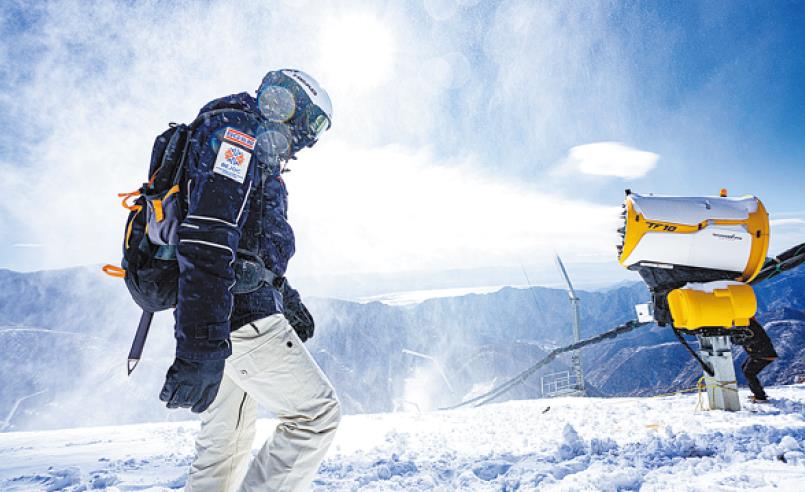 Citing consistency in making fair and safe courses, international experts have reiterated the advantage of artificial snow for slope building at world-class events, with the Beijing Winter Olympics just around the corner.
As a common practice worldwide including at snowy resorts in Europe and North America, the use of manmade snow has emerged as a more efficient and reliable alternative to natural snow to build and shape competition courses for almost all skiing and snowboarding disciplines, thus any excessive concern over the same operation at Beijing 2022 venues is unnecessary, said international experts.
"I've done eight Olympic Games, and there's been snow-making at every one of them. And the snow was exactly the same as it is outside here right now," said Joe Fitzgerald, a Canadian slope-building expert, who is now working with Chinese organizers as a consultant at Genting Snow Park, an Olympic venue in Beijing's co-host Zhangjiakou, Hebei province.
Snow, manufactured by machines or naturally formed, has the same consistency, yet it's much more efficient and more stable to develop and shape courses using the artificial version, which is controllable and adaptable, said Fitzgerald.
"We use artificial snow to make sure that we have a consistent surface," said the former International Ski Federation freestyle coordinator, who has been involved in the development of Olympic courses since the 1988 Calgary Games.
"You actually reduce injuries with artificial snow, because you have a consistent surface to operate on."
As the venue for all freestyle skiing and snowboarding events, except for the Big Air discipline, Genting Snow Park, part of the existing Secret Garden Resort, has completed and tested all its six courses now ready for aerials, moguls, halfpipe, slopestyle, parallel giant slalom and cross competitions at the Olympics, with organizers and course operators busy putting the finishing touches on the slopes.
The automated snow-making system at the resort is operating under a smart control system that adjusts the production according to conditions of the climate and the courses to spray snow only where needed and the amount needed.
"We have designed the latest in snow-making. It's very efficient in terms of energy consumption and the use of water," said Davide Cerato, an Italian mountain operation expert who is in charge of snow-making and slope development in Zhangjiakou as a Beijing 2022 consultant.
For resorts to host world-class events nowadays, the equipment for snow-making, no matter how heavy or scarce natural snowfall will be, is part of the standard operation that adjusts and controls the density and characteristics of slope surfaces more efficiently than relying on natural snow, in order to cater to the technical requirements for different events, Cerato says.
"If it is natural snow, you have to work way more," he said. "You spend more resources to prepare the course with natural snow because you need to compact the snow with extra machinery and manpower to reach the FIS requirements, which are very clear."
Nikolai Belokrinkin, an Alpine ski expert now working at the Yanqing competition area to help prepare the National Alpine Ski Center for the Olympics, added that natural snow would not be enough in density and consistency for athletes competing in arguably the fastest skiing event at the Olympic level.
The icy snow surface at the Alpine resort, made by dense artificial snows compacted layer after layer, helps maintain the smoothness of the competition slopes so that each skier could race on almost the same course conditions without being affected by any obvious traces of the previous competitor.
"The snow has to be really compact. They should not leave any tracks because this is a question of fairness that the last athlete has the same fair conditions as the first," said Belokrinkin, a Russian consultant who's worked at his home Games in Sochi in 2014 and the 2018 Games in Pyeongchang.
He said that water sources are not a problem for the snow venues of the Beijing 2022 and there are reservoirs for keeping and recycling water throughout the year.
"Snowmaking is not a waste of water. The water comes back to nature. It's fixed by air. And it's a circle. It always comes back," he said.