Startup U Power enables separate car production
Share - WeChat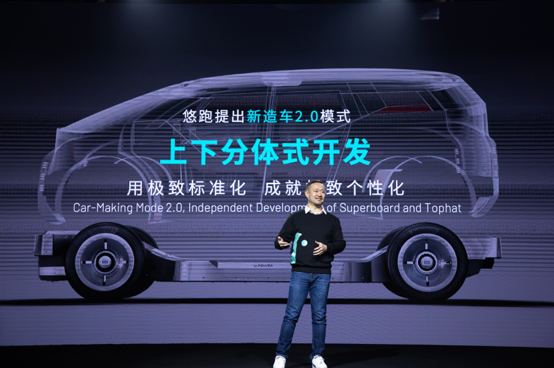 Chinese startup U Power unveiled a new car production mode on Tuesday, which are designed to shorten carmakers' development of electric vehicles.
Advances in vehicle modularization and intelligence have made possible the new mode, said the company when it unveiled a standalone chassis and three standalone cabins at the event.
The two products, which are the collaboration of U Power and German technology company Bosch, are estimated to cut electric vehicles' development by up to one year and costs by 60 percent, said the company.
The chassis, called the Super Board, integrates such things as battery packs and electric architecture, so it enables carmakers to come up with models that have a range of over 1,000 kilometers and Level 4 autonomous functions, said CEO Li Peng.
He also explained three cabins, called the Space, that can be used on the chassis, to produce sedans, MPVs and SUVs. U Power said it has created five different types of cabins based on one standard chassis.
This would make it easier for those companies who would like to start quickly in the already heated electric vehicle sector, said the company.
U Power was established in 2021 in Shanghai. The startup has finished three rounds of funding, with the latest led by Bosch's market-oriented investment platform Boyuan Capital.