Gong reaching for greatness
Share - WeChat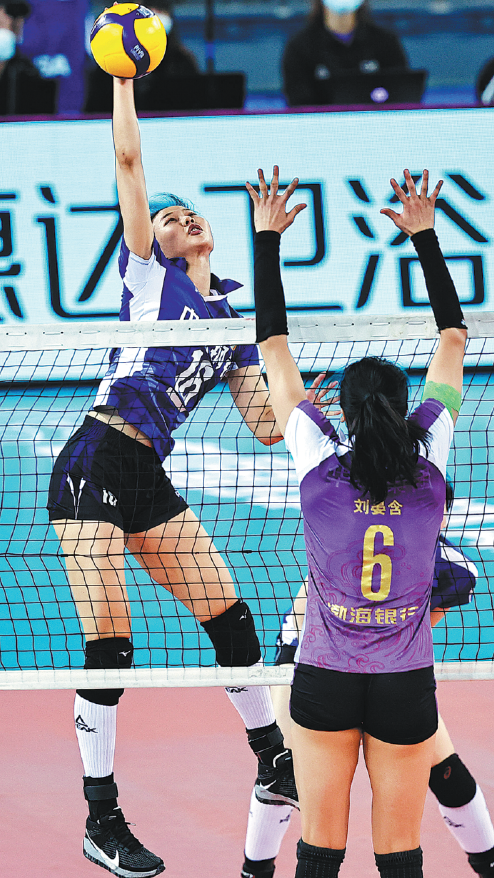 Gong Xiangyu says she has worked through the "confusion" of China's shock early exit from the Tokyo Olympics and is ready to help the national team bounce back from that disappointment.
Defending champion China's failure to emerge from the group stage of the women's volleyball competition was one of the biggest upsets of any sport at Tokyo 2020. And spiker Gong admits it was difficult to process at the time.
"I love volleyball. I enjoy the feeling of concentrating and devoting myself to volleyball in training and games," Gong told Xinhua in a recent interview.
"There was a time when I was confused (following China's Tokyo 2020 exit), but I figured it out. Now I cherish what I have and I believe in the future.
"I will always respect the sport of volleyball, and try to be my best self and contribute to the national team."
Gong earned her first Team China call-up at the age of 19, before becoming an Olympic champion with Lang Ping's golden girls in her Games debut at Rio 2016.
"It was really challenging. I was so young and inexperienced," Gong recalled of the Rio campaign. "Our team was struggling in the preliminary stage and I wasn't playing very well. I was wondering whether the coach had made the right decision by picking me."
Fortunately, coach Lang had full faith in Gong. That trust paid off as Gong recovered from her slow start to shine in the knockout stage and help China claim its third Olympic women's title.
"The experience in Rio was invaluable. It gave me the chance to see just how tough the world's elite-level volleyball tournaments are," said Gong.
"It took me quite a long time to fully understand what was happening and learn from it. I was lucky because the coaches and teammates were always ready to help me and give me advice. I had a tough time in Rio, but I also benefited a lot from it."
Gong emerged as a regular starter for the national team during the Tokyo Olympics cycle, winning gold at the 2019 World Cup and bronze at the 2018 world championships.
However, the squad fell well short of expectations at Tokyo 2020, crashing out in the group stage after winning only two of its five games.
At the end of the last pool match against Argentina, Gong and her teammates stood in a circle to say their goodbyes to head coach Lang, who resigned in the wake of the exit.
"It was emotional. My mind was full of memories and images," Gong recalled. "She had always been there with us when we needed her. I was so grateful to her and I really didn't want her to leave."
After the Olympics, Gong returned to her local club, Jiangsu, where she was appointed captain for the 2021-22 Super League season after national teammate Zhang Changning was sidelined with injuries. Gong led Jiangsu to a runner-up finish at the National Games in September.
"When I was a rookie in the team, the older teammates helped me a lot. Now I have more experience and a lot of young players are coming into the team, so it's my time to help them. I would like to share my experience with them," said Gong.
With an average age of 20, Jiangsu made it to the Super League Finals again after finishing third in the preliminaries with an 11-2 record. Gong's team then defeated a star-studded Shanghai team-featuring South Korean spiker Kim Yeon-koung and Tokyo 2020 MVP Jordan Larson of the United States-2-1 in the semifinals.
"Zhang's absence affected us a lot, but we tried our best. Making the semifinals was a big surprise to us and we were more than happy to be in the Finals," said Gong.
Just like last year, Tianjin again proved too strong for Jiangsu, winning 3-0 last Tuesday evening and 3-0 on Wednesday in the best-of-three Finals.
Gong, though, is not too disheartened and is already looking forward to next season's title assault.
"This Jiangsu team has a tradition of daring to challenge and is not afraid of losing," she said. "We will carry on with our mission."
Xinhua