State-owned builder overcomes pandemic roadblocks
Share - WeChat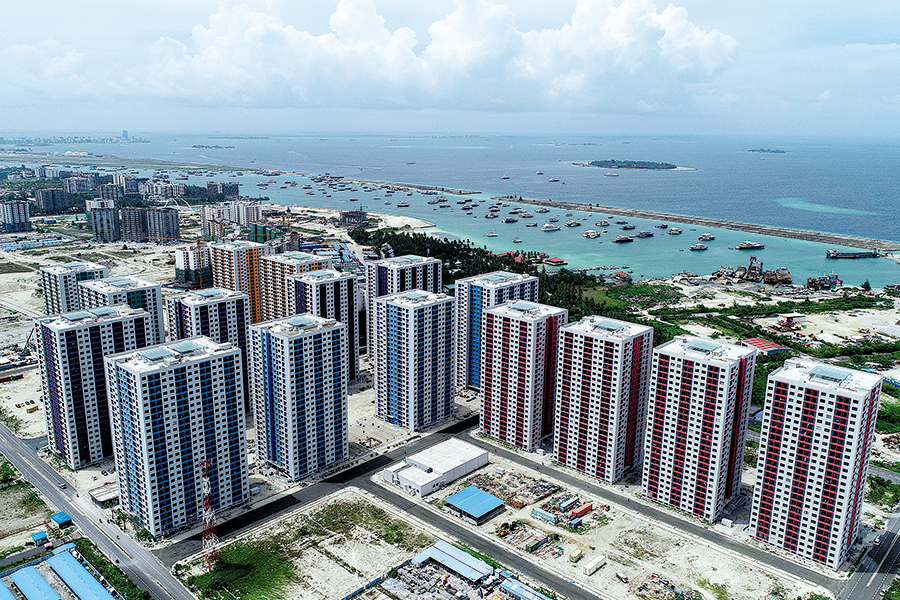 Active BRI participant delivers affordable housing project, aiding 30,000 Maldivian residents
China State Construction Engineering Corp has been able to complete a large and much-needed affordable housing project in the Maldives on time despite challenges created by the COVID-19 pandemic, company officials said.
The government-owned project consists of 7,000 units in Hulhumale, a reclaimed island in the Maldives. Each of the 16 buildings is 25 stories tall.
It is designed to ease housing pressure and provide better living conditions for nearly 30,000 residents of the Maldives' densely populated capital, Male, and nearby cities, according to the company.
It also marks an important part of the company's concerted efforts in support of the Belt and Road Initiative and the development of other countries, officials said.
Occupancy recently reached 70 percent-most of the residents received their keys in August and started moving in October. Floor space of the $434 million project is 36,000 square meters out of a total construction area of 468,000 square meters.
The artificial island-Hulhumale, which is about 9 kilometers from Male-was created to meet the existing and future demand for housing, industrial and business development in Male and surrounding regions.
Mohamed Saeed, a 46-year-old official for the Maldives' Customs office, has been living in rental housing in Male, which is experiencing a housing shortage. Saeed moved into one of the affordable units in October, where he said the rent is lower for a larger space that is nearer to his job.
After paying rent for 20 years, the residents get title to their apartments.
"Male is a city with a high population density, and I had many unpleasant experiences living there," said Suha Sameed, another Male resident who was preparing to move into one of the affordable units. Sameed said residents of the capital spend a lot of time commuting as a result of congested roads, and homes and stores are often hit by water and power outages.
"The interior of the affordable apartment I'm about to move into is being finished now. Life will be much more convenient for my family," Sameed said.
The COVID pandemic created many challenges for the builders, said Li Yongji, project manager at China State Construction. It affected the purchase, transportation and Customs clearances for building materials, leading to a shortage, Li said.