Chinese telecom companies taking aim at future stage of internet revolution
Share - WeChat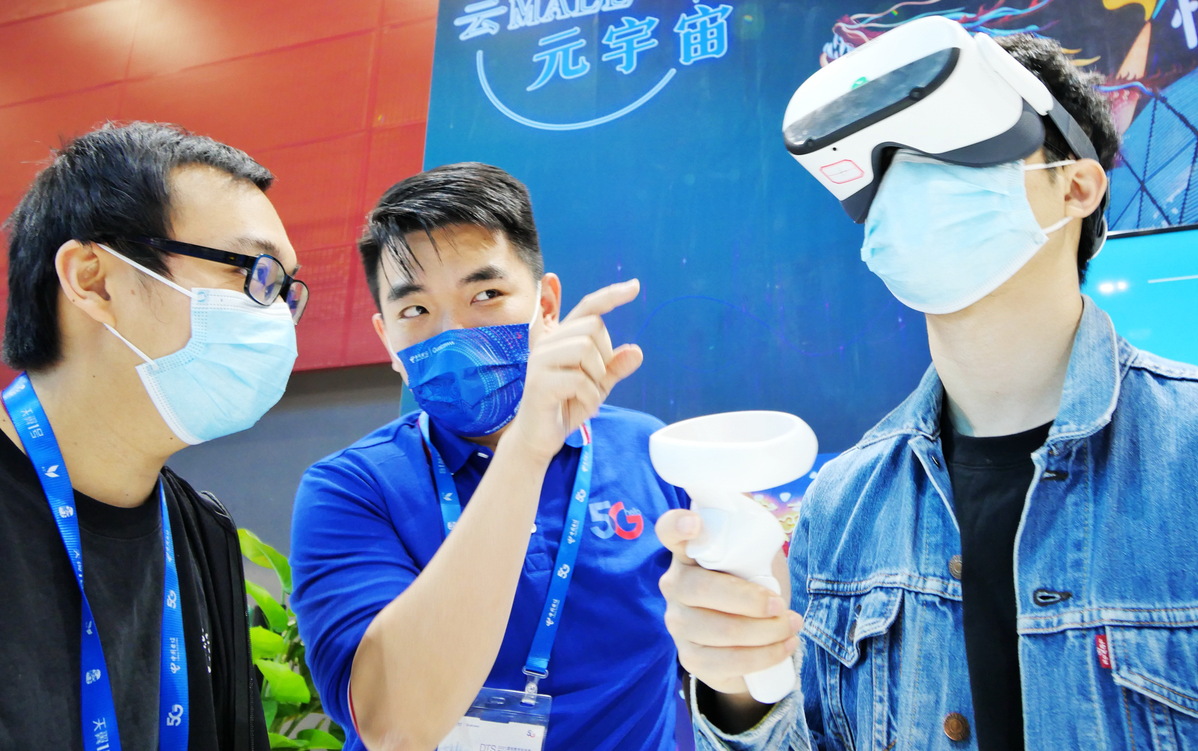 Chinese telecom companies are eyeing the metaverse for future development, as they aim to rely on the nation's preeminence in 5G network infrastructure to gain an edge in moving toward a deeper virtual-tangible world integration.
"Metaverse" is one of the hottest buzzwords for the next phase of the internet, where the virtual and physical world become more interconnected, industry analysts said. A metaverse can mean virtual worlds shared by users or digital spaces augmented by VR and AR technologies.
Migu Co Ltd, a subsidiary of China Mobile that provides digital content and services, has announced its road map for the metaverse as it steps up its push to integrate the development of 5G, virtual reality, augmented reality and other cutting-edge digital technologies.
Liu Xin, general manager of Migu, said a ubiquitous computing power network is the most solid base for the metaverse and it will also need a gaming interaction engine.
By creating different software and hardware environments such as ultra-high-definition video, VR and AR, Migu wants to pioneer a new way of social interaction, realize the connection between people, people and things, and things and things, as well as satisfy self-realization for consumers.
At an event held in Guangzhou, Guangdong province, in November, Migu partnered with AR company Nreal to showcase the lightest and thinnest consumer-oriented AR glasses in the industry. The AR gadget, named Nreal Air, has the same stylish appearance as sunglasses and weighs only 76 grams.
The interest of Chinese telecom companies in the metaverse came as the COVID-19 pandemic has given the buzzword a push. The outbreak accelerated the virtualization of society. People are spending more hours online and upgraded digital life from a supplement to a norm in the life of people, in parallel with the physical world, the 2020-21 Metaverse Development Research Report published recently by Tsinghua University said.
Sihan Bo Chen, China head of the Global System for Mobile Communications Association, an international global telecommunications industry body, said, "Although views differ considerably on how the metaverse will unfold in the future, there is one thing for sure in that 5G will play a very important part in realizing the vision."
For instance, industry insiders said in the metaverse, people can move beyond the constraints of screens or beyond the limits of physics by teleporting as a hologram, or a 3D virtual figure, to be present with their colleagues or loved ones. Such a vision would be impossible without the support of 5G networks.
Xiang Ligang, director-general of the Information Consumption Alliance, a telecom industry association, said compared with other countries, China is an early mover in rolling out 5G networks, which can give it an upper hand in laying down sound infrastructure for the metaverse.
China had built more than 1.15 million 5G base stations as of mid-November, accounting for more than 70 percent of the global total, said the Ministry of Industry and Information Technology.
Meanwhile, Chinese companies are making steady progress in cloud computing, AI computer algorithms, as well as AR and VR technologies, which can also help them move quickly toward the metaverse.
Chinese tech heavyweight Lenovo Group Ltd, for instance, is already using its VR and AR solutions to empower doctors to deliver better care and connect with their patients. Lenovo Health Solutions brings doctors closer to their patients virtually, helping them deliver quality care even when they do not have to be with them physically.
Lenovo's AR glasses, called Think-Reality A3 Smart Glasses, were named by Time magazine in the United States as one of the 100 best innovations of 2021 for its design and cutting-edge capabilities.
Qiao Jian, senior vice-president of Lenovo, said the company has been attaching great importance to innovation since its founding. "We have not only established a complete innovation system, but also made unremitting efforts in research and development, and continued to achieve fruitful innovation results."