Social media new tool to market old homes
Share - WeChat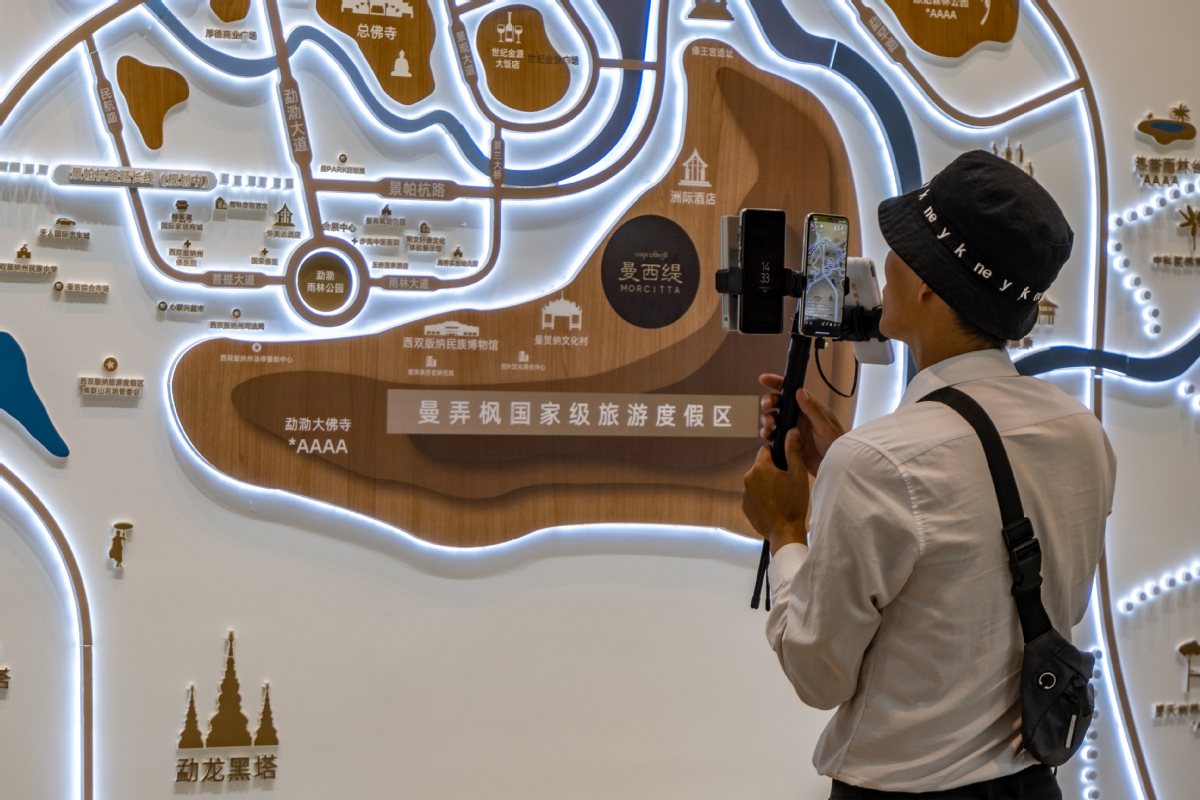 Agents say real estate has fascinating story to tell in selling historic houses in Shanghai
The marketing of an apartment listed for sale for 30.5 million yuan ($4.79 million) in Shanghai's Wukang Mansion-an iconic, wedge-shaped historic building-has put a spotlight on celebrity agents who are skillfully using social media to sell real estate.
Rejecting many traditional ways to sell houses, they are employing tools including WeChat, Weibo, the short video platform Douyin and Instagram-like Xiaohongshu. While they still represent a small sector of the market, some have become influential opinion leaders in the sector. Yet they all have the same aim: to sell more high-end homes.
The 176.3-square-meter flat is in the first apartment building designed by Hungarian-Slovak architect Laszlo Hudec in Shanghai. The building was built in 1924 and later became the residence of many famous actors and other celebrities.
Among those in residence was Zhao Dan, an actor and director who became famous in the 1930s. Zhao appeared in Street Angel in 1937, about the downtrodden in Shanghai, and the 1949 drama-comedy Crows and Arrows.
These new agents are using videos and photos on social media to market not just the beauty of such properties, but their history, too.
Huang Zhaoqi, one of them, uses his influence on Douyin and Xiaohongshu to tell people about the flat and other properties.
In one year, Huang has posted some 200 video clips and won 280,000 followers on Douyin and over 27,200 on Xiaohongshu. His signature social media photo is of him driving a Porsche 911. He has motivated potential homebuyers to visit up to 400 stately old apartments and houses in the past year-almost three times an agent's normal workload.
"The new methodology of social media in home sales looks to the cultural value of the houses, which requires social media influencers to tell a good story," said Yan Yuejin, director of the Shanghai-based E-House China Research and Development Institution.
Specialized organizations that can promote such homes on social media give sellers a much better chance of making a deal that reflects the homes' actual worth, Yan added.
These homes were built before 1949, and many were designed by foreigners and used imported materials. They are mostly located in downtown districts-Xuhui, Jing'an, Changning, Huangpu and a small part of Hongkou-according to Lin Mianding, general manager of Straight& Steady Estate.
The properties, including apartments, townhouses and villas, are priced from about 10 million yuan to several hundred million yuan, depending on such factors as condition and location, said Lin, adding that between 60 and 70 percent of the city's Western-style homes were traded via their company last year.
In a bid to find new customers via multiple channels, Lin's colleagues started to post videos on Xiaohongshu and Douyin in 2019, and Lin started to post video clips himself a year ago.
Lin's videos typically tell the story of the house, trace the owners and evaluate the property. It's a style Lin came up with during a weekly program aired on Shanghai Television Station during 2015 and 2017.
By posting three to four video clips on a weekly basis, Straight &Steady in the past year closed five deals with people attracted via social media. The company expects that number to grow.
On average, the company closes 100 transactions of Western-style residential properties per year, but in the first 10 months of this year, they had already reached that number, Lin added.
Within Shanghai's inner ring, there also are freelance property agents not attached to any agency. They have found ways to establish a customer base.
"The thing I most enjoy about this job is to lease out a featured apartment for which it has been difficult to find a suitable tenant," said Li Meimei, a comparative latecomer who started posting photos and rental information in January on China's Twitter-like Weibo platform.
She has quickly distinguished herself with her high-quality photos and a new approach to leasing.
Li, who uses the nickname Fangjie, which means house sister, said her strengths in photography and the arts have inspired her. She said they have helped her recognize houses that have the greatest potential to get attention.
Li said getting a property leased requires less time and effort from an agent than selling an expensive property, allowing faster turnover.
A sales agent who has been in the property business since 2004, Shanghai native Zhou Xuan, 37, started to post articles on a WeChat public account starting in 2014.
At first, his interest in older houses and posting about them was like a hobby-Zhou said he likes houses with a story, and his job allowed him to see a lot of them. His hobby drove him to learn photograph, carpentry, floristry and the history of old houses.
"Usually, transactions involving old apartments take a long time and require the agent to be involved from the very beginning until the final stages. Therefore, good service is at the core," Zhou said.
Zhou has published some 800 articles about Shanghai's Western-style houses, each telling the story of a particular dwelling in a narrative way and including photos of the house.
Some 45,000 people follow Zhou's account, though a very small fraction of Zhou's followers are potential buyers. The majority may not be able to afford such a house, but they enjoy the photos and stories. He said the acknowledgement and appreciation he has received have motivated him to update his account on a daily basis since 2017.
Agents Liu Zongjun and Ren Kairong, who use Douyin to post short videos, are better known on social media by the names of Yige and DaS. They both arrived in Shanghai in 2011 and met through the property business.
In 2018, Liu happened to post a snap video of a luxury apartment on the platform and was astonished to find that the video, posted with scant editing and simple background music, has been viewed thousands of times overnight. Shortly afterwards, the apartment was sold, opening a new world for Liu.
Encouraged by Liu, Ren also opened his own Douyin account to post short videos in 2019. He started to publish long videos in October 2020.
Liu, 33, and Ren, 26, have a combined total of more than a million followers of their Douyin accounts, and their videos, viewed more than a billion times, have received more than 20 million likes.
"The appearance of social media platforms like Douyin is a pivotal force, and we can have our videos seen by a much wider audience than using any other medium or physical stores," Ren said.
Social media has enabled influencers like Liu and Ren to reach a broader group of potential buyers, which increases their chances of completing a property deal offline.
Some 700 million yuan worth of high-end homes have been sold by Liu and Ren this year, and they are eager to further expand their followers to millions of people.
Chen Sheng, president of the China Real Estate Data Academy, said that aside from being a social media influencer, the best agent must first become an expert on housing. An agent handling high-end properties needs expertise in finance, price inflation, the economy, property taxes and asset management. The real experts in the business need to be more than social media influencers, Chen said.
There were 2,317 high-end units traded in Shanghai in this year's first quarter, including 2,212 homes priced between 100,000 and 150,000 yuan per square meter and 105 units going for more than 150,000 yuan per sq m, Chen said.
Only a small portion of high-end homes are traded by agents who are social media influencers, Chen said.
An agent should always make sure the housing information published is authentic, try to offer expertise as part of their service and protect the privacy of homeowners, regardless of which platform they use, according to Lin of Straight &Steady Estate.
Zhou, the agent, said: "I always believed that the attraction of the old Western-style houses does not lie in the architecture, but in the people who used to live there and brought the houses alive. Without people, a home would be no more than a house." He added that he likes to sell historic houses to people with a passion for old houses, who can make sure the homes' stories continue.