The highs and highs of meeting Yao
Share - WeChat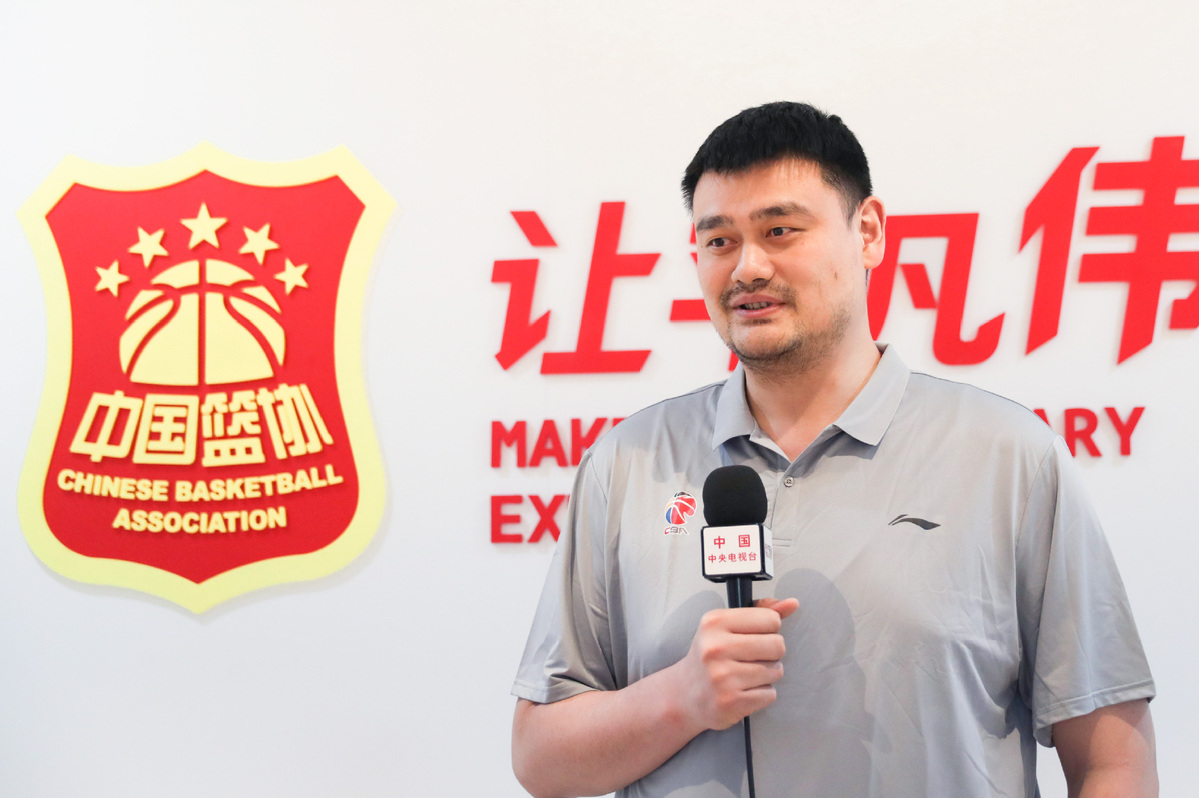 Lawyer recalls role in getting star player to Houston and the bonds that endure
When the Houston Rockets were considering drafting Yao Ming for the 2002-03 NBA season, they contacted experienced immigration lawyer Charles Foster to make sure that Yao could legally play in the United States-expeditiously.
"Even before he was drafted, I worked with the Rockets on what our strategy would be to expedite the approval of the working visa petition," Foster said in a recent interview. "I developed a plan, and that one particular issue gave the Rockets the confidence so they could draft him."
Foster vividly remembers his first meeting with Yao. Right after the future basketball Hall of Famer Yao got to Houston, the Rockets set up a meeting for Yao, his agent and his parents to meet with the Foster family, including his wife Lily Chen Foster and their two teenage sons.
The meeting was held at a symbolically Texas location-the well-known steakhouse Texas Taste off the highway I-10 west in Houston.
"By that time, the fact that he has been drafted was already a big story in the newspapers. So, arrangement was made for him to enter through a back door," Foster recalled.
Yao was the No 1 pick in the NBA draft on June 26, 2002.
When they started to sit down around a big table in a private room, Foster assumed Yao would sit across from him and they would talk about big topics such as the history and relationship between the US and China.
Yao instead went to the end of the table and sat between Foster's two sons. It came as a shock to Foster at first, but he then realized that Yao was a very young person, only a few years apart from his sons.
"There I was, three or four decades older than Yao, and I was seeing him as a peer. He looked at the table and saw the kids at the end of table and associated with them,"Foster said. "I never had the opportunity to talk geopolitics with Yao. Our sons wound up talking to him of all things (about) video games."
By the time of their first meeting, Yao was already provided a car specifically designed for his height: 7 feet, 6 inches (2.28 meters).
He invited the two teenagers for a ride. "So, at some point in the evening, the three of them went out and he gave my sons a ride in his newly fitted car," Foster said.
Foster interacted with Yao regularly throughout the player's stay in Houston, not only because he continued to offer legal services and advice to Yao but also because his wife, Lily, and Yao are both from Shanghai. Lily ended up being sort of a local guide and pointed out who's who for Yao and his parents when they began to get settled in Houston, Foster said.
Foster had been chairman of the Asia Society Texas Center for over two decades, and he invited Yao to speak at the society many times. Yao provided help for the center to raise funds to build its own venue, Foster said.
"I hosted a big event of potential big donors and Yao Ming came to that event," he said.
"He was sort of a drawing card. People came in part to meet with Yao Ming. Yao was there so we could make a pitch why those people should support Asia Society."
Yao was invited to the groundbreaking ceremony. Everyone put on a hard hat and held a shovel. The hat would not fit Yao and he ended up the only one in the photo without a hat, Foster said, pointing to a photo of the event's dignitaries.
Reactions appreciated
For Foster, it is always fun to see the kind of reaction Yao elicits from bystanders no matter whether he is in Houston or China. He was also amused by Yao's "secrets" of getting in and out of restaurants in China without being seen by the public.
There were exceptions, however.
One time Yao and Foster went to a restaurant atop a tall building in Beijing. A middle-aged man shared the elevator with the two of them. The man was completely engrossed on his cellphone and never looked up for a second during the ride up.
As they were stepping out of the elevator, the man looked up and was surprised to find himself staring at Yao's torso. "He looked up and up until he saw Yao's face and said: 'Gosh, you are tall. Have you ever thought of playing basketball?'
"Yao said without missing a beat: 'That's a great idea, I think I will just try that'."
Yao has a good personality, according to Foster, calling him likable, modest, honest, low key and clever.
"He quickly learned to understand and speak English pretty well, and he could make jokes. People liked him," Foster said.
No doubt Yao was "becoming a great symbol of the US-China relationship from a Western point of view" when he was playing for the Rockets, he said.
Sports certainly help bring people together, as Yao has demonstrated. That's also what Foster hopes for the upcoming Beijing Winter Olympics.
"The US should obviously support the Olympics irrespective of any differences we may have with China or anyone else," he said.
"We hope our side wins, and other countries hope they will win. That's what this should be about, just the athletes competing at the highest level."