Writing's on wall for embattled Li
Share - WeChat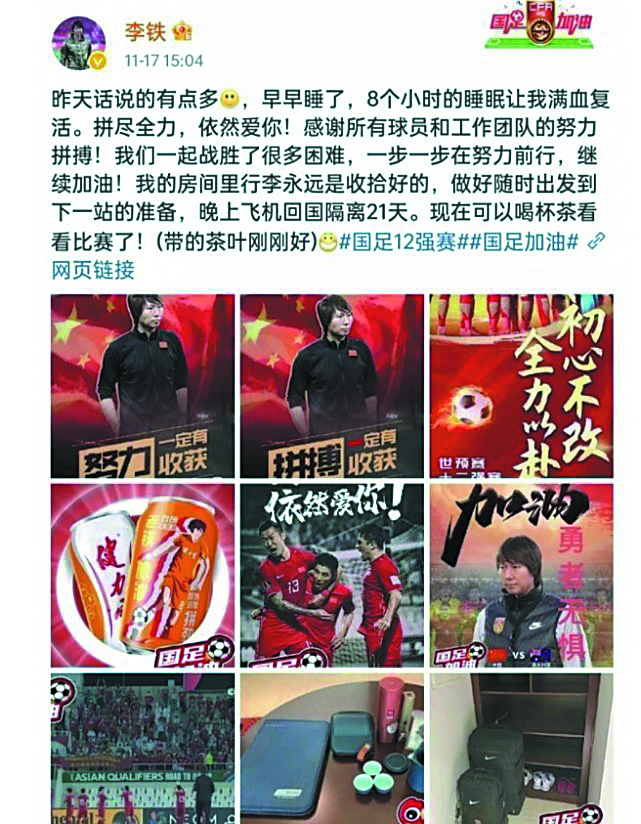 Li Tie's reign as Team China head coach appears to be drawing to a close as problems on and off the pitch combine to make his position untenable.
Yangcheng Evening News reported on Wednesday that Li Tie this week offered his resignation to the Chinese Football Association, and bid farewell to players and staff following a training session on Tuesday.
According to Xinhua, Li Xiaopeng, the current head coach of Chinese Super League club Wuhan FC, is among the favorites to be installed as the new head coach.
Writing on Weibo on Tuesday, Soccer News journalist Li Xuan claimed Li Tie's voluntary resignation means the CFA is not obligated to pay compensation for the remainder of his five-year contract.
Beijing Youth Daily reported that Li Tie apologized verbally to CFA president Chen Xuyuan for a series of recent off-pitch controversies, including a post-match rant that criticized fans, as well as inappropriate advertising on his personal social media account.
At the time of writing, neither the CFA nor Li Tie had responded to the reports, which have been trending on social media for several days this week. The hashtag "Li Tie offers to voluntarily resign" was viewed over 92 million times on Weibo by Thursday morning.
"Li Tie told his players after the last training session that the 107 days of training and competing was tough on everyone. He urged the players to keep working hard when they return to the Chinese Super League, and avoid injuries in order to be prepared for the remaining World Cup qualifiers," sports journalist Zhao Yu wrote on social media.
Team China's hopes of qualifying for next year's World Cup in Qatar are all but gone. Li Tie's side sits fifth in the six-team Group B and would need to produce major upsets against Saudi Arabia and Japan as part of its remaining four games in the final phase of Asian zone qualifying to have any hope of even earning a third-place playoff spot.
The Chinese players have just completed their medical quarantine after returning from Emirati city Sharjah, where China drew its last qualifier 1-1 with Australia on Nov 16.
Li Tie has come in for fierce criticism over his tactics and sparing use of the squad's naturalized stars. Ironically, the draw against the Aussies was the only match over the past six qualifiers that Li Tie had started all four of his foreign-born players. It has apparently proved too late to save his job, however.
The coach's emotional outburst after that game, when he branded his detractors "mental", only served to give his critics more ammunition.
"Some people still say there is no difference between playing home and away matches. These people are mental. They know nothing about soccer. This is a fact that games are very different with and without home advantage," Li Tie raged.
His future as head coach was further questioned by media after he erased the logo of Team China's sponsor from pictures he posted on his Weibo account. He was also accused of using his position to plug several products on the same social media account.
"As the national team head coach, Li Tie's behavior represents not only himself but also the image of the national team. From saying those who question (striker) Wu Lei should shut up to calling fans mental, such behavior has gone on for over half a year," read a Yangcheng Evening News commentary.
"Following the qualifier with Australia, Li Tie posted advertisements for products which violated the interests of Team China's sponsors. Despite deleting the posts, for the fans that were questioning him, it didn't reflect well that he was more concerned about posting advertisements than the match result."
Rocky campaign
Li Tie's anticipated departure is another disappointing chapter in China's attempts to qualify for the World Cup following a solitary appearance in 2002.
With Marcello Lippi at the helm, China kicked off its qualifying campaign with a 5-0 triumph over the Maldives in September 2019. However, a 2-1 defeat to Syria two months later prompted Lippi to call time on his second stint in charge, with Li Tie installed as the Italian's successor in January 2020.
Despite challenges presented by the COVID-19 pandemic, the former Everton midfielder enjoyed some initial success, helping Team China secure a place in the final phase of Asian zone qualifying thanks to a 3-1 victory over Syria in Sharjah in June this year. Since then, though, China's campaign has unraveled.
With pandemic regulations at home forcing China to play its 'home' matches in the United Arab Emirates, Li Tie's men have only amassed five points from their six Group B games so far, with something of a minor miracle now required to reach the finals in Qatar.
"We can be sure that whoever takes over Team China, the new coach will not change the national team's chances of qualifying for the 2022 World Cup," read a Beijing Youth Daily commentary on Tuesday. "The new coach will instead need to target the next edition of the Asian Cup, nurturing a new generation of talents and aiming to achieve some other long-term goals."
Not everyone, however, is sure it's the right time for Li Tie to walk away. "I think Li Tie should lead the team, and build some momentum with wins over Oman and Vietnam in the coming qualifiers. Then he can think about resigning," former Team China interpreter Xie Qiang wrote on social media. "Li Tie can be reckless sometimes, and he did behave inappropriately, but I don't think he's a bad guy."