China-Africa ties to spur digital field
Share - WeChat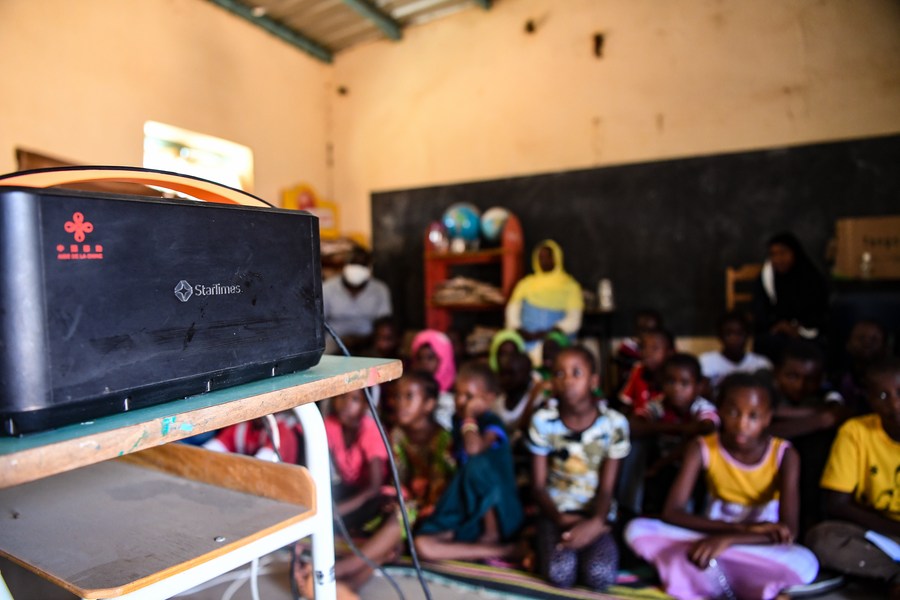 Trade, net zero opportunities and vocational training among priorities
China's Ministry of Commerce said on Thursday that it will step up efforts to formulate specific work plans for nine programs in areas like digital innovation, which are designed to deepen China-Africa cooperation.
Shu Jueting, spokeswoman of the Ministry of Commerce, said the nine programs, as part of the first three-year plan of the China-Africa Cooperation Vision 2035, will not just promote partnerships in poverty-reduction, trade and investment, but further ties in emerging areas such as digital economy, low-carbon development, and vocational education.
The nine programs were unveiled at the Eighth Ministerial Conference of the Forum on China-Africa Cooperation held in Dakar, Senegal, earlier this week.
Experts said that as the COVID-19 pandemic accelerates digital transformation in many economies, a deeper China-Africa partnership in digital innovation is of greater significance.
According to the digital innovation program, China will undertake 10 digital economy projects for Africa, set up centers for China-Africa cooperation in satellite remote-sensing application, and support the development of China-Africa joint laboratories, partner institutes, and scientific and technological innovation cooperation bases.
Also, China will work with African countries to expand Silk Road e-commerce cooperation, hold online shopping festivals featuring quality African products and tourism e-commerce promotion activities, and launch a campaign to market 100 African stores and 1,000 African products on e-commerce platforms.
Zhou Mi, a senior researcher at the Chinese Academy of International Trade and Economic Cooperation, said global economic recovery is very unbalanced among regions, and development gaps in digital economy and green technologies are among the factors that fuel such unbalances. The digital divide in Africa is becoming even more challenging during the pandemic.
The cooperation between China and African countries in related fields therefore is expected to help close such development gaps and inject more impetus into global economic recovery, Zhou said.
As the pandemic has severely disrupted traditional trade and investment activities while speeding development of the digital economy, it is of great significance for Africa to tap digital economy potential to drive economic growth and strengthen global connections.
At the same time, strengthened China-Africa cooperation in digital economy will facilitate formation of international consensus to establish more effective, widely accepted, and comprehensive rules in the sector, to create a more stable environment for growth and global cooperation in digital economy, and that is also valuable because digital economy is becoming a key area for global competition, Zhou said.
Currently, Chinese companies are actively investing in African countries to build digital infrastructure, offer vocational training for local people and provide internet services.
Chinese telecom company Huawei Technologies Co, for instance, kicked off the 2021 edition of its "Seeds for the Future" course in South Africa last month, aimed at preparing local students studying information and communications technology for the future of work.
Now in its sixth year, the course aims to inspire local talent, enhance knowledge sharing, promote a greater understanding of, and interest in, the information and communications technology sector, and encourage participation in the digital community. The course focuses on the latest technologies like 5G, cloud computing, artificial intelligence and the internet of things.
Benjamin Hou, president of Huawei's Northern Africa carrier business department, said: "Huawei has been in Africa for more than 20 years. We have a dream-to bring digital to every African home. We are committed to providing advanced broadband solutions and introducing the global best experience, helping African people to bridge the digital divide."