World Cup crossers challenged by Genting's bumpy ride
Share - WeChat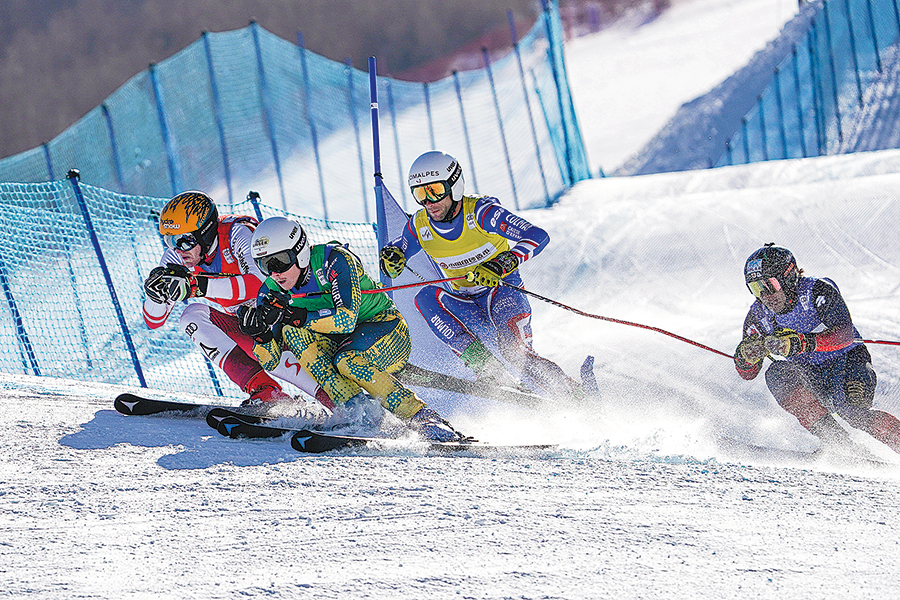 Action-packed opening legs of the freeski and snowboard cross World Cups in Zhangjiakou over the weekend have raised expectations for plenty of thrills and chills at Beijing 2022.
Even with the course not perfectly groomed yet, the high-octane freestyle disciplines made a strong debut at the Olympic venue as the world's best showcased the speed, agility and endurance that make cross one of the most watchable of winter sports.
World and Olympic champions from the sport's traditional European and North American powers left the Beijing 2022 venue impressed by the 1,253-meter-long track, which winds down a vertical drop of 167 meters at Genting Snow Park in Zhangjiakou's Chongli district in Hebei province.
"The course is really fun and the snow is amazing, especially for November. I am looking forward to skiing here again in February," Brady Leman, Canada's defending Olympic men's freeski cross champion, said after finishing second in Saturday's final.
"Super stoked to put down a great race, especially on the Olympic test course," added Leman, a 35-year-old Calgary native.
"It's been cool to see all the infrastructure going into the Games, and it got the vibes going early in what was a big event. I'm stoked that I could step up."
Men's winner Sergey Ridzik of Russia was also highly impressed, praising organizers in comments made through an interpreter for "making such a fun course with high-quality snow as early as possible in the season".
French skier Bastien Midol finished third, cheered on by 300 local spectators, who were the first group of fans allowed to watch competitions on site since Beijing 2022's test event series began in February.
In both ski and snowboard cross, competitors race simultaneously down a narrow piste, negotiating ramps, rollers, banked turns and jumps along the way in a hair-raising battle to cross the finish line first.
The action is fiercely contested, with collisions and crashes common. The Genting course features long sections of rollers-where crossers have to jump over consecutive bumps at high speed-to add even more unpredictability to next year's Olympic races.
"There are so many rollers and the course is so demanding that it's so tiring at the end. To get my legs to do it four times at my age was difficult, but I love it," said 39-year-old American rider Nick Baumgartner after finishing third in the snowboard cross on Sunday.
Italian veteran Omar Visintin, who edged Baumgartner to finish second behind Alessandro Haemmerle of Austria, expects the course to be finessed for a faster ride in time for next year's Games.
"It's a good course which could be a little bit faster. It's pretty exhausting though," Haemmerle said.
"Starting the season with a second-place finish is awesome and doing it at the Olympic course is even better. So the Olympics can come and I am ready."
Already established as a popular snow sports destination before Beijing won the Olympic bid in 2015, the Genting resort will host all the freestyle skiing and snowboarding events at next year's Games, with 20 gold medals up for grabs.
Despite the crisp winter chill at Genting over the weekend, the venue basked in bright sunshine with ubiquitous "Beijing 2022" branding and logos giving athletes a little taste of the Games in advance.
"It is really good to have a glimpse of the Olympic course here in China," said Switzerland's Alex Fiva, the reigning men's freeski cross world champion.
"It is a good course to start the World Cup tour with and get back into the flow of racing, but for sure for the Olympic Winter Games this course is going to be slightly adapted. It is great what people have done here to get ready for the highlight event."
Swiss skier Fanny Smith, the runner-up in Saturday's women's event, also urged organizers to be bold in their final design of the course.
"The snow is good … but still the course is not really in the Olympic mode," said Smith, the most decorated women's skier of the Cup series with 29 victories, and a bronze medalist at the 2018 Pyeongchang Games.
"It's not really interesting at the moment. I hope they will make some changes for the Olympics so it will become more spectacular."
The freeski cross World Cup next heads to Val Thorens in France from Dec 9-12, with the snowboard series continuing at Montafon, Austria from Dec 9-11.