SOEs boost exports, projects overseas for global recovery
Share - WeChat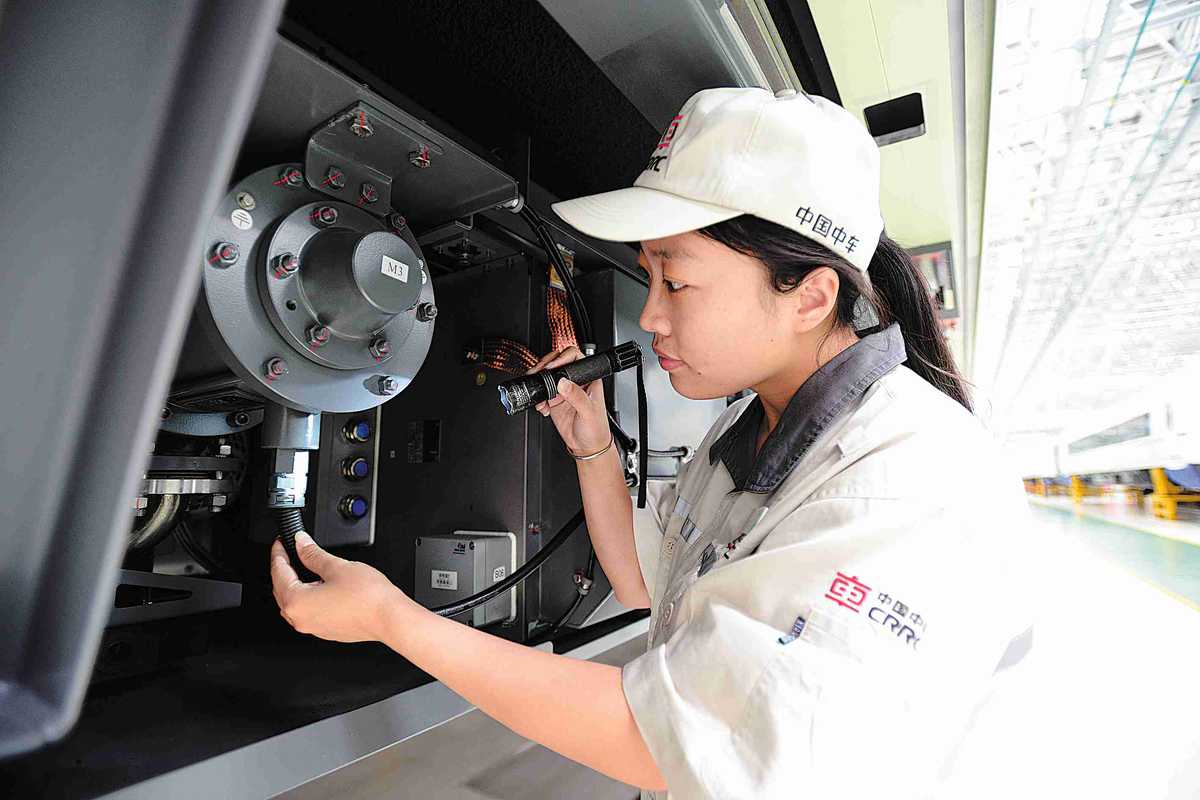 Centrally administered enterprises focus on innovation, meet big demand
China's centrally administered State-owned enterprises are part of many programs currently being expanded to stabilize the world's supply chains. Such SOEs as well as private businesses will play a bigger role in boosting the world's economic recovery from now on.
SOEs are accelerating exports of their products and building more partnerships and projects in overseas markets.
CRRC Changchun Railway Vehicles Co, a subsidiary of Beijing-based China Railway Rolling Stock Corp, is building 210 advanced driverless subway vehicles for the subway in Bogota, the capital of Colombia, and will provide maintenance for two decades, said Wang Yingsheng, deputy director of CRRC Changchun's project research center.
The company also established a new research and development center in Berlin, Germany, during the third quarter of this year, focusing on innovation in new materials. Wang said the company has already established seven innovation centers across the world concentrating on different types of research, such as component parts and industrial design.
In June, the company unveiled its first trains developed for the Los Angeles Metro Rail in the United States.
Wang said the company currently is pursuing and negotiating train orders with countries including Russia, Ukraine, Turkey, the United Arab Emirates, Indonesia, Kenya and Sri Lanka. It's also building trains for countries such as Singapore, Malaysia, Pakistan, Ethiopia, Argentina and Brazil.
The world's anticipated recovery from the COVID-19 pandemic and its effects, especially in tourism and other services, will create growth momentum for infrastructure, logistics and transportation businesses, said Zhou Lisha, a researcher with the Institute for State-owned Enterprises at Tsinghua University.
China Merchants Industry Holding Co, a branch of China Merchants Group, signed a memorandum of understanding in mid-October with Kongsberg Maritime, a Norwegian marine technology company, to jointly design efficient and sustainable vessels. The agreement comes as China strives to reach peak carbon emissions by 2030 and carbon neutrality by 2060.
The companies will work toward increasing overall energy efficiency while reducing emissions. Kongsberg Maritime will spearhead the transition toward clean marine propulsion solutions, which will help the Chinese shipping industry meet the International Maritime Organization's 2050 emission targets.
Areas that both companies have defined as fields of common interest are cargo vessels like container feeders-mid-size vessels that collect containers to be loaded on larger ships-chemical tankers, mid-size cruise and passenger vessels, large natural gas carriers, fuel gas supply systems and offshore wind and aquaculture installations, said Martin Wernli, Kongsberg Maritime's senior vice-president and country manager for China.
China Construction America, a subsidiary of China State Construction Engineering Corp, announced that the new Wittpenn Bridge spanning the Hackensack River in the US state of New Jersey, connecting Jersey City and Kearny, had opened in early October to traffic. The bridge, built by the Chinese company, is helping to relieve traffic pressure in surrounding areas, improve transportation capacity and create safer travel conditions, officials said.
It replaces a vertical-lift steel bridge completed in 1930 that served as an important transportation link in the New York City area. The new bridge has a welded, all-steel superstructure that acts as a single, integral unit and is of a design that is being used on a large-scale lift bridge for the first time in the Western Hemisphere, said Zhao Xiaojiang, CSCEC's vice-president.
With the pandemic greatly affecting world trade, China's central SOEs involved in transportation, energy, infrastructure development and manufacturing have been joining with local partners and governments across the world to sustain trade flows and ensure the progress of infrastructure projects, said Liang Jun, president of the Guangdong Association of State-owned Capital.
Central SOEs in the manufacturing sector have relied on China's having the world's most complete industrial system with the most diversified sectors to boost the nation's foreign trade and deliver products on time to foreign customers, he added.
With their steady operation and sustained external demand, the net profits of central SOEs hit more than 1.5 trillion yuan ($235 billion) during the first three quarters, up 65.6 percent from a year earlier, according to the State-owned Assets Supervision and Administration Commission of the State Council.
The country's top State-owned assets regulator said central SOEs' total operating revenue amounted to 26.2 trillion yuan, up 23.9 percent year-on-year and 18.3 percent over the same period in 2019.
"Central SOEs have maintained healthy operations to date this year, continuously unleashing innovation vitality to enhance efficiency. They have seen stable growth momentum and better operating performance," said Peng Huagang, secretary-general of the SASAC.