Golden opportunity
Share - WeChat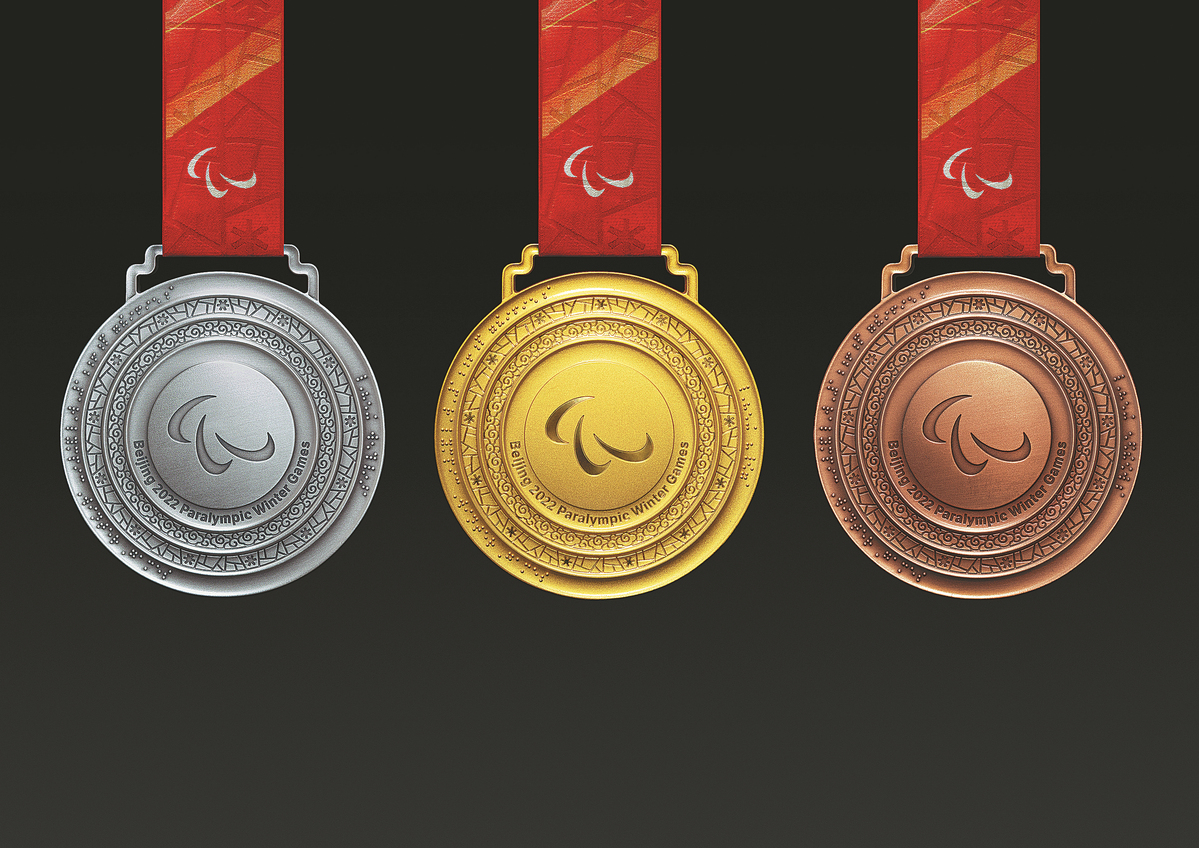 One hundred days out from opening ceremony, Paralympics shaping up to be true game-changer
Inspired by the wheelchair curling team's recent world championship victory, China's para-athletes are going all out to make their country proud at the home Paralympic Winter Games next year.
One hundred days out from the opening ceremony on March 4, China's ever-expanding para winter sports program, spearheaded by the all-conquering wheelchair curling team, is on a mission to draw more attention and support to para-sports by delivering the country's best-ever medal haul at the Winter Games.
The wheelchair curling squad raised expectations it can retain its Paralympic title on home ice next year by winning last month's world championship in Beijing after missing out on gold at the 2020 worlds.
"Everyone on our team is doing the best we can to target the highest possible goal. Yet our focus over the remaining 100 days will be making each and every step as solid as we can to work on our weaknesses," said the team's head coach, Yue Qingshuang, a member of China's able-bodied women's team that won gold at the 2009 worlds.
"As long as we make every day count in the buildup to the Games, the result will take care of itself and we will be able to achieve our goals."
Ever since Beijing won the bid to host the Winter Games in 2015, a number of breakthroughs by Chinese para-athletes-including a first Winter Paralympic gold by the wheelchair curlers in 2018-have highlighted their resolve to join the winter sports boom.
From the humble beginnings of a 50-athlete team about two decades ago, the national program now encompasses over 1,000 para-athletes, who have been training full-time across all six Paralympic winter sports-alpine skiing, biathlon, cross-country skiing, snowboarding, para-ice hockey and wheelchair curling. Guided by 42 coaches, including seven hired from overseas, over 100 hopefuls have been selected to join the pre-Games training camp, where they are fine-tuning their skills at five bases in Beijing and Hebei province in a bid to qualify for 65 of the total 78 medal events at the 10-day Games.
Boosted by state-of-the-art facilities and foreign coaching expertise, the athletes have good reason to believe they can steal the show at the Games, according to Zhang Haidi, chairwoman of the China Disabled Persons' Federation.
"The competitiveness of Chinese para-athletes in winter sports has made impressive progress over the years," Zhang said ahead of a ceremony to celebrate the 100-day countdown at the National Aquatics Center on Wednesday.
"The successful hosting of the 2022 Paralympic Winter Games will for sure further boost the development of para winter sports, the support system for people with disabilities to get involved in sports and exercise, as well as the construction of relevant facilities," said Zhang, a former wheelchair shooting athlete.
During Wednesday's ceremony, the Beijing 2022 organizing committee released both the regular and Braille versions of the official service guide for the Paralympic Winter Games, which caters not only to the para-athletes but also officials with disabilities.
A set of gold and silver commemorative coins for the Paralympics, issued by the People's Bank of China, was also unveiled at the ceremony, as well as a scaled-down torch relay plan that will see the Paralympic flame travel across the three competition zones-downtown Beijing, its northwestern Yanqing district and co-host Zhangjiakou, Hebei province.
China sent a team to the Winter Paralympics for the first time in 2002, when four para-athletes competed in cross-country and alpine skiing disciplines at Salt Lake City in the United States.
Building a brighter future
With Beijing 2022 promising to deliver both Games "in an excellent and extraordinary fashion", better training facilities and stronger financial support have yielded encouraging results in a number of new sports, highlighted by two world para snowboarding titles in 2019 in Finland.
Since 2016, Chinese athletes have participated in 59 international events featuring Paralympic winter sports, claiming 38 gold medals, according to the China Disabled Persons' Federation.
Located in northeast Beijing's Shunyi district, the National Ice Sports Arena for People with Impairments began operation in December last year. Among its cutting-edge facilities are world-class ice rinks tailored to Paralympic standards, a rehabilitation center and accommodation areas to help Chinese para-athletes hone their skills in wheelchair curling and para-hockey.
Now with the Games fast approaching, Beijing 2022 organizers are busy optimizing operational details and services at all five Paralympic venues across the three zones, which have passed international evaluations after hosting a series of test events since February.
Based on feedback from athletes and global para-sports governing bodies, organizers have vowed to further improve barrier-free facilities, such as installing more ramps and widening aisles at venues, sports prosthetics maintenance and COVID-19 countermeasures in time for next year's Games.
Aimed at the general public, Beijing 2022 organizers last year released an illustrated version of barrier-free facility guidelines which detailed the renovation of urban infrastructure to provide greater accessibility during the Games and beyond.
Since November 2019, Beijing has repaired barrier-free facilities-such as sidewalks for visually impaired pedestrians, Braille signs at bus stops and accessible elevators-at 289,000 locations across the city as part of a program to improve equal access and inclusiveness for the disabled community leading up to the Games.
"Our goal is to not just host safe, accessible and excellent Paralympic Winter Games for the athletes but also to maximize the event's influence in order to benefit the well-being of all people with disabilities in our country," said Zhang.