Amid COVID, State firms ride CIIE, RCEP for biz expansion
Share - WeChat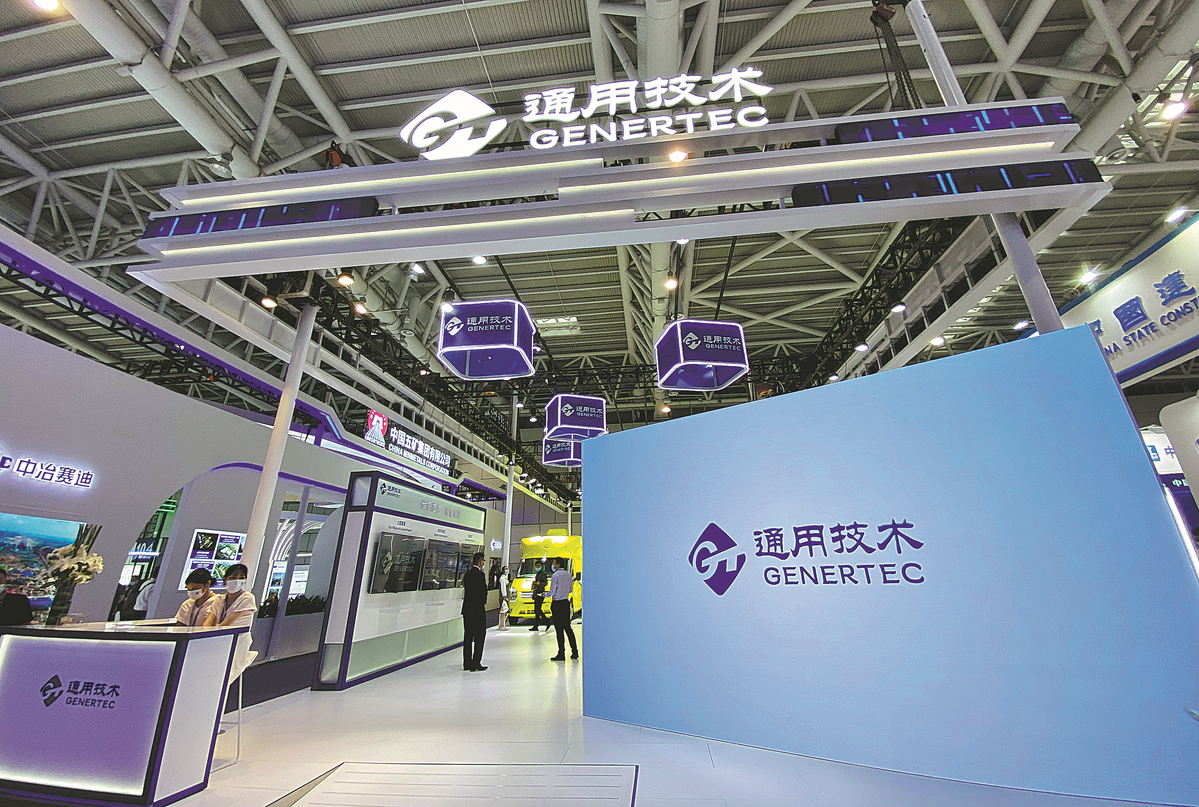 SOEs, counterparts enhance ties to tap opportunities brought by key platforms
Despite the COVID-19 pandemic headwinds, China's centrally administered State-owned enterprises and their counterparts-both domestic and overseas ones-are tapping opportunities brought by key platforms, such as the fourth China International Import Expo and the Regional Comprehensive Economic Partnership, to fuel business expansion.
Corporate executives from a number of central SOEs said that these opportunities are clear signs of the nation's efforts to achieve a higher standard of opening-up, seek a higher-level of multilateral cooperation, while leaning more on innovation to mitigate the disruption caused by the pandemic and support global recovery.
China General Technology (Group) Holding Co Ltd (Genertec) signed over $1 billion worth of purchase agreements during the 4th CIIE in Shanghai earlier this month, doubling the amount of deals signed at previous editions.
The Beijing-based group sealed purchase deals with multinationals like Royal Philips NV, Siemens AG,Phelps Dodge Corp and other companies during the event. It will purchase medical equipment, bulk commodities, technical equipment, as well as consumer electronics and other daily necessities from these business partners.
The group is supported by three pillar businesses-advanced manufacturing and technical services, medical and healthcare, and trade and engineering services.
Thanks to the CIIE, Genertec managed to import more high-quality goods and upgrade its business forms and models, improving the company's performance in foreign trade, said Yu Xubo, chairman of Genertec.
"Genertec is keen to act as a bridge between Chinese and overseas markets and a hub for facilitating the orderly and free flow of domestic and international trade and investment activities," Yu said, adding equipment purchased earlier this month will be used in selected projects in Bangladesh as part of the company's broader efforts in the Belt and Road Initiative.
As global agri-food systems are facing multiple challenges and increasingly complex risks such as climate change and natural resource degradation, China Grain Reserves Group Ltd (Sinograin), the country's largest grain storage and transportation company, will import 8.4 million metric tons of soybeans from Brazil, Argentina and Uruguay, further diversifying the country's soybean import sources.
These contracts were signed with international grain providers including the United States-based Archer-Daniels-Midland Co, Cargill Inc, and France's Louis Dreyfus Co during the fourth CIIE in Shanghai.
"We will continue to adapt to new international economic and trade conditions and adjust the source for imports of certain agricultural products, especially with markets participating in the BRI," said Chi Jingtao, Sinograin's president.
Referring to the food security issue, China will diversify import channels, increase imports of agricultural products that meet domestic demand, and adjust and improve a minimum-purchase-price system for rice and wheat, said China's "No 1 central document" of this year. The issue has been taking up the very first yearly document by the central authorities for 18 consecutive years.
China enlarged its soybean import sources to maintain the country's grain security. The nation imported 79.08 million tons of soybeans from January to October this year, dropping 5 percent on a yearly basis, according to the latest foreign trade data by the General Administration of Customs.
Ren Hongbin, vice-chairman of the State-owned Assets Supervision and Administration Commission of the State Council, said central SOEs should firmly defend the multilateral trading system with the World Trade Organization at its core, actively participate in the formulation of international economic and trade rules, and strive to maintain the stability of global industrial and supply chains.
The enterprises should fully leverage platforms such as the CIIE as an important way to intensify high-level opening-up and cooperation, promote high-quality growth of the BRI, and enhance international communication capability as well as strengthen communication and exchanges with foreign parties to drive the establishment of a new system for a higher-level open economy, Ren said.
Since all government preparations are now in place to ensure China fully meets its obligations when the RCEP agreement comes into effect next year, such a massive regional market will not only encourage central SOEs to build more regional connectivity projects in partners' countries, but also bring them more orders from the markets, especially those of the Association of Southeast Asian Nations, said Liu Xingguo, a researcher at the China Enterprise Confederation in Beijing.
"The RCEP will help China FAW Group bring more products, in particular trucks and electric passenger vehicles, to other Asia-Pacific economies," said Xu Liuping, chairman of China FAW Group, a State-owned automaker based in Changchun, Jilin province.
Export business aside, Beijing-based China Railway Sixth Group Co Ltd, a subsidiary of China Railway Group Ltd, delivered the Cat Linh-Ha Dong Metro Line project-Vietnam's first metro line-to its client in Hanoi earlier this month. The metro line, a 13-kilometer line with 12 stations, is now being operated in the country.
The new line is expected to improve Hanoi's urban highway network, relieve traffic pressure in the area and promote regional economic and social development.
Tang Hong, the head of this project, said as a tangible result of the BRI, the project shows how Chinese technology, standards, equipment and experience have gone global.
The project will play a crucial role in the docking and progress of the BRI and Vietnam's "Two Corridors and One Economic Circle", as well as the upcoming implementation of the RCEP agreement, Tang said.