Chinese electric firm contributes to power infrastructure construction in Maldives
Share - WeChat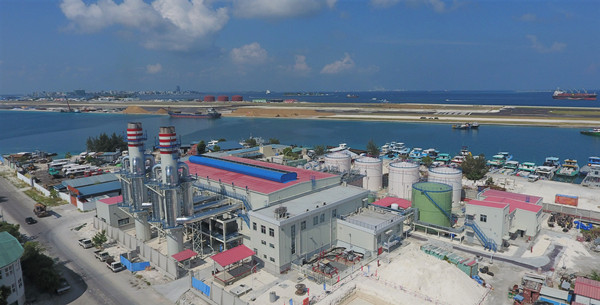 Dongfang Electric International Corporation has been playing a key role in power infrastructure construction in Maldives in recent years.
Known as a tourist paradise and "honeymoon resort", Maldives is known for its pristine white sandy beaches. Its capital Male, with a population density close to 100,000 people per square kilometer, is one of the world's most populous cities.
With its rapidly-developing tourism industry and fast population growth, the only power plant in Male could no longer meet power demand in the region.
In response to the situation, Dongfang Electric International Corporation, a Chinese engineering contractor that focuses on infrastructure construction in countries participating in the Belt and Road Initiative, presented a plan for building a new power station.
Located at the southwest corner of Hulhumale about 1 kilometer from Male, the STELCO Fifth Power Development Project covers an area of 8,500 square meters. With a total installed capacity of 50 megawatts, the plant includes three areas for power generation, fuel storage and seawater desalination.
Six 9-MW diesel generator units are installed in the power house and 2,400 cubic meters of fuel can be stored in the plant.
Equipped with two multi-effect desalination facilities, the project can also produce 2,000 metric tons of fresh water per day while generating power.
The project went into commercial operation in February 2019, with all systems showing stable performance.
In addition to the power generation project, Dongfang Electric International Corporation also contributed to the Greater Male Grid Connection Phase I project, which is the first 132-kilovolt power grid project in the country.
Its operation has improved the overall development of Maldives' power industry.